Physician assistant students begin a tradition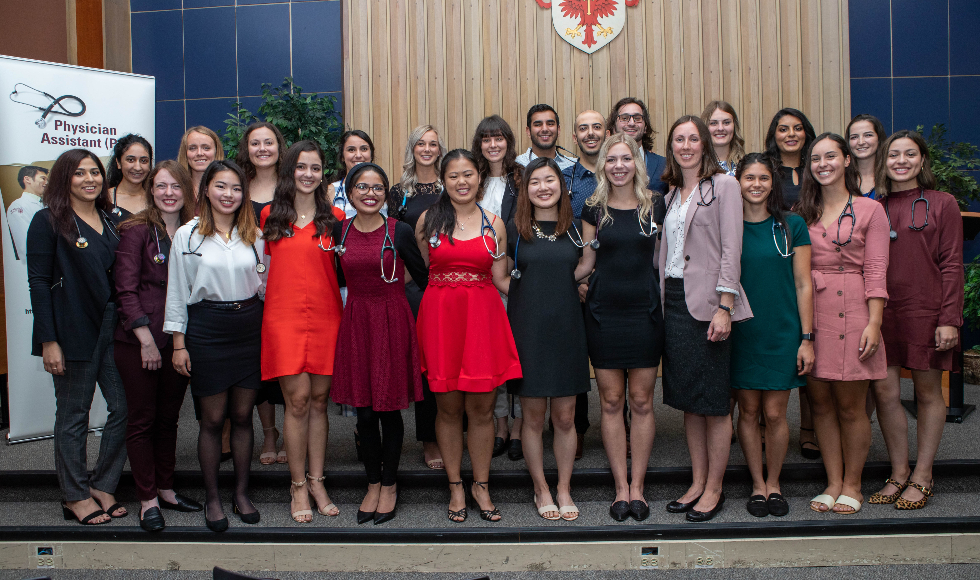 Twenty-five new physician assistant students at McMaster University's first stethoscope ceremony on Sept. 13. Photo by Georgia Kirkos.
---
Kira Slivitzky was a molecular biologist and researcher who found she always enjoyed talking to people rather than mice. Raymond Khanano, with a master's in public health, sought a clinical career with flexibility. Nicole Veloce, with a life sciences degree, was attracted to being part of the health-care team.
They are three of 25 new physician assistant (PA) students who were welcomed into the profession on September 13 at McMaster's first stethoscope ceremony.
Surrounded by family, friends and faculty members in McMaster's Council Chambers, each member of the class of 2021 had a stethoscope placed on their neck and together they recited the physician assistant professional oath.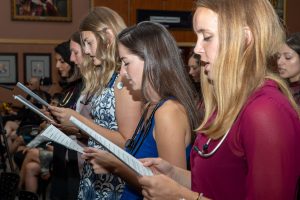 Kristen Burrows, assistant dean of the program and a graduate of McMaster's first graduating class in 2010, greeted the students, pointing out that in the past decade since physician assistants started in Ontario, PAs are working in almost every health-care setting.
The students also heard from Leslie St. Jacques, incoming president of Canadian Association of Physician Assistants and a fellow 2010 McMaster PA graduate.
"You are coming into a fulfilling career where we provide direct patient care and make a significant impact for our patients. At the same time there will be opportunities to participate in leadership to shape health care of the future."
Admission to the 24-month program requires at least two years of university education, but the majority of the 733 applicants at McMaster this year had at least an honours degree in a health-related discipline.
The students spend the first year in biomedical science courses, and the second year in clinical rotations through family and emergency medicine, pediatrics, internal medicine, psychiatry, surgery and geriatrics.
Once in practice, physician assistants work under the supervision of a physician.
Kira, who has a master's degree in molecular biology, was doing clinical research and found she enjoyed being "closer to the end goal of helping people. I wanted to be in the circle of care, to get to do research as well as practice. I like talking to people rather than mice."
Raymond agreed, saying he looked forward to being able to combine research with a clinical role. "I'm glad to be in a growing profession, as PAs have room to teach, do research and have an expanding role in clinical care."
He added he was glad to return to McMaster where he obtained an undergraduate degree in kinesiology. "McMaster's leadership in health sciences is well known, it pioneered problem-based learning and evidence-based medicine. I knew Mac would deliver a high-calibre education."
He said that the stethoscope ceremony is a great celebration of the start of the journey.
"We chose the symbol of the stethoscope, as it represents the value of listening to our patients, not just their vital signs but to them, to provide the best care possible."
Nicole was happy to have her father Nick attend the ceremony, his first outing from hospital after a cycling accident in the summer.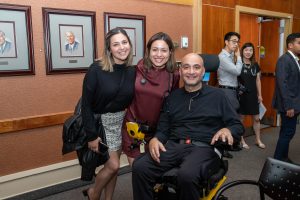 "This is very exciting, and everything I want in a career. We are part of the health-care team, and part of the patient's journey, but there is flexibility to go into different specialties and have a good life-work balance."
The McMaster PA program, which was the first of three civilian undergraduate programs in Canada, has had 206 graduates, not including the 21 who will have their convocation on Nov. 21.
PAs have an essential role to play as health systems shift to team-based care, said Burrows.
"PAs are trained in the medical model to extend physician services, and have a significant impact on increasing patient access to care, decreasing wait times and improving patient satisfaction.
"For a decade, McMaster has been on the forefront of educating PAs and preparing them to not only deliver exceptional patient care, but to improve communication and coordination in what is often a fragmented health system."