PhD candidate earns nomination for prestigious award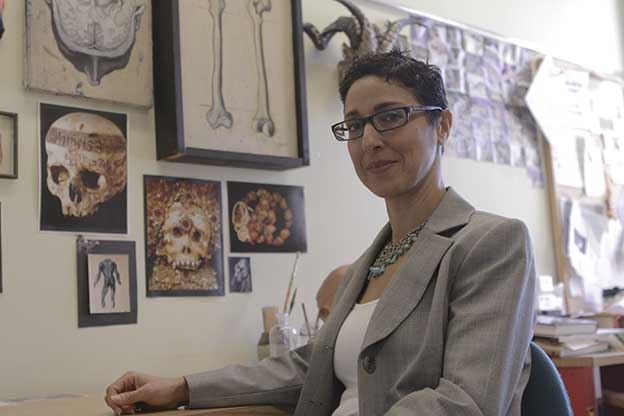 PhD candidate and forensic anthropologist Myriam Nafte has been nominated for a Talent Award by the Social Sciences and Humanities Research Council.
---
PhD candidate and forensic anthropologist Myriam Nafte has been nominated for a Talent Award by the Social Sciences and Humanities Research Council.
The award recognizes outstanding achievement by a current SSHRC doctoral or postdoctoral fellowship of scholarship award holder.
Nafte, in her fourth year of the PhD program, studies human remains as material culture – that is, how a body is transformed from a cadaver to, in some cases, a work of art.
"You'll start to notice them everywhere now – on t-shirts, in movies and artwork," says Nafte. "We have a very comfortable relationship with human remains."
Nafte has spent the last two years with private collectors, curators and artists who incorporate human remains into their work in an effort to show how human remains are accessible to the public outside of spaces like museums and university labs.
Nafte's dissertation, entitled Trophies and Talismans: The Traffic of Human Remains, is based on two years of research and fieldwork. It examines how the undisposed dead are processed, used and displayed in contemporary western culture as art, museum objects, relics, specimens and personal talismans.
The immortality of human remains through art is what originally intrigued Nafte, who is a trained artist, to the subject.
Since beginning her research, she has spent time with artists such as Joel-Peter Witkin, whose photographs integrate parts of cadavers, and Andrew Krasnow, whose piece Core Texts of the Mind consists of five human brains that rise and fall with the breath of the viewer. In order to gain a better understanding of why they incorporate human remains in their work, she interviewed them while observing them in studio.
Nafte has also interviewed Cardinal Thomas Christopher Collins to gain a clearer understanding of the Catholic Church's stance on using human remains as relics.
After meeting with Cardinal Collins, Nafte's sense that relics were still very relevant and vital to the contemporary Catholic Church was verified.
"In the church, the remains of saints are renowned and venerated," says Nafte, adding the private collectors she has met with share a similar feeling.
Nafte says it is common for these collections to feature prominently in the homes of collectors and are even featured, bought, sold and traded through social media.
"It's incredible how many people have personal collections," she says. "These aren't really about death, but are more reflective of personal narratives, individual identity and institutional power."
Nafte's research interests have now expanded to include organizing North America's first-ever exhibit dedicated to the works of Witkin, Krasnow and similar artists. She is also filming her meetings with the artists to create a documentary that will be released in conjunction with the exhibit.
Recipients will be presented with their award at the World Social Science Forum, in Montréal, on Tuesday, October 15.