Petro Canada-McMaster University Young Innovator Award Recipients Announced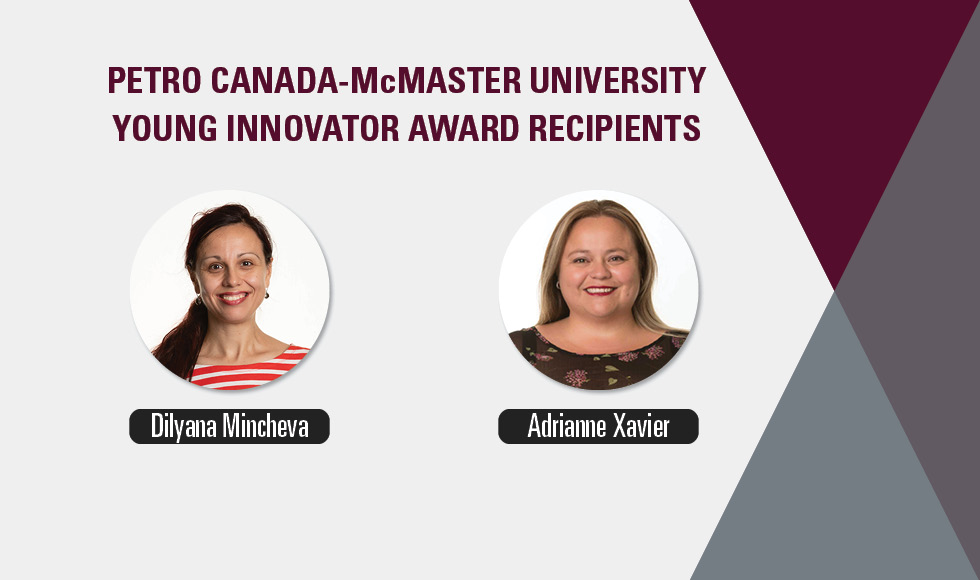 ---
Dilyana Mincheva, an assistant professor in the Faculty of Humanities, and Adrianne Xavier, acting director of the Indigenous Studies Program, have been awarded 2020-21 Petro Canada-McMaster University Young Innovator Awards. 
Managed by the MacPherson Institute for Leadership, Innovation and Excellence in Teaching, the Young Innovator Award provides funding for research projects developed by emerging scholars. Recipients propose projects aimed at engaging undergraduate students in research. Petro Canada finances the award through a $250,000 endowment, which is matched by McMaster's Office of the Vice-President.
Mincheva, an assistant professor in the Department of Communication Studies and Media Arts, focuses her research on Muslim culture and thought as represented in cinema and other media. With the award, she plans to create the CoMMa Script Frenzy Lab: a screenwriting lab that bridges a gap between academic research and creative output. Her project will allow undergraduate students to explore theoretical concepts including transnational cinema, critical race theory, feminism, screen theory and postcolonial critique through the creation of a screenplay.
Although the creation of an "academic screenplay," is familiar in doctoral programs, Mincheva believes it also has potential as an undergraduate project. She introduced a similar project with students of her Television and Society, a Level 3 course, with excellent results.
"As their final project, my students could either write a traditional academic essay or they could submit an idea for a TV show that covered a topic they felt was missing from television right now," she says. "They were very perceptive about which subjects weren't being addressed–and I knew our undergraduate students would benefit from the opportunity to engage with these theoretical concepts in a creative, reflective way, like writing a screenplay."
Students will learn the finer points of screenwriting during four workshops, which will be facilitated by a professional screenwriter and incorporate peer mentorship and collaboration. They will share their finished screenplays at a mini-conference, and Mincheva and her collaborative partners will share their work on a website and through academic journal articles.
Xavier's project will also create opportunities for students to build a minor research project on campus. Using her research on Indigenous Food Sovereignty and Community at Six Nations as a base, her students will virtually learn about Indigenous research methods while gaining first-hand experience.
"We will take this idea, which I know the community of Indigenous students are excited about and treat it as a research project. Eventually, this will become its own research and the community will practice it, which is very similar to the process I go through."
It will be a unique experience for her undergraduate students, who Xavier says are eager for more opportunities to be involved in research.
"I've discovered that so many of the students that I meet in my classes, are not only eager to learn but are already asking the right questions at an undergraduate level. They are already engaged and really want to be a part of the research. It's important they have these experiences now because it can help them decide what they want to do after graduation," says Xavier.
Her participants will also be able to learn about community-engaged research from different speakers throughout the duration of the project. At the end of the experience, they will publicly present their work at a TED-X-style event. 
Established in 1999, the award provides opportunities for researchers to think creatively about student participation in research activity while generating campus-wide recognition for innovative research achievement. This is the first time that the McPherson Institute has given the award to two recipients.
"Collaboration is often the starting point for innovation," says Lori Goff, Director of the Paul R. MacPherson Institute for Leadership, Innovation, and Excellence in Teaching. "It's so important to bring students and instructors together to foster diverse perspectives and ideas. This award is a great example of our commitment to that at McMaster."