Peer awards honour McMaster leaders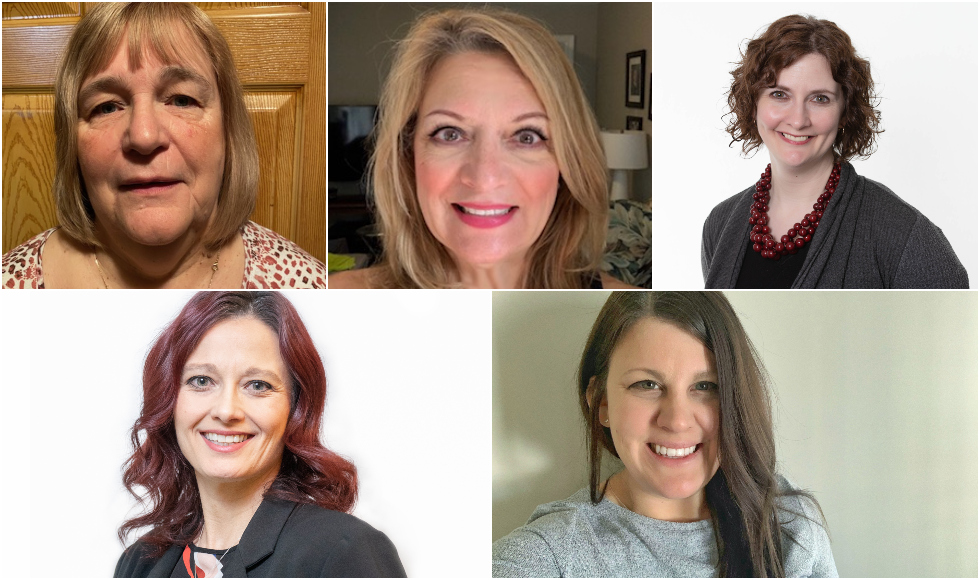 From top left: Chris Sylvester, Annette Rosati, Sara Laux. From bottom left: Christine Costa, Jesse Wilson. Not pictured: Barbara Eftekhari
---
The TMG Peer-to-Peer Recognition Program recognizes employees for outstanding work while demonstrating and reinforcing McMaster's core leadership capabilities. Six employees from McMaster's management group (TMG) received these awards at the virtual TMG Forum yesterday.
Christine Costa, Barbara Eftekhari, Sara Laux, Annette Rosati, Chris Sylvester and Jesse Wilson were nominated by colleagues and selected by the awards committee. These winners received an award certificate, a congratulatory letter from President David Farrar and celebration gift packages sent to their homes in advance.
Allison Drew-Hassling, TMG Committee co-chair, and Richard Godsmark, TMG Committee member presented the awards.
"Peer recognition and appreciation makes these awards unique." Allison said. "It's a pleasure to highlight award recipients after such a challenging year."
The award recipients were announced along with highlights from their nominations.
"Christine Costa is a positive change agent in her role– she researched new tools, designed innovative supports, and taught others her skills. She exhibits resilience and adaptability by quickly transitioning work processes to respond to challenges.  She supports stakeholders through resources, and presentation delivery. She goes above and beyond to support opportunities for continuous improvement by creating communities, channels, and opportunities to connect and share resources. She is open to feedback and she is a leader 'behind the scenes', often enabling or building the capacity of others.
"Barbara Eftekhari is always available to discuss an issue or confirm an understanding of process or policy. She is always on top of current regulations and programs, emerging developments from the Government of Canada, potential roadblocks and how they may affect new and existing faculty members. When the pandemic hit, she was not only focused on the continuance of her team's activities, but also on the many immigration issues she was managing. She has been the key driver in the Academic Tracking project and goes above and beyond expectations, with class, good humour and collegiality."
"Sara Laux exhibits exceptional communication and collaboration skills in virtually every aspect of her role. Her impact has been campus-wide and has resulted in stronger collaboration and better communication outcomes for all. As a result of her work, there is a sense among communicators that they can share and safely bring forward their ideas and challenges related to equity, diversity, and inclusion. She has a note-perfect social media "voice", responding to those who post comments with kindness and good humour. She leverages the strong network she has built to help support the university's priorities and make sure critical communications reach the broadest possible audience. She is generous with information, her time, and is quick to give people the resources they need and the praise they deserve for their success. She played a leading role in creating and adapting the university's COVID-19 website and communications at such a critical time."
"Annette takes an intentional approach to Equity, Diversity and Inclusion (EDI) by encouraging her leadership team to participate in EDI learning, applying an equity lens when discussing departmental policies, and helping to develop important changes such as the implementation of the Associate Chair of Equity and Diversity (ACED) role in the Department of Medicine. She leads by example when engaging in professional development, and opens the doors for others by mentoring colleagues while encouraging them to participate in development opportunities. She goes out of her way to ensure individuals who have learned a new skill have the opportunity to practice them, even if it means temporarily restructuring tasks in the department. She celebrates and honours the success of others and encourages colleagues to keep growing. She provides balanced feedback, to ensure employees have the information they need for improvement and success."
"Chris Sylvester enhances the university brand by being collaborative in her approach to working. She supports departments through her knowledge and strength in building relationships and while she works behind the scenes, her patience, kindness and willingness to help others is beneficial to partners, employees and students alike.She leverages her relationships across the university while effecting change and driving results within finance. She helps others solve complex issues, even when her time is stretched between tasks; and graciously mentors and supports others to ensure skill development and transfer of knowledge for continued success."
Read more about the winners online:
Christine Costa, Organizational Development and Design Consultant, Human Resources Services
Barbara Eftekhari, Manager, Faculty Relations, Provost's Office
Sara Laux, Manager, Strategic Communications, University Advancement
Annette Rosati, Administrator, Medicine
Chris Sylvester, Senior Budget Advisor, Financial Affairs
Jesse Wilson, Senior Analyst, Reporting and Control, Human Resources Services
This is the third year the peer to peer recognition program has run, and a total of 20 nominations were received. Congratulations to all nominees and award winners!
Read more about the Recognition Program and the TMG committee online.