Paying it forward: when passion becomes a calling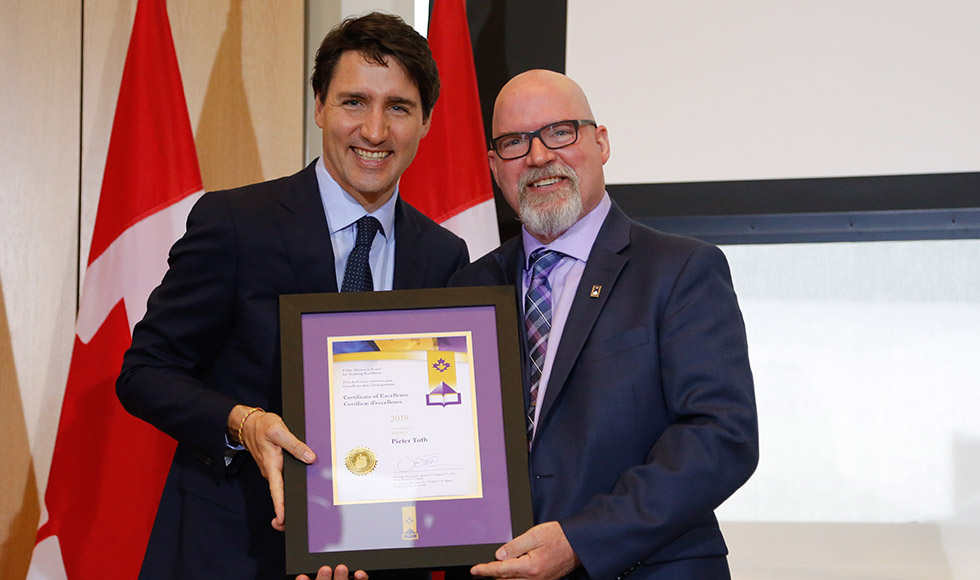 Pieter Toth accepts a certificate of excellence from the prime minister. - Photo by Patrick Doyle
---
As a high school student, Pieter Toth didn't feel challenged by the subjects he was studying. That is, until a teacher introduced him to a new way of learning.
Fast forward and Toth himself, who graduated from McMaster's DeGroote School of Business in 1992, has been recognized for his own creative teaching with the Prime Minister's Award for Teaching Excellence.
Toth always knew he wanted to be a teacher, and when he began his career he took a page from his high school teacher Joe Patterson's book and applied it in the classroom.
"I create a learning environment where the students feel safe to take risks and learn from mistakes," says Toth, who teaches business and social justice to Grades 9 through 12 for the Hamilton-Wentworth District School Board.
"The idea is that we're all in it together, we're co-learners, and students can lead the learning and have their voice heard."
The Prime Minister's Award for Teaching Excellence honours outstanding and innovative elementary and secondary school teachers in all disciplines. Recipients are recognized for their leadership and exemplary teaching practices, as well as for their commitment to help the next generation of Canadians gain the knowledge and skills they need for future success in a world inspired by ideas and driven by innovation.
For Toth, the highlight of receiving the award was being nominated by one of his grade 11 students.
"I was beside myself. I was so excited, it meant so much and it was so emotional."
He later found out that his style of teaching had had a significant impact on the future direction of that student. Those were her words to him. In the Fall she will be following his footsteps and studying Business.
As a student at McMaster, Toth immersed himself in many aspects of campus life. He was involved in the human resources committee, athletics, peer-counselling, teaching ESL and working as a teaching assistant.
Toth explains that he's always been a helper. Having mentors and being a mentor for others has always been important to him. He says being a peer counsellor simply fit his personality and was a way to help others adjust to life at university.
"My mother used to say that as soon as you recognize a problem, it is your responsibility to do something about it," he says. "That pushed me towards finding a way to make learning exciting and engaging for kids."
Studying business, specifically human resources, taught him about how people learn.
"I spent the last 25 years creating that environment – working towards refining it, exploring it, experimenting with it – and always with a student."
Toth explains that the majority of the development of his career as a teacher is the result of interactions with students and constructively using their feedback.
The knowledge he gains from those interactions gets shared with other teachers.
Toth works as a provincial mentor for business teachers through the Ontario Business Educators Association, he's part of a network through the Ministry of Education called Leading Student Achievement, and he works with principal groups doing training with other teachers.
"The training and collaboration with other teachers is meant to help us all move the practice forward and helping each other for the purpose of keeping students at the center of our work."
The long-term goal, says Toth, should be to develop oneself so you can get to a point where you're not just making a difference for yourself, but for others as well.
"Teaching, for me, is a calling more than a career. Purpose comes from passion and if you have a passion for something, you can easily find a purpose in that."