Patrick Deane paints a picture of a brighter world at City Hall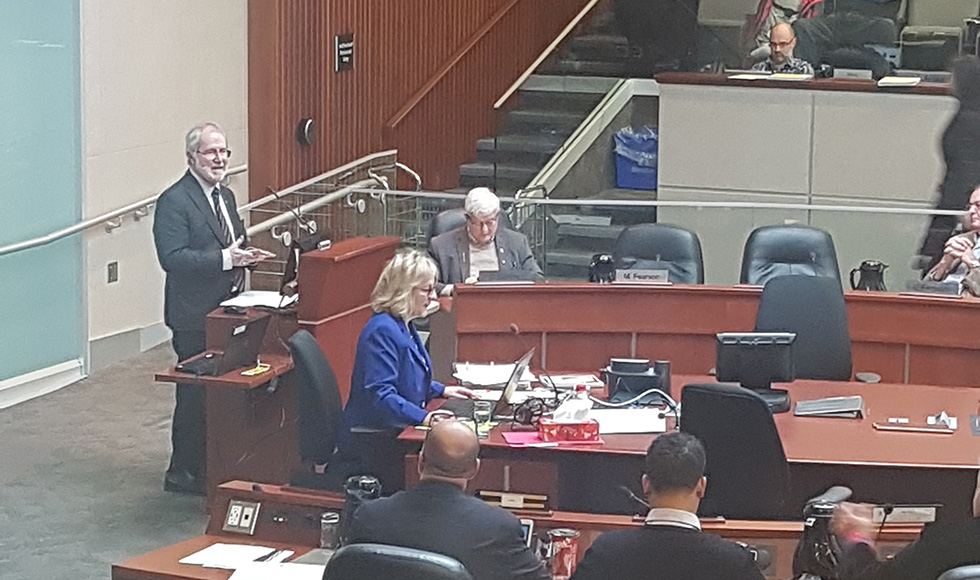 ---
McMaster University is investing $20 million to promote and commercialize biomedical and health research in Hamilton, President Patrick Deane told City Hall recently.
McMaster has a global reputation as a research school, and its research intensity per faculty member is more than double the national average, Deane reminded the city's General Issues Committee. "That is why I'm proud to share with you that the university is making a $20-million investment to enhance commercialization for biomedical and life sciences research."
The 40,000-square-foot space at McMaster Innovation Park will be designed to help researchers bring their ideas to market.
Deane thanked Mayor Fred Eisenberger and council for the city's ongoing support and partnership in projects such as the David Braley Health Sciences Centre, "which continues to find new ways to serve people from across Hamilton and is a stellar example of how we can work together to strengthen our city." The centre houses both the university's department of Family Medicine and the city's public health department.
Besides being Canada's most research-intensive university, McMaster is known for its steady rise in global rankings for both teaching and research — it is one of the top three universities in Canada and ranked 78th in the world by Times Higher Education.
"McMaster might be the university down the road, but we are an international university," Deane pointed out. Being ranked among the world's top 100 universities "allows us to create global partnerships and attract more international students, expanding the diversity of talent we have on campus."
But at its heart, everything McMaster does is geared to one purpose: "To improve the health and well-being of all people," Deane said. Besides an extraordinary commitment to health care and medical research, he said "that means working on building a healthier economy, a strong, civil society and realizing the community's potential by working together."
"In short, what our students, faculty, staff and alumni do every day," Deane said. "We help to create a brighter world."