Fostering global engagement at McMaster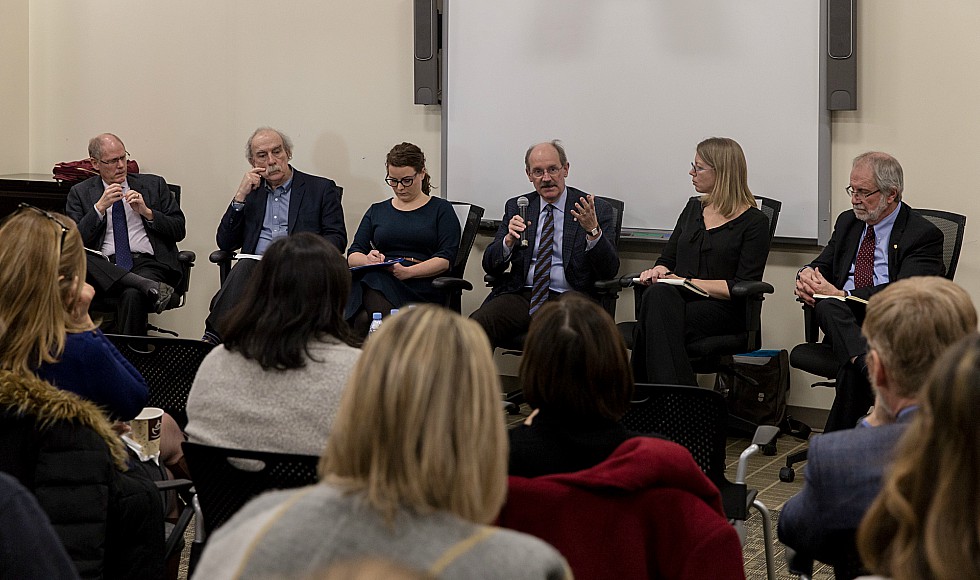 ---
How can McMaster contribute to the global common good?  How can the university foster global engagement among students and incorporate international perspectives on campus and in teaching and research activities?
McMaster faculty, staff and students filled the MacPherson Institute classroom to discuss these questions and more at Higher Education: The Ongoing Tension Between Nationalism and Internationalism, a recent panel discussion that explored the importance of global engagement at McMaster and the opportunities and challenges it presents.
"This is an important conversation for the McMaster community because we have a strong institutional mandate, reaffirmed by Forward with Integrity, to engage deeply with the international community," said Arshad Ahmad, Vice-Provost, Teaching and Learning and the Director of the MacPherson Institute for Leadership, Innovation and Excellence in Teaching who moderated the discussion.
Panelists included McMaster President, Patrick Deane and Provost, David Farrar, as well as Peter Mascher, Vice-Provost, International; Maureen McDonald, Dean of Science; Deborah DiLiberto, a Global Health Scholar in McMaster's Global Health Office; and Greg Moran, Executive Director of Academics Without Borders.
Each panelist discussed their own unique experiences and spoke about the ways in which internationalism might impact the work, function, and mission of the university and about the importance of providing opportunities for faculty, staff and students to engage on local and global scales.
Panelists shared their thoughts on how the university could respond to the challenge of internationalization, including incorporating global perspectives into teaching and learning by reorienting course curriculum, developing opportunities to facilitate international teaching and research exchanges, and developing practices, policies and supports to help facilitate international teaching and research activities.
In addition, panelists spoke about the need to develop ways to better integrate and value the experiences of international students in the classroom and about the importance of promoting cultural exchange on campus.
The audience also heard about some the initiatives and educational approaches that have already been developed such as the Global Health Program's use of innovative learning technologies, including livestreaming lectures given by partner institutions abroad, and the creation of online, transcontinental learning groups to create rich, global learning environments.
Internationalization remains a key priority of the university. In 2016, McMaster released The McMaster Model for Global Engagement: A Strategy Document – the first step in the development of McMaster's internationalization strategy. The document outlines several key principles and strategic elements intended to inform the development of international activities at McMaster.