Painting by renowned artist Norval Morrisseau finds new home at McMaster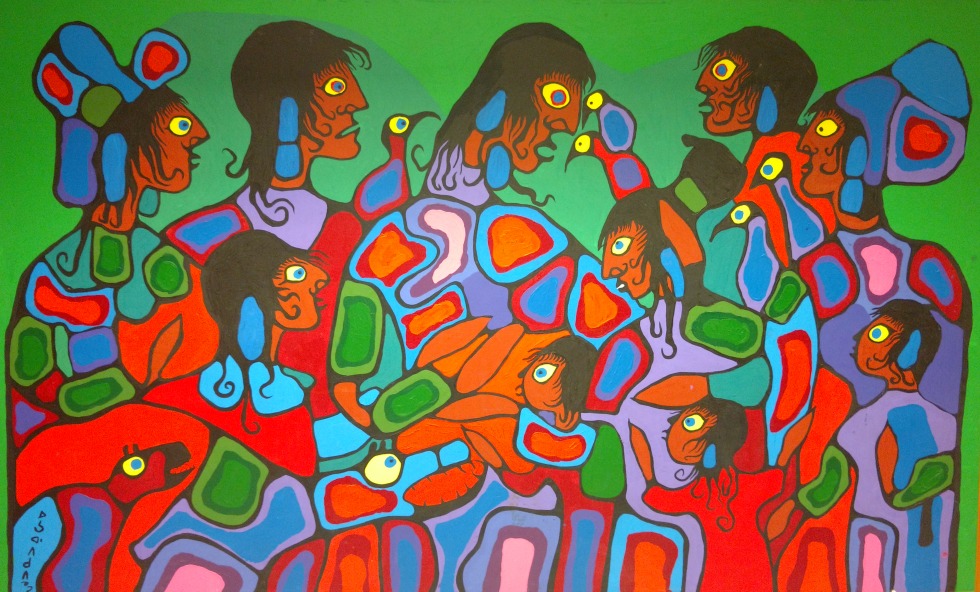 A painting by internationally renowned Canadian Indigenous artist Norval Morrisseau, titled 'The Family' – a recent gift to the McMaster Museum of Art – is now permanently on display in the lobby of McMaster's Indigenous Studies Program in L.R. Wilson Hall.
---
He's been called "Canada's Picasso."
Now, an important work by internationally acclaimed Indigenous artist Norval Morrisseau has found a new home at McMaster.
The painting, titled The Family – a recent gift to the McMaster Museum of Art – is now permanently on display in the lobby of McMaster's Indigenous Studies Program in L.R. Wilson Hall.
The work, a vibrantly colourful 6 by 10 foot canvas painted circa 1979, depicts a group of ten figures with a patriarchal figure at its centre – believed to be the artist – who is flanked by family members and wildlife.
The painting was enjoyed for many years in the personal collection of Jerry and Carol McElroy. McMaster was chosen as an appropriate home for this work, to be appreciated and studied by students and faculty for years to come.
"The University is fortunate to have been the recipient of this outstanding early work by one of Canada's most important visual artists. We  are extremely grateful for this donation from the Jerry and Carol McElroy collection," says Carol Podedworny, Director and Curator, McMaster Museum of Art. "Morrisseau's generation of Indigenous artists spear-headed an art practice, both aesthetic and radically political, that was ground-breaking and that has continued to inform the work of contemporary Indigenous artists to this day. We are thrilled that this significant work by Morrisseau will now be housed at McMaster University."
Morrisseau (1931-2007), who was born on the Sand Point Ojibwa reserve near Beardmore, in northern Ontario, is considered by many to be the Mishomis, or grandfather, of contemporary Indigenous Art in Canada. The creator of the Woodland School of art, his paintings are characterized by the use of intense colour and portray traditional stories, spiritual themes and political messages.
"Norval Morrisseau's work represents a living, visual understanding of Indigenous knowledges, epistemologies, and resistance," says Vanessa Watts, Academic Director of McMaster's Indigenous Studies Program. "It is through his work we can see ourselves and our ways reach out off of the canvas.  To be able to host such an important work in our space is an honour, and will act as a visual reminder to continue to represent and advance our distinctive ways of knowing at the University."
In 1973, Morrisseau was appointed a member of the Royal Canadian Academy of Art and was awarded the Order of Canada in 1978. He was acknowledged as Grand Shaman of the Ojibwa in 1986 and honoured by the Assembly of First Nations in in 1995.  In 2006, he was one of the first artists to be inducted into the Royal Society of Canada: The Academies of Arts, Humanities and Sciences of Canada.
Morrisseau's work can be found in institutions and collections around the world including, the National Gallery of Canada, the McMichael Canadian Art Collection, the Royal Ontario Museum, the Smithsonian Museum of the American Indian and the Canadian Museum of Civilization.