Outstanding alumni recognized at awards ceremony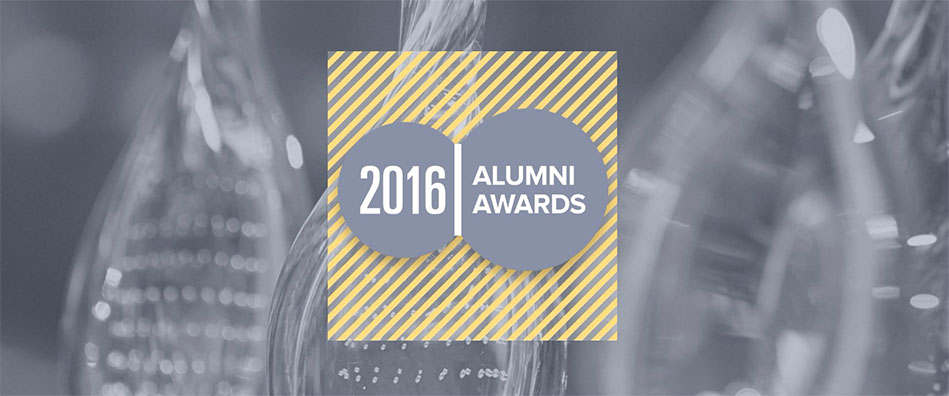 ---
A number of outstanding alumni were celebrated Wednesday night at the University's annual Alumni Awards ceremony and dinner.
Eight alumni were inducted into the Alumni Gallery, which recognizes outstanding accomplishments in professional and volunteer life, five young alumni were named Arch Award winners and four students were given the Albert Lager Prize for Student Initiative.
Learn more about the winners below:
Alumni Gallery
Jennifer Bennett `81
School of Physical Education, Physical Education
A native of Hamilton, Jennifer Bennett is Canada's senior ranking reserve officer and the Royal Canadian Navy's first female rear-admiral. She has over 40 years of distinguished service in a variety of positions with Canada's Naval Reserve, including Commanding Officer of HMCS Malahat and the Naval Reserve Basic Recruit Training Detachment, Director of the Ottawa detachment of the Canadian Defence Academy, Director of Education and Training Policy, Director of Reserves and Commander of the Naval Reserve, in addition to maintaining a career as an elementary and secondary school teacher and administrator. Jennifer Bennett was promoted to her current rank in April 2011 and appointed as Canada's Chief of Reserves and Cadets shortly thereafter. She was recently promoted from Officer to Commander of the Order of Military Merit, Canada's highest military honour for meritorious service and leadership.
Mick Bhatia `92
Faculty of Science, Biology
Director and Senior Scientist of the McMaster Stem Cell and Cancer Research Institute, Dr. Bhatia is a recognized leader in human stem cell biology and applications.
Jock Brandis `68
Faculty of Social Science, Anthropology
An author, film actor, film technician, inventor and humanitarian, Jock Brandis and a team of volunteers formed the non-profit Full Belly Project.
Gordon Guyatt `77, `83
Faculty of Health Sciences, Medicine, Medical Sciences
Dr. Gordon Guyatt is one of the leaders in a world-wide movement designed to help physicians and other health care professionals to use evidence-based medicine to improve their patient care decisions.
Barry Hill `66, `68
Faculty of Engineering, Mechanical
Barry Hill is a registered professional engineer, respected and award-winning farmer, founding President of the First Nations AgriGroup and the first Indigenous lecturer at Six Nations Polytechnic.
William Kosar `79
Faculty of Humanities, History
'Resourceful', 'caring' and 'giving', William Kosar has built a reputation as a world-leading advisor and academic in public law and international relations. He has wide-reaching experience supporting governments and private companies across a broad range of geographies far flung from his native Canada, including Afghanistan and the Middle East, Rwanda, South Sudan and Somalia. He previously worked on policy development at Rwanda's Ministry of Justice, where he also developed its legal support unit and has drafted over 40 laws for South Sudan's Ministry of Legal Affairs & Constitutional Development. After completing a year as the Senior Legal Consultant for Somalia on behalf of the Ministry of Finance and the Financial Governance Committee of the Federal Government of Somalia, William Kosar now works in Mogadishu for the World Bank as an embedded legal advisor in the Somali Ministry of Petroleum and Mineral Resources. He lives in a small fishing village on Kenya's north coast.
Alenia Kysela `94, `97
Arts & Science, Faculty of Health Sciences, Medicine
Dr. Alenia Kysela is the executive director of medicine for the western zone of the Nova Scotia Health Authority, a new structure consolidating nine district health authorities into one. As a part of the senior medical leadership team, she is working to strengthen the medical governance structure in the province, as a part of the organization's overall goals to provide safe, high quality health care to patients, and to ultimately improve provincial health outcomes.
Annette Trimbee `84
Faculty of Science, Biology
Annette Trimbee is the President and Vice-Chancellor at the University of Winnipeg, formerly serving as Deputy Minister of Service Alberta, Deputy Minister of Treasury Board and Finance, Treasury Board and Enterprise, and Advanced Education and Technology in Alberta.
Arch Award
Arnav Agarwal `14
Health Sciences
In the short time since graduating from McMaster, Arnav has maintained a tradition of philanthropic leadership. Now, a second-year medical student at the University of Toronto, he oversees over 26 community engagement programs as Vice-President Community Affairs for the Medical Society, and is an active leader in over a dozen programs both within and beyond the University of Toronto. He spearheaded various community-focused initiatives since graduation, from contributing to Canadian Federation of Medical Students (CFMS) position papers, to seeking a formal partnership for a student-led U of T program with the City of Toronto, to co-leading the organization and promotion of several international health and marginalized population health-focused conferences. His energy has carried him to be an ambassador through ground-level involvement as well, assisting with conducting screening exams for kindergarten students, facilitating presentations to empower immigrants and refugees with knowledge on how to access the healthcare system, and providing one-on-one mentorship to undergraduate students interested in pursuing healthcare professions in both Hamilton and Toronto. Arnav has contributed as a co-author to over 30 peer-reviewed papers, book chapters, position papers and other peer-reviewed publications. A number of his co-authored works have also featured in prominent journals such as the Journal of the American Medical Association (JAMA), Canadian Medical Association Journal (CMAJ), and European Urology.
Melissa Andre `07
Humanities
Melissa Andre is the owner and Creative Director of Melissa Andre Events (MAE) – a leading Los Angeles and Toronto based full-service special events planning and design firm. Awarded for producing some of the most imaginative and luxurious celebrations worldwide, Melissa has garnered an industry-wide reputation for her widely-published work and unparalleled design portfolio. MAE's international celebrity client list includes DRAKE, GQ, Dom Perignon, Veuve Clicquot, THE WEEKND, DSquared2, RocNation, Lacoste, Guerlain, Ronda Rousey, and Reebok. With over a decade of experience, her unique ability to add an originative and unforgettable edge to a brand or artist's event is what has made her work so recognizable. Melissa has elevated the notion of entertaining into an art and the exclusive-nature of her work has made her one of the most sought-after event designed in the world. Her work has been featured in numerous premier industry, wedding, lifestyle, entertainment and consumer publications.
Serena Bufalino `03
Social Sciences
When Serena Bufalino graduated from teacher's college, she spent a year working and volunteering in detention centres, group homes and mental health hospitals. After working in Canada's largest detention centre, Serena felt she needed to intervene with at-risk youth before they entered the corrections system. The Toronto District School Board's Section 23 program provided her that opportunity.
With Section 23, Serena teaches and advises at-risk youth who are living with mental health issues, severe past trauma, learning disabilities or addiction. After seeing and learning about the consequences of the 2010 Haiti earthquake, Serena's students were inspired to help. They decided to build a school. As a result, Serena guided her students in establishing a partnership with an organization called Third World Awareness to found the Haiti School Building Project. Together, the students raised more than $100,000 to fund of a new school in Canaan, Haiti. More than 50 orphans of the earthquake now attend the school.
Serena was nominated for the 2014 Excellence Award for Teaching, a national award, as well as the Toronto Star's Teacher Award. In 2015, she and her students were recognized for completing more community service hours than any other class in the GTA.
Tammy Hwang `05
Business
Tammy is a proud Hamiltonian, Mac Alum, start-up cheerleader, and realist. She currently works for the City of Hamilton in Economic Development's Global Hamilton Office helping immigrant and newcomers start and expand businesses in Hamilton. She's also passionate about supporting small businesses and entrepreneurs through her other ventures, CoMotion Group Inc. and CoBuild Hamilton Inc. As part of the founding teams for both companies, CoMotion Group operates coworking spaces in Hamilton with the largest located at 115 King Street called CoMotion on King. CoBuild is Hamilton's only industrial co-working space located at 391 Victoria Avenue North providing small businesses, artisanal makers, and builders a space where they can share resources and build cool stuff. Tammy is an active participant within the community, a group facilitator, and super connector in the Hamilton area.
Krishna C. Nadella `02
Science
Krishna has built and managed multiple sales desks for multiple firms, servicing clients in North and South America, Europe, and Asia, dealing with all aspects of operations as the head of America's Sales for Portfolio Valuations & Regulatory Solutions at Bloomberg, L.P., a global financial information and news leader. Before entering Wall Street, Krishna was the founder and CEO of Southern Ontario Sports Inc., a non-profit firm specializing in sports marketing and management. Krishna is also an active proponent in the academic community, as a Member at Large on the Board of Directors with the McMaster Alumni Association and as President of the Graduate School Alumni Society at Pennsylvania State University. Currently, he hosts and produces the New York City-based television and web series "STATE OF MIND with Krishna C. Nadella", a discussion program that explores the relevant social, economic, and political issues associated with post-secondary education.
Albert Lager Prize for Student Initiative Award
Sara Halawa BSc '16, MSc '17
Sara is in her first year of the Masters in Global Health program, specializing in Global Health Management. Having completed her undergraduate degree also at McMaster, Sara has consistently been involved in various initiatives and groups throughout her undergraduate career and continues to do so as a graduate student. Sara's passion for supporting first-year students into university led her to various opportunities, including being a Residence Orientation Representative and Events Coordinator for the Horizons Leadership Conference. Sara dedicated her time to community building and improving the student experience as a Community advisor, where she was the recipient of the Dr. Phil Wood Community Impact Award for leadership across Residence Life. Within the classroom, Sara was a laboratory teaching assistant, where she worked tirelessly to guide students from a variety of academic backgrounds through first year biology. Sara continually shares her passion for McMaster with other students and visitors through her role as a campus tour guide and helping to lead MacServe service learning groups to represent McMaster in New Orleans and Dominican Republic. Sara's dedication is also evident through her commitment to COPE: A Student Mental Health Initiative for 4 years through various leadership positions, during which COPE recognized as Club of the Year and Social Issues Club of the Year.
Sifat Syeda '16
Sifat Syeda is graduating with a double major in Economics and Political Science with a Business Studies Certificate. During her time at McMaster, she contributed to countless volunteer and leadership initiatives. Sifat was involved with the McMaster Economics Society for three years, including her time as President when her team received recognition as MSU Academic Club of the Year. She was also a member of the executive team for the MSU Shinerama & Terry Fox team, acting as Sponsorship Coordinator one year and Programming Assistant the next. During this time, the Shinerama Campaign raised well over $150, 000, placing McMaster as the largest post-secondary fundraising school in Canada. Sifat was a Peer Conduct Advisor for the Office of Student Conduct, a Student Representative for MSU Advocacy Street Team, a Mentor for the International Student Services, and an Orientation Leader for the McMaster Social Science Society Rep Team. Outside the university community, she volunteered as the Community Outreach Assistant for the Canadian Cancer Society in the Mississauga Office. Sifat also had the opportunity to participate in McMaster's service-learning trips abroad, travelling to the Dominican Republic to teach English to elementary school students and to New Orleans to work with Habitat for Humanity on a housing project along with other McMaster students.
Andrew Nguyen '16
Andrew Nguyen, who is graduating with a degree in Biology, has been involved with many volunteer roles that relate to his interests over the course of his undergraduate career. He cares deeply about his cultural heritage and has been heavily involved with the Vietnamese community through his work as a President and Vietnamese translator with the McMaster Vietnamese Students' Association and the McMaster Language Buddies respectively. He also developed a hobby for insects through his work as a Research Assistant studying social behaviour in fruit flies in the Dukas lab as well as entomology at the Queen's University Biological Station. Andrew enjoys helping other students with their transition to university and has been involved with many roles that facilitate that transition including being an Academic Skills Coach for the Student Success Centre, a 4th year Representative for the McMaster Biology Society, a Welcome Week Representative for the Faculty of Science and a SWHAT Walker and Dispatcher for the MSU.
Shaina McDonald '16
Shaina McDonald, who is graduating from the Honours Social Psychology program, has contributed to the Faculty of Social Sciences through various key roles. Within the McMaster Social Sciences Society, she has served as a Welcome Week representative, third year representative, Social Psychology mentor and most recently, as the Vice-President Programming. She also served as the President of the McMaster Social Psychology Society. For the Office of Experiential Education, Shaina has held positions as a student ambassador, a student representative on the Experiential Education Governing Council, a research assistant, and a Program & Engagement assistant. Similarly, she performed as a student scholar for the McMaster Institute for Innovation & Excellence in Teaching & Learning (MIIETL), working on a community engaged education research project. Shaina was chosen to serve as the undergraduate student representative on the Selection Committee for the Dean of Social Sciences. She was also active as a volunteer mentor for Big Brothers Big Sisters of Hamilton & Burlington.