Ontario premier Doug Ford visits McMaster Innovation Park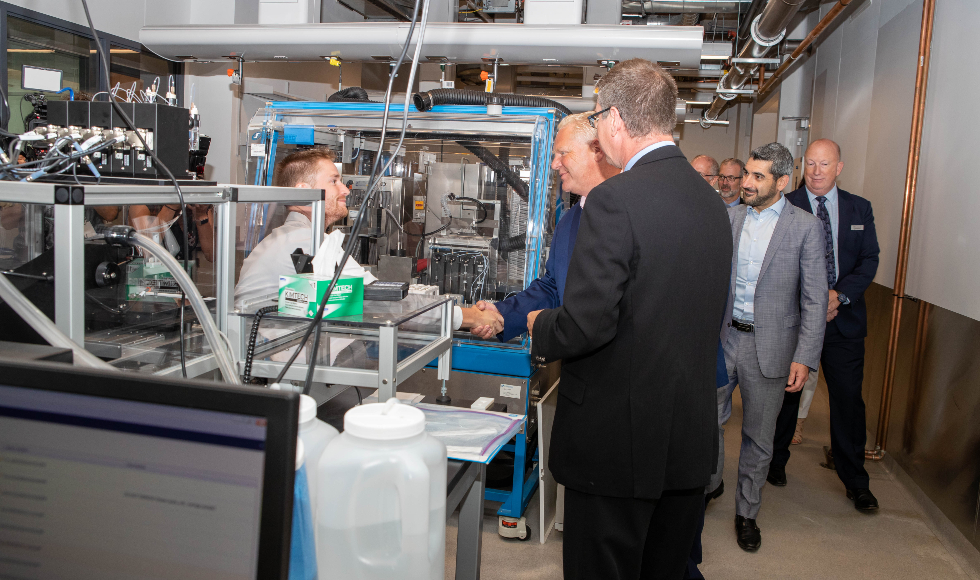 Premier Doug Ford greets a researcher at the Fraunhofer-McMaster Project Centre for Biomedical Engineering and Advanced Manufacturing. Photo by Georgia Kirkos.
---
Doug Ford, premier of Ontario, visited McMaster Innovation Park this week.
Joined by Ross Romano, the minister of training, colleges and universities, and Donna Skelly, MPP for Flamborough-Glanbrook, Ford toured the Fraunhofer-McMaster Project Centre for Biomedical Engineering and Advanced Manufacturing (BEAM), the McMaster Automotive Resource Centre (MARC), and Fusion Pharmaceuticals, a McMaster startup company specializing in cancer therapies.
BEAM director John Brennan, and John Valliant, CEO of Fusion Pharmaceuticals, explained their work on commercializing their research to make key medical breakthroughs available to patients and clinicians.
Pleasure to join Premier @fordnation and Minister @RossRomanoSSM at @FusionPharmaInc located at the McMaster Innovation Park. Thanks to Dr. John Valliant and Dr. John Brennan for today's tour and keep up the great work! pic.twitter.com/Ir3dgMDSBf

— Donna Skelly (@SkellyHamilton) August 8, 2019
Once the group made the short walk over to  MARC, they met with professors Ali Emadi and Saeid Habibi and the student members of the McMaster EcoCAR team, as well as industry collaborators working on sustainable solutions for the automotive industry.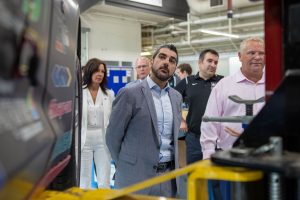 "It is always exciting to show the kind of innovative work being done by our researchers and students," said Habibi, a mechanical engineering professor whose work focuses on improving the lifespan, reliability and development cost of electric cars and hybrids. "McMaster is on the cutting edge of developing more efficient, greener automotive technology, and it is gratifying to show that our students have the potential to make a real difference in the world."
Romano and Skelly went on to tour the Garage at McMaster Innovation Park, a 10,000-foot facility that supports both The Forge, McMaster's startup incubator, and Innovation Factory, Hamilton's regional innovation centre.
"McMaster Innovation Park is Canada's premiere research and innovation park, with a mission to help companies of all sizes grow by giving them easy access to the intellectual horsepower within academia," said Ty Shattuck, CEO of MIP. "I welcomed the opportunity to show Premier Ford and our other government partners how collaboration with McMaster and the MIP can be a key driver of economic development and innovation in the province and the country."