Ontario Medal for Good Citizenship awarded to two McMaster stalwarts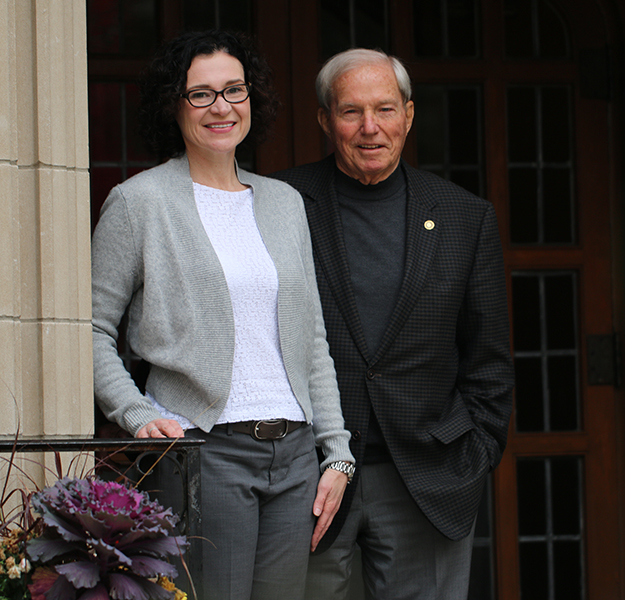 Kathleen Martin Ginis and Mel Hawkrigg in front of the University Club at McMaster. They will each receive the Ontario Medal for Good Citizenship during an investiture ceremony at Queen's Park on Wednesday, Nov. 5.
---
Former chancellor Mel Hawkrigg and kinesiology professor Kathleen Martin Ginis will both receive the Ontario Medal for Good Citizenship under the banner of McMaster University.
The award is presented annually to individuals who have made exceptional, long-term contributions to the well-being of their communities.
"McMaster has long played an integral role in the greater Hamilton community, and vice versa," said McMaster President Patrick Deane. "Deepening those connections and building on our history of engagement with the community remains a top priority for the University, and I'm delighted to see Mel Hawkrigg and Kathleen Martin Ginis recognized for their dedicated service and strong community spirit."
Hawkrigg, an alumnus from the Class of 1952 and the University's chancellor from 1998-2007, is the chairman of Hamilton-based auto parts manufacturer Orlick Industries Ltd.
A dedicated volunteer and passionate member of the McMaster community, he was inducted into the University's Alumni Gallery in 1982, and entered the McMaster Athletic Hall of Fame in 1984. He received an honorary doctorate from the University in 1997, and was presented with the Lester B. Pearson Award from the Canadian Intercollegiate Athletic Union in 1999.
"It's a great honour, and quite frankly, a great surprise," said Hawkrigg, who added that good citizenship simply means answering the call — no matter how large or small the task.
"You have to be prepared to contribute to your community, when you can and where you can. That's a rule that our family has lived by for a long time, and our children have followed through in that tradition as well."
Martin Ginis is a professor in the University's Department of Kinesiology, and serves as director of the McMaster Physical Activity Centre of Excellence (PACE) and founder/director of Spinal Cord Injury Action Canada.
Her research focuses on the benefits and consequences of physical activity participation. For more than a decade, she has been studying the effects of physical activity participation among people with a spinal cord injury. At McMaster's state-of-the-art PACE facility, Martin Ginis is tasked with directing students and staff who are devoted to improving health and well-being among older adults and people with chronic disease or disability.
"I came to McMaster 15 years ago because I saw that it was a true leader in the community," said Martin Ginis. "McMaster supports its faculty, staff and students in engaging with the community in meaningful ways that benefit us all. I'm thrilled and humbled to receive this award in the name of good citizenship."
The investiture of Ontario Medal for Good Citizenship recipients will take place on Wednesday, Nov. 5 at 6:30 p.m. in the main lobby of the Legislative Building at Queen's Park. Watch the livestream.
Below: The Ontario Medal for Good Citizenship.