Ontario Medal for Good Citizenship awarded to McMaster alumnus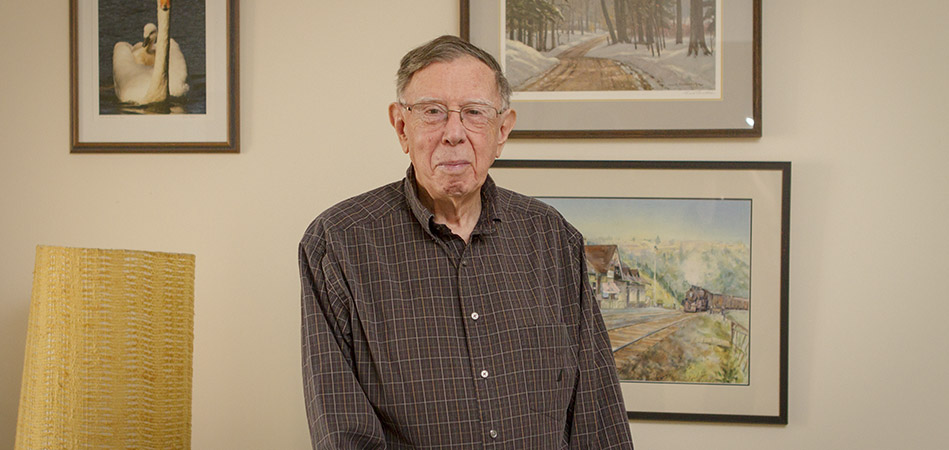 ---
"This may be hard to believe but I'm actually quite busy this week," said Ken Hall, who is not your typical retired 86-year-old. Hall is a McMaster alumnus who is a 2016 recipient of the Ontario Medal for Good Citizenship award.
The Ontario Medal for Good Citizenship recognizes individuals who, through exceptional long-term efforts, have made outstanding contributions to their communities.
Founder, visionary, leader, unsung hero, a talent for inspiring others to volunteer, and a staunch protector of the environment are just a handful of the many ways people refer to Hall.
All for good reason.
His stacked resume is merely a glimpse of his passion for both teaching and the environment, one often in combination with the other. It's fair to say Hall has deep roots with the Hamilton community and its environmental well-being.
He has taught with the Hamilton Board of Education for 31 years, implemented programs in schools such as the Classroom Mini Marsh that teaches children about water preservation, he was involved with the Hamilton Naturalist's Club for almost two decades and credits the Rotary Club for giving him various opportunities to be involved in community projects.
Hall's life was woven into the fabric of the University when he studied Geography. He would go on to teach elementary and high school students, become principal and then circle back to his alma mater.
"Not only does Ken act as a visionary leader for the environment, but also for his alma mater," said Director of Alumni Advancement, Karen McQuigge.
"The term 'founder' has been used to describe Ken in many instances throughout his volunteer and career endeavours, and his work with the MAA is no exception."
He was the only two-term president of the Alumni Association in twenty years, during which time he was a driving force behind a program that links female graduates with first year female students-in-residence at McMaster.
In 1978 he was a founding member of the Student Recruiting Committee, he created an annual leadership conference on campus for high school students, and was co-founder and first president of the Geography Alumni Branch. Hall chaired the Alumni Gallery and was an alumni representative to the McMaster Senate. The list goes on.
As a teacher he took a liking to coaching track and field because unlike other large teams it meant he never had to cut a student from joining. As a principal he strongly believed that teachers had an influential role outside the classroom and it was the extracurriculars that really gave them a chance to get to know students and help them.
"When people asked me what I did I never said that I taught geography. I taught students," says Hall.
"It didn't matter what the subject was, you follow the interest of the kids and set a good example for them."
Success to Hall means looking back and seeing that your years of service made a lasting impact. As a teacher, it means seeing his students twenty years later who are paying it forward and also giving back in a meaningful way.
Hall continues to be involved in his community and is currently on a committee for the Amica residence in Dundas where he and his wife Joan reside.