Office of the Vice-President, Research welcomes new Manager, Research Equity, Diversity and Inclusive Excellence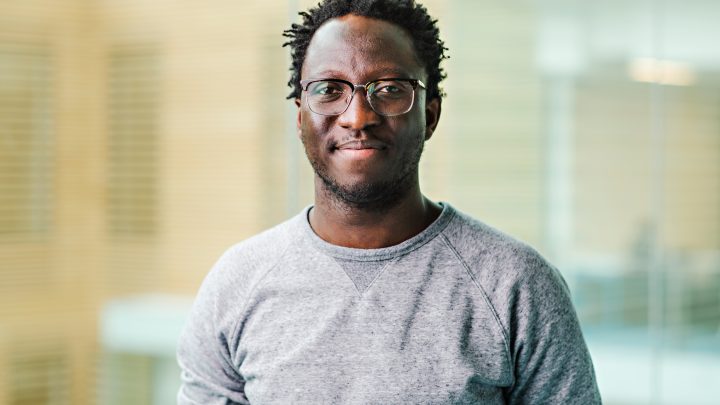 ---
The Office of the Vice-President, Research (OVPR) is pleased to announce that Emmanuel Songsore has joined the OVPR as Manager, Research Equity, Diversity and Inclusive Excellence (EDIE).
The new role is designed to advance McMaster University's pursuit of inclusive excellence in research and commercialization, according to McMaster's vice-president of research, Karen Mossman.
"Equity, diversity and inclusion are essential for creating innovative and impactful research. Emmanuel's expertise and leadership will be invaluable as McMaster works to support and empower our diverse research community," she says, adding that Songsore brings a wealth of experience to the role.
Before joining McMaster, Songsore worked as an educational developer at Western University – where he trained and supported faculty in technology-based pedagogies and active learning – and as a Research Facilitator at Wilfrid Laurier University. He has employed his expertise to support researchers in equity, diversity and inclusion (EDI), equipping them with tools to reflect on how EDI intersects with their scholarship and assisting with the development of EDI plans for grant applications.
Songsore will lead the implementation of McMaster's equity and diversity initiatives as they pertain to research and commercialization, with particular emphasis on the University's Canada Research Chair (CRC) Equity, Diversity and Inclusion (EDI) Action Plan. He'll work directly with researchers and in collaboration with the Equity & Inclusion Office, Faculty and Departmental personnel and offices within the VPR envelope.
"This role represents an exciting challenge to work with researchers towards translating institutional EDI policies into practice as it pertains to the ways we think about and dOfficeo research," says Songsore.
"While McMaster has a thriving research ecosystem, there remains work to be done towards integrating EDI into all aspects of the research process. This will further enhance the applicability and relevance of our research outputs for society at large."
Songsore earned his Ph.D. in Geography & Interdisciplinary Environment and Sustainability from Western University. His areas of research specialization include environmental justice, energy policy and the social construction of risks. He has conducted research in pedagogy and institutional policy and planning at the tertiary level. And, he's a multi-instrumentalist and composer, with a passion for creating and sharing music with people and communities around the world.
Songsore can be reached at: songsore@mcmaster.ca