Office of Community Engagement targets 500 community-campus partnerships by 2025 with new plan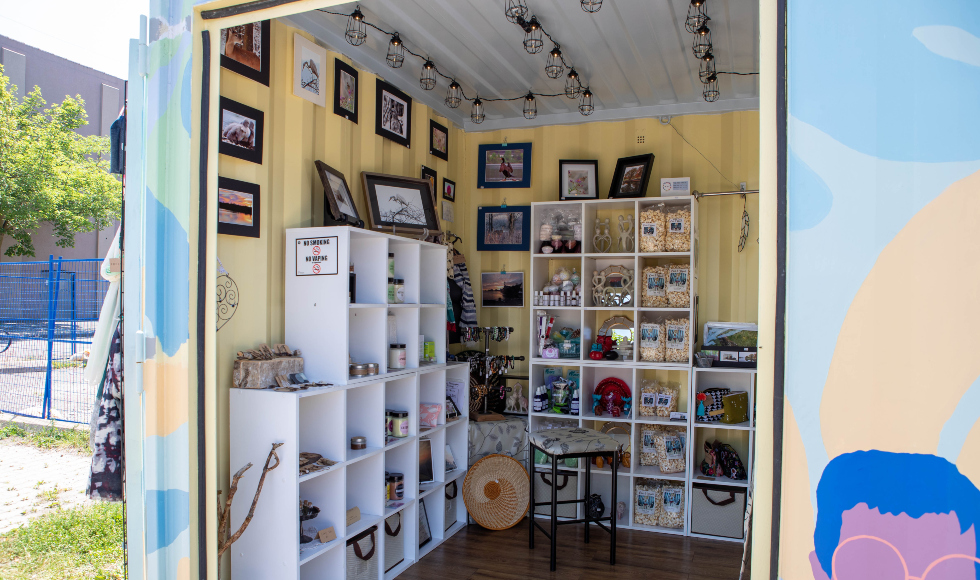 Business Out of the Box, a 2019 project between the Office of Community Engagement, YWCA Hamilton, the City of Hamilton, and the W Booth School of Engineering Practice and Technology. Photo by Georgia Kirkos.
---
At a time of great disconnect, finding ways to work together to support our community is more important than ever. That's the message behind McMaster's Office of Community Engagement's bold new strategy, which reflects the University's commitment to the greater Hamilton community by supporting 500 new community-campus partnerships by 2025.
Celebrating five years since the University's first community engagement strategy was launched, the newly launched 2020 Impact Report is both a retrospective on the impact of McMaster's recent community engagement efforts and also outlines a new way forward in the institution's role as a civic university.
Central to this new strategy are the University's principles of community engagement—a set of shared values to guide community engagement activities that were co-developed with community partners.
These principles have been at the heart of community engagement efforts campus-wide and will guide an ambitious goal of 500 new community-campus partnerships by 2025.
"By 2025 McMaster University will have 500 community-engaged partnerships that are addressing community- and university- identified priorities, built on respectful relationships, mutually beneficial, equity-seeking, and adequately resourced."
"Last year we embarked on an Impact and Strategic Clarity process that really helped us reflect on the University's goals, clarify our mission in support of those goals, and develop a plan to move forward," says Dave Heidebrecht, manager of the Office of Community Engagement.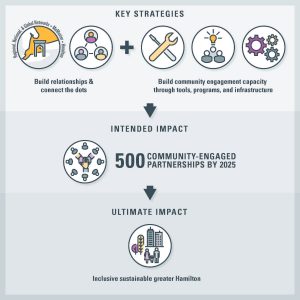 Heidebrecht acknowledges it's a bold plan, and sees it as a logical next step in further developing infrastructure to support a growing demand for office supports and services.
He's been central to the University's community engagement efforts since 2014 and has seen a lot of changes.
"When we first started much of our work was ad hoc and developed in response to identified needs on campus and in our community. Since day 1 our success has been based on relationships, our ability to connect the dots between people and ideas, and the slow but steady development of resources, programs, and infrastructure to support this work."
The new plan formalizes these core roles while also setting clear targets that will allow the office to continue supporting the creation of programs and partnerships that have made a real difference for campus and community partners.
Along with outlining the new plan, the report shares stories of the incredible work that the office has contributed to over the past year. Highlights include:
Strengthening ties with Empowerment Squared to support increased student volunteering
Playing a pivotal role as catalyst for the King William Street Opening through the CityLAB Hamilton Semester in Residence
Creating resources for remote community-engaged learning for Fall 2020
Partnering with the Faculty of Engineering to grow MacChangers—a co-curricular program oriented towards proposing solutions to local and global challenges
Launching the University's Access Strategy to assist academically qualified students from marginalized and underrepresented groups
Celebrating 5 years of the McMaster Research Shop, a co-curricular program where students work on research projects in partnership with the community
Launching the Connection, a Covid-19 Community Engagement Program
"At the end of the day our goal is to make an impact through the University's commitment to the public good" says Heidebrecht, noting that the Office of Community Engagement is striving to "build an inclusive, sustainable greater Hamilton one relationship at a time."
A hard-working team, who is featured in the Impact Report, is in place to support the new strategy. To learn more, read the report on the OCE's webpage and reach out to the office at community@mcmaster.ca.
The Office of Community Engagement is grateful for the ongoing support and openness to learning from the hundreds of campus and community partners who contribute to this collective effort as we work together towards a sustainable and inclusive greater Hamilton.
For more details on the work of the Office of Community Engagement please visit our website at http://community.mcmaster.ca.