New Wilson Leadership Scholars show exceptional leadership potential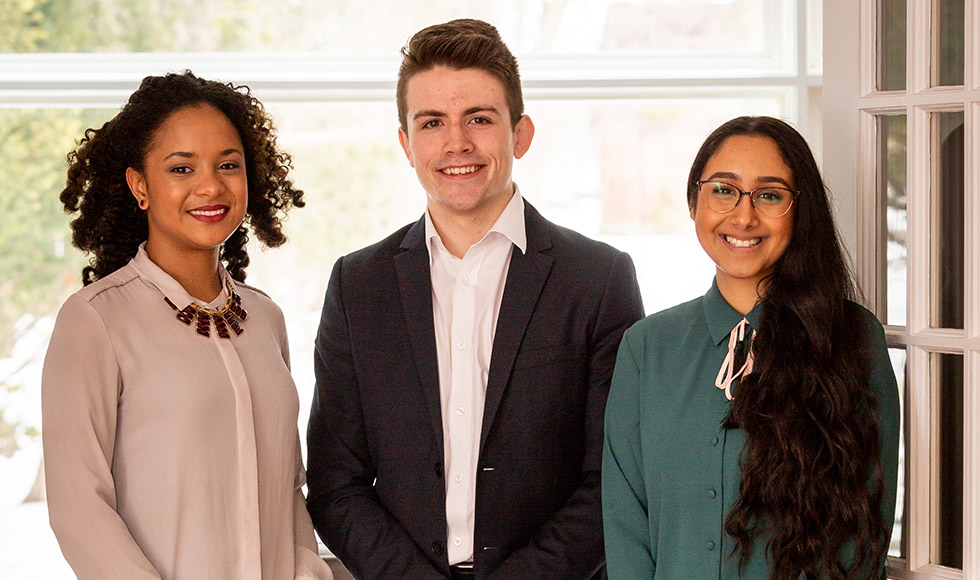 From left to right; Sarah Brooks, Erik Joy, and Carol Markos
---
This year's Wilson Leadership Scholar Award winners have been selected after a rigorous multi-stage process involving written submissions and online and in-person interviews.
Sarah Brooks, Arts and Science; Erik Joy, Chemical and Bioengineering; and Carol Markos, Indigenous Studies and Political Science represent the third cohort of Leaders for the award, which was launched in 2016.
Sean Van Koughnett, director of the award and Associate Vice-President, (Students and Learning) and Dean of Students says, "The Wilson Leadership Scholar Award recognizes students with exceptional leadership potential. Our award recipients this year are representative of the outstanding breadth of talent at McMaster."
In addition to receiving $50,000 over two years to cover educational costs, Wilson Leaders meet mentors and speakers, shape their learning about significant national issues through problem-based learning sessions, work with a coach on development goals, lead community projects, and participate in other customized programming.
This programming is necessarily intensive, given the award's ambitious goals, says its founder, L.R. Wilson. The WLSA aims "to select and recognize promising undergraduate students, cultivate their potential, and prepare them to serve among Canada's next generation of leaders." Wilson Foundation President Pete Sharpe adds, "We're looking for students who have the required DNA and the passion to acquire the skill sets to become great leaders."
Brooks is a Duke of Edinburgh International Award winner. As Pangaea Director for the McMaster Association of West Indian Students, she has helped with coordinating one of McMaster's largest student celebrations. This past summer, Brooks explored the impacts she could make through the public service while interning at the Caribbean Community Secretariat.
Joy was recently one of Canada's top wrestlers in his weight class, until an injury led him to adjust his focus. While still active with McMaster's wrestling team, Joy volunteers with Let's Talk Science, recently helped to redesign a course in his academic program, and has sought out opportunities to develop others' leadership skills.
Markos has several long-term volunteering and work commitments with youth, ranging from youth counsellor, to tutor and summer camp programming creator. At McMaster, she has been a Welcome Week Representative and VP of Fundraising for the Mac Soup Kitchen.
This year's winners will experience leadership development alongside Monish Ahluwalia, Alyssia Jovellanos and Josh Young, who are entering their second year as Wilson Leaders.
The Wilson Leadership Scholar Award is one of Canada's most valuable undergraduate awards. It is offered by the Wilson Foundation and proudly hosted at McMaster. More information is available at www.wilsonleader.ca.