New Welcome Week website launches and concerts announced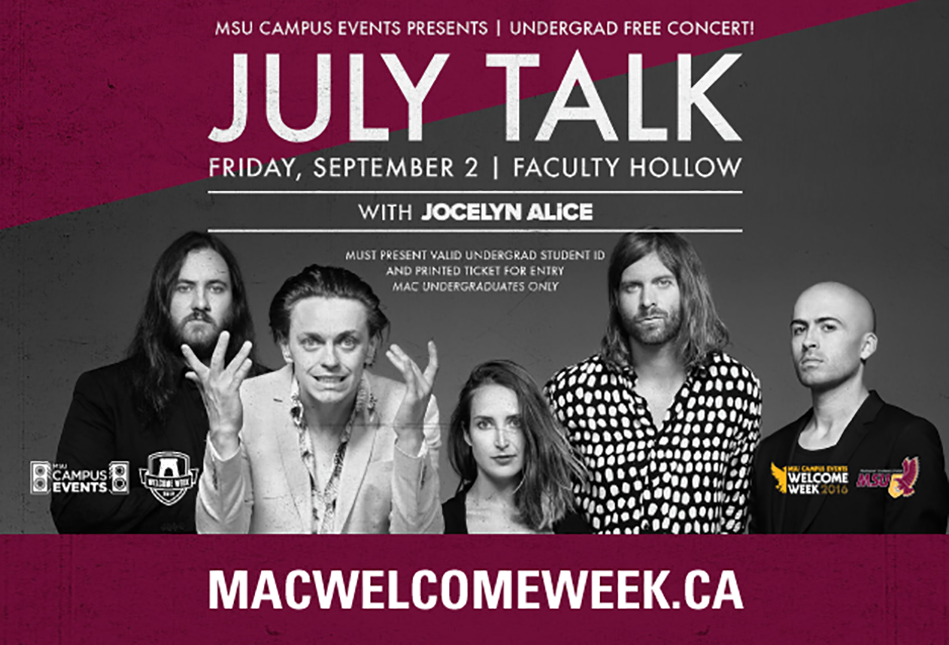 ---
The Student Success Centre, in partnership with the McMaster Students Union, is thrilled to announce the launch of McMaster University's first-ever Welcome Week website, which will act as a central hub for first-year student orientation to McMaster.
From providing information on how Welcome Week will provide a safe, inclusive and healthy educational environment to sharing updated program schedules and FAQs, the new website sets a foundation for centralizing Welcome Week events and communications. Through the new website, incoming students can access and share the Welcome Week information they need, all in one place. In doing so, the website makes transitioning into university a smoother and more unified experience for incoming students.
The launch of the new website coincides with the McMaster Students Union second concert announcement. On September 2, 2016, McMaster University will welcome back the Canadian alternative rock band, July Talk. Between sharing the stage with Billy Talent, The Arkells and Weezer to topping the Canadian music charts with their latest single, "Push + Pull," July Talk promises to make Welcome Week an unforgettable experience.
In addition to July Talk, the Montreal electronic-dance-music duo (EDM), Adventure Club, will join Welcome Week's concert line-up on August 30, 2016.
Soon to be featured on the Welcome Week website is a Marauder's Map highlighting the central locations on-campus where programs and events will take place. Students are encouraged to download the McMaster Events App to stay in the know about #MacWW2016 event times, locations, and details during Welcome Week.
Welcome Week takes place from Saturday, August 27, 2016 to Saturday, September 3, 2016. For more information, visit http://macwelcomeweek.ca or search the hashtag #MacWW2016 on social.