New tool eliminates scheduling headaches for undergraduate students: MyTimetable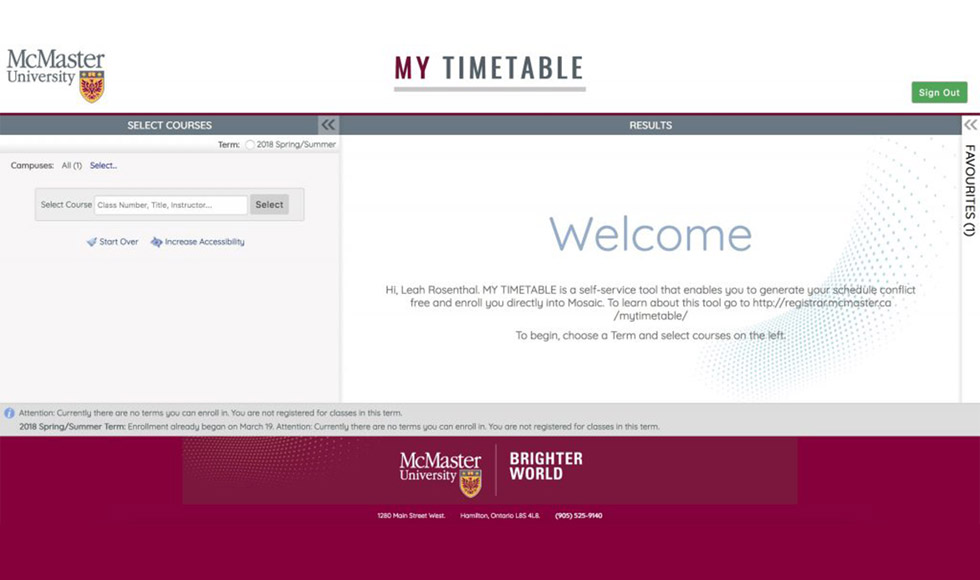 ---
Have you ever tried to make a conflict-free timetable? Did you spend hours doing it manually? What used to be a very frustrating experience has now been transformed thanks to a newly implemented application available to all undergraduate students.
MyTimetable is an online tool that helps students create conflict-free timetables and provides direct enrolment into classes. The tool makes scheduling and enrolling in classes with multiple cores and tutorials simple.
Victoria Carter, a first-year commerce student, loves how easy it is to see all of her course selections at once. "It is nice to have everything laid out in front of you, the courses and the schedule. It is so much easier to see everything in MyTimetable as compared to other systems."
What used to take hours, can now be done in a few clicks of a mouse.
MyTimetable helps to drastically improve the student experience when it comes to course selection and enrolment. This holistic approach to undergraduate student enrolment has been a university-wide priority, enabling students to segment blocks of time for personal commitments like jobs or volunteering, while also relieving frustrations surrounding enrolment.
A top feature of MyTimetable are the personalization options. If, for example, you were a bit of a night owl and prefer to avoid those 8:30 a.m. lectures, you could sort your potential timetables to show the combination of classes that are later in the day, and then simply save that timetable and come back to it later without losing any of your selected class times.
Alternatively, if you wanted to finish your day early to make it to your part-time job or volleyball tournament, you can simply block out sections of time to work your class schedule around your life schedule – without any of the headache. 
Launched for the Spring/Summer 2018 term, students are already reaping the benefits of MyTimetable.
"Overall, I think that this tool will help students and will reduce a lot of the confusion with enrolment I've seen and experienced over the past 3 years here," shared Connor MacLean, third year integrated science student. "It's a prime example of students voicing a concern and the university working with them to take action to find a solution, and that's incredible to me."
Undergraduate students can access MyTimetable by logging into Mosaic and clicking on the "Create MyTimetable" tile on their homepage.  Alternatively, students can access MyTimetable in the top right corner of their Student Centre.
In MyTimetable undergraduate students can:
Search for courses easily

Block timeslots to accommodate part-time jobs, and other personal commitments

Create multiple timetables to choose from

Select a favourite schedule

Enrol, swap or drop classes directly
Students can access MyTimetable and search for Fall 2018/Winter 2019 courses beginning on June 13th, 2018. They will be able to put courses in their shopping cart and validate their selections. When their enrolment appointment opens, students can directly enrol into their selected courses in MyTimetable. 
Enrolment appointments begin on June 19th. The full list of enrolment dates can be found online at https://registrar.mcmaster.ca/enrol/enrol_dates/.
For more information about MyTimetable visit: https://registrar.mcmaster.ca/mytimetable