New study offers 'tremendous hope' for allergic asthma sufferers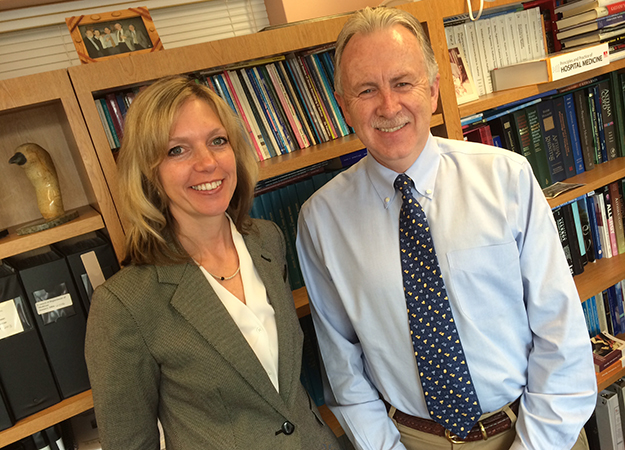 'We've never seen anything like this before,' said Paul O'Byrne (right), chair of McMaster's Department of Medicine. O'Byrne led the groundbreaking allergic asthma study alongside associate professor Gail Gauvreau.
---
A novel treatment for those suffering from allergic asthma has the potential to dramatically improve lives, according to new research from McMaster.
The study found that giving a mild allergic asthma patient an antibody — which blocks a specific protein in the lungs — significantly improves symptoms such as wheezing, breathlessness, chest tightness and coughing after patients had inhaled an environmental allergen.
Allergic asthma is a chronic inflammatory disease that affects roughly 300 million people worldwide and is expected to grow by more than 10 million each year, according to the American Academy of Allergy Asthma and Immunology. Currently, 250,000 worldwide deaths are attributed to the disease each year.
The research was led by Paul O'Byrne, executive director of the Firestone Institute of Respiratory Health and chair of McMaster's Department of Medicine, and Gail Gauvreau, associate professor of medicine at McMaster.
"We found that when we give people with mild asthma an antibody which blocks the action of a protein called thymic stromal lymphopoietin (TSLP), which is produced by the cells lining the airways in the lungs, the persistent low grade inflammation of the lungs almost entirely disappears," explained O'Byrne.
"We've never seen anything like this before, with the exception of treatment with corticosteroids, although we've never figured out how the corticosteroids do that. Yet, with these antibodies we know the exact mechanism because the only way it can work is by blocking the action of TSLP. What this tells us, even in people with mild asthma, is this protein is being produced and released continuously and that is what is maintaining inflammation in the lungs."
By blocking the TSLP protein, it in turn blocks other proteins that are further downstream in the reaction cause by inhaled allergens, added O'Byrne. 
The McMaster researchers worked with a consortium funded by the AllerGen Network of Centers of Excellence called the Clinical Investigative Collaborative — a clinician-led initiative that studies the mechanisms of allergic asthma in Canada and evaluates potential new drugs.
It recruited 31 patients across Canada ranging in age from 19 to 55. Half of the patients were given the antibody while the remainder received a placebo. Patients were given the antibody through an intravenous infusion once monthly over a three-month period. The patients then underwent a challenge where they inhaled the allergen and were monitored to test the impact of the drug. .
"We discovered that the antibodies significantly reduced baseline inflammation and protected the participants against inhaled allergens when compared to the placebo group," said Gauvreau.
O'Byrne hopes the research will lead to treatments for patients with severe asthma, particularly those who are already taking all of the treatments available, such as inhaled corticosteroids or bronchodilators, but are still poorly controlled.
"This offers tremendous hope for those with allergic asthma not controlled with inhalers or steroid-based medicines, especially those with severe refractory asthma who get very sick and need urgent treatment in a hospital setting," he said. 
A next phase clinical study is currently being developed by Amgen, the company that developed the antibody as well as a pharmaceutical company called MedImmune, which is spearheading its clinical development.
"Studies are being developed very quickly to get this into patients with much more severe asthmatic diseases," said O'Byrne, adding while their study was conducted in adults, the hope is it will eventually be used in children.
The findings were published in the New England Journal of Medicine.