New student residence and teaching building to be named for Peter George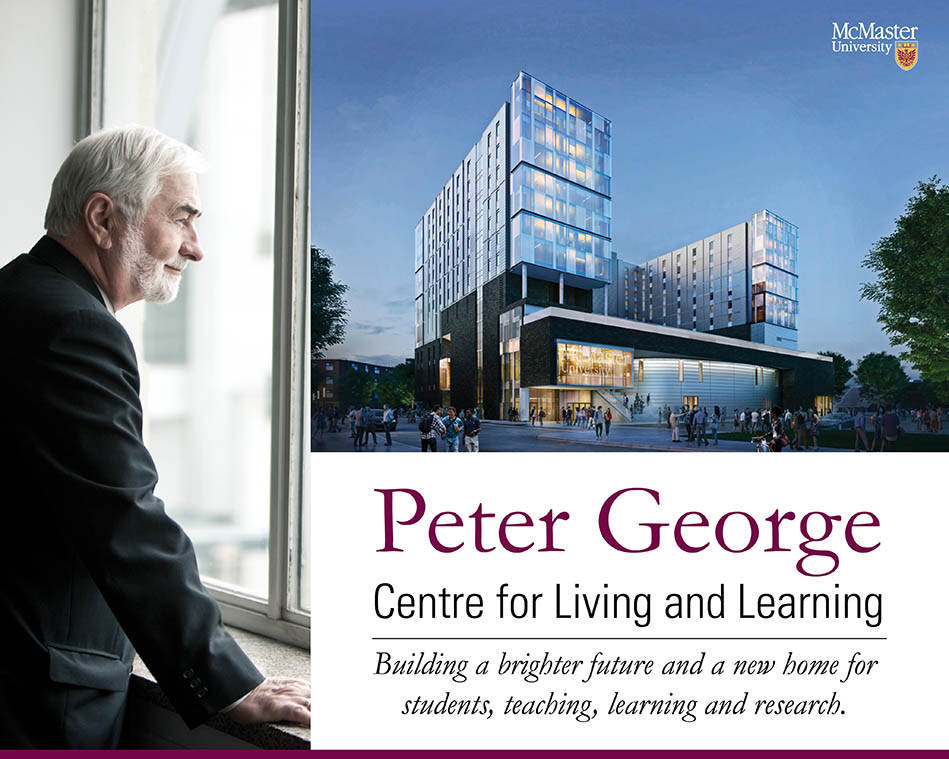 ---
McMaster is naming its new student residence, classroom and activity building the Peter George Centre for Living and Learning.
The 12-storey, 359,000 square-foot building is currently under construction on Michell Crescent, in the heart of campus. It will be home to a 500-bed student residence, new teaching space, student meeting and activity space and the McMaster Childcare centre. It is the first on-campus student residence constructed by the University in almost 15 years and will become a campus hub for students and visitors.
The naming is in recognition of President Emeritus Peter George's transformative leadership as University President and his many contributions to McMaster, Hamilton and higher education in Ontario and Canada.
"Across this campus, you'll find real evidence of Peter's leadership and service to McMaster and Hamilton," says President Patrick Deane. "His commitment to, and passion for, McMaster students is inspiring. The naming of this building is particularly fitting, because Peter always puts students first."
Chancellor Emeritus Lynton "Red" Wilson initiated the naming process with a letter to McMaster's Board of Governors.
"One of the defining missions of Peter's presidency was enriching the connections between student life and the learning experience," Wilson wrote. "I believe that naming the Living and Learning Centre for Peter would be an entirely appropriate tribute."
Read what others have to say about President Emeritus Peter George
George joined the McMaster community as an Economics lecturer in 1965. He later served as Dean of Social Sciences before being named University President in 1995. He served three terms as President and retired in 2010.
George also served as president of the Council of Ontario Universities from 1991 to 1995. He became a member of the Order of Canada in 1999 and the Order of Ontario in 2007.
Many now-familiar campus buildings and facilities were constructed during George's tenure as President, including the David Braley Athletic Centre, Ron Joyce Stadium, Michael G. DeGroote Centre for Learning and Discovery, Engineering Technology Building, Ron Joyce Centre in Burlington and perhaps closest to his heart, the McMaster University Student Centre.
A bust of George, unveiled in 2014, overlooks the Student Centre atrium, reflecting the student-centered approach that animated his work at the university.
In addition to the naming of the Peter George Centre for Living and Learning, George has also been presented with an honorary doctorate.
McMaster held a special 564th Convocation Friday and awarded George an honorary Doctor of Laws at a private event in Convocation Hall.
"Peter, you are the first and, for another seven weeks, the only member of the McMaster University class of 2017," Chancellor Suzanne Labarge said during her remarks at the event. "You have long been figuratively, and you are now literally, in a class by yourself. I can offer you no wisdom, no advice, only my own thanks and the thanks of a grateful McMaster family."
In sharing his thoughts with those in attendance George thanked those who played a part in helping to make McMaster such an extraordinary university.
"I was blessed with loyal and superb staff who made every day at work a joy; inspiring colleagues whose excellence in their fields drove me to find more resources for them to make their ground-breaking discoveries, an amazing team of administrators who were each brilliant in their own fields; awe-inspiring alumni who went on to do incredible things that made us all proud; generous donors whose altruism made so much possible and above all, the thousands of wonderful students who it was my privilege to meet, befriend and learn from over my 45 years at McMaster. Thank you to each and every one of you!"
Read Peter George's prepared remarks in full
George has received five other honorary degrees and several honorary professorships throughout his career.
Since his retirement, George has been a juror for the Donner Prize for the best public policy book, served as a senior advisor to the director of the United Nations University's Institute for Water, Environment and Health, and been the honorary chair of the Ancaster-Dundas Relay for Life.
He has also served on the boards of the University of Sharjah, the Miller Thomson Foundation, the Canadian Centre for Diversity, the Art Gallery of Hamilton, the LORAN Foundation, the Aga Kahn Museum and the Kids' Health Links Foundation.
He is the recipient of the Queen Elizabeth II Diamond Jubilee Medal and the David C. Smith Award for leadership and advocacy in post-secondary education.