New School to "elevate" science education at McMaster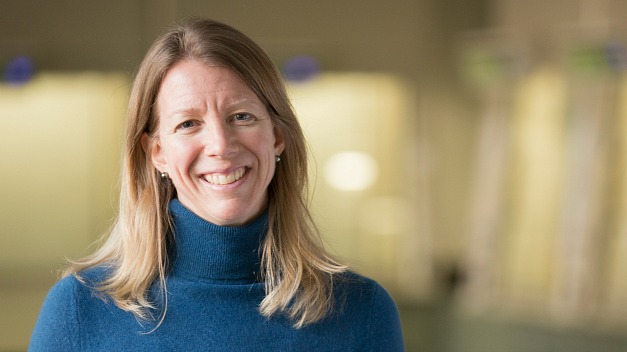 The new School of Interdisciplinary Science (SIS) will provide an opportunity to 'form bonds across programs' and 'elevate teaching and learning' in the Faculty of Science says the School's inaugural director, Maureen McDonald (pictured).
---
Enhancing undergraduate science education at Master is the goal of a new school recently created by the Faculty of Science.
The School of Interdisciplinary Science (SIS), officially launched on January 1, brings together four Faculty programs including Honours Integrated Science, Life Science, Medical Physics and Medical Radiation Sciences, making it home to a large percentage of undergraduate Science students, as well as faculty members and staff from a number of departments.
Robert Baker, dean of the Faculty of Science, says the new school is intended to foster exploration and discovery, while emphasizing experiential, collaborative and student-centred learning.
"We plan to give students and faculty members more opportunities to learn and do interdisciplinary science together," says Baker. "Students want hands-on experience and they want to have their learning connect to the world beyond campus. We are aiming to create a national and international centre recognized for its excellent interdisciplinary science education while preparing our students for the careers of tomorrow."
The inaugural director of SIS, Maureen McDonald, says the school will focus on interdisciplinary teaching and pedagogical experimentation and is intended to serve as a resource for other departments and schools within the Faculty, helping to enhance the student experience.
"What's exciting is that we now have an opportunity to form bonds across programs and elevate teaching and learning by taking what's best in our programs and spreading those approaches both within the Faculty and even more broadly," says McDonald. "This is something McMaster has always done and we're making space in the Faculty of Science for this to happen more effectively."
The creation of the school was a key recommendation of the Faculty of Science Academic Planning Committee and was the result of extensive consultation with Faculty, staff and students within the Faculty of Science.
For students currently enrolled the in the programs that have now been consolidated within SIS, changes will be administrative in nature and are not expected to impact the day-to-day academic experience.