New research chairs to put gender differences under the microscope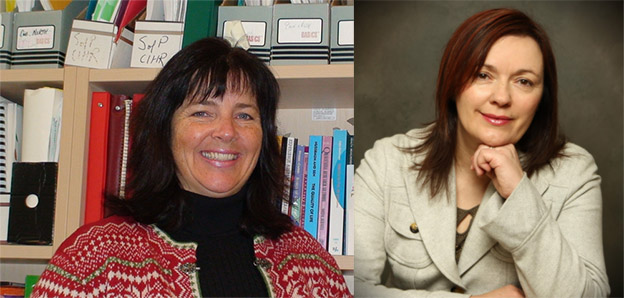 Allison Williams and Joy MacDermid will study differences between men and women with new chairs from the Canadian Institutes of Health Research. Each chair is also awarded $800,000 in funding over five years.
---
Two McMaster researchers are probing the links between gender, work and health.
The Canadian Institutes of Health Research has awarded Chairs to Allison Williams and Joy MacDermid, who will explore gender issues from very different perspectives.
Williams, an associate professor in geography and earth sciences and Chair in Gender, Work and Health – Implementation Systems, will investigate how workplaces can better accommodate employees who act as caregivers at home.
MacDermid, assistant dean and professor in rehabilitation science, will research how men's and women's roles at work, home and within society are reflected in the musculoskeletal problems they develop.
MacDermid was named Chair in Gender, Work and Health – Muscle and Tone.
Of the nine chairs in gender research awarded across Canada, McMaster is the only university to receive two chairs. Each chair is awarded $800,000 over five years.
Williams will analyze best practices for caregiver-employee policies, including flextime, workplace/home options and extended leave opportunities. She will also investigate how to spread the news about the Compassionate Care Benefit, which provides up to eight weeks leave for full-time employees caring for a seriously ill family member.
Musculoskeletal injuries, which affect the bones, muscles, ligaments and tendons, are the second largest economic burden in Canada. In 2000, such injuries resulted in $18 million in indirect costs that often relate to being off work. Osteoporosis added another $2 million a year.
MacDermid will investigate how musculoskeletal problems can be measured for their impact on function and work disability, and how to reduce this burden.
"There are tremendous differences in injury rates between men and women because of their very different roles," she said. "Women tend to have more neck problems; men, more lower back and rotator cuff problems. But, we don't always know if this happens for biological or gender-based reasons."
MacDermid said biology is just one component of how disorders develop when men and women perform different tasks at work and at home. For example, women undertake more house and caregiver work in the home, which can contribute to more physical and mental strain that contributes to neck and back problems. Wrist fractures are more common in women and this seems to relate to a constellation of factors that affect bone, muscles, balance and activity differently when men and women age.
MacDermid will investigate whether or not there is any gender bias in the way pain and disability is measured in men and women. She will also research differences in the patterns of men's and women's work injuries, differences in their return-to-work patterns, raise awareness of how gender affects work roles and incorporate any findings into rehabilitation programs.