New research centre will address chronic pain among veterans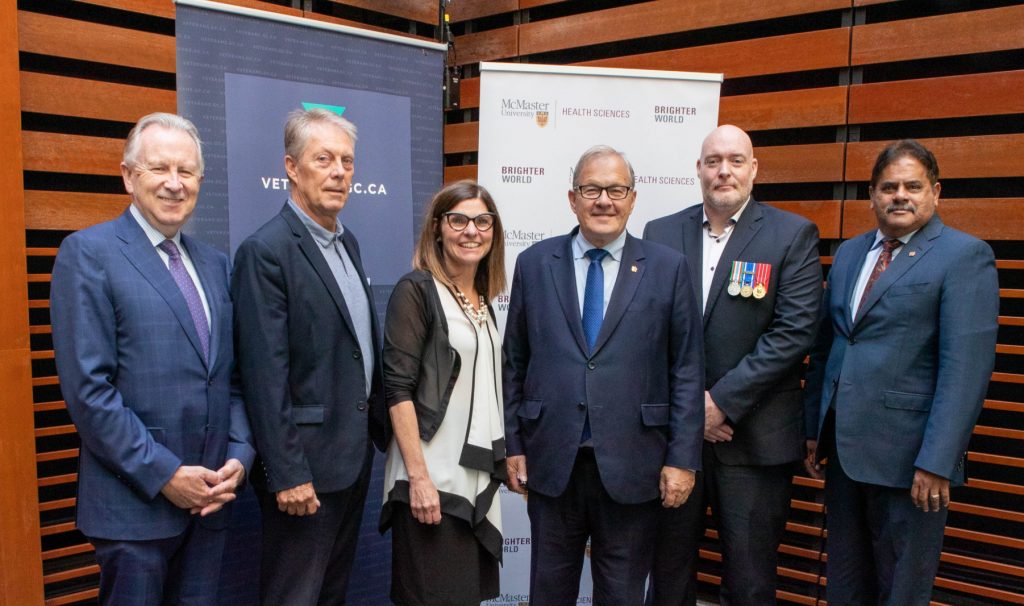 From left: Faculty of Health Sciences Dean Paul O'Byrne, Hamilton Mayor Fred Eisenberger, MP and Minister of Seniors Filomena Tassi, Veterans Affairs Minister Lawrence MacAulay, retired Corporal John Brown and Centre of Excellence on Chronic Pain medical director Ramesh Zacharias at Monday's announcement of $20.1 million in federal funding to study chronic pain among veterans. (Photo by Georgia Kirkos, McMaster University)
---
More than four in 10 Canadian veterans face chronic pain, double the proportion of other adults in the country. A new research centre at McMaster University will specifically address the issue.
The Centre of Excellence on Chronic Pain will focus on research on chronic pain of veterans, setting standards of care and ensuring that information is shared across the country.
Lawrence MacAulay, minister of veterans affairs, was on campus Monday to announce the centre, which will receive $20.1 million in federal funding for its first five years, with $5 million a year after that.
"The research conducted by the new Centre of Excellence on Chronic Pain will allow the delivery of the best chronic pain treatments and supports for Canada's veterans," MacAulay said.
"By identifying new and emerging treatments, we will help veterans and military members get better. The Centre of Excellence will test innovative therapies and that can be shared with health professionals across the country."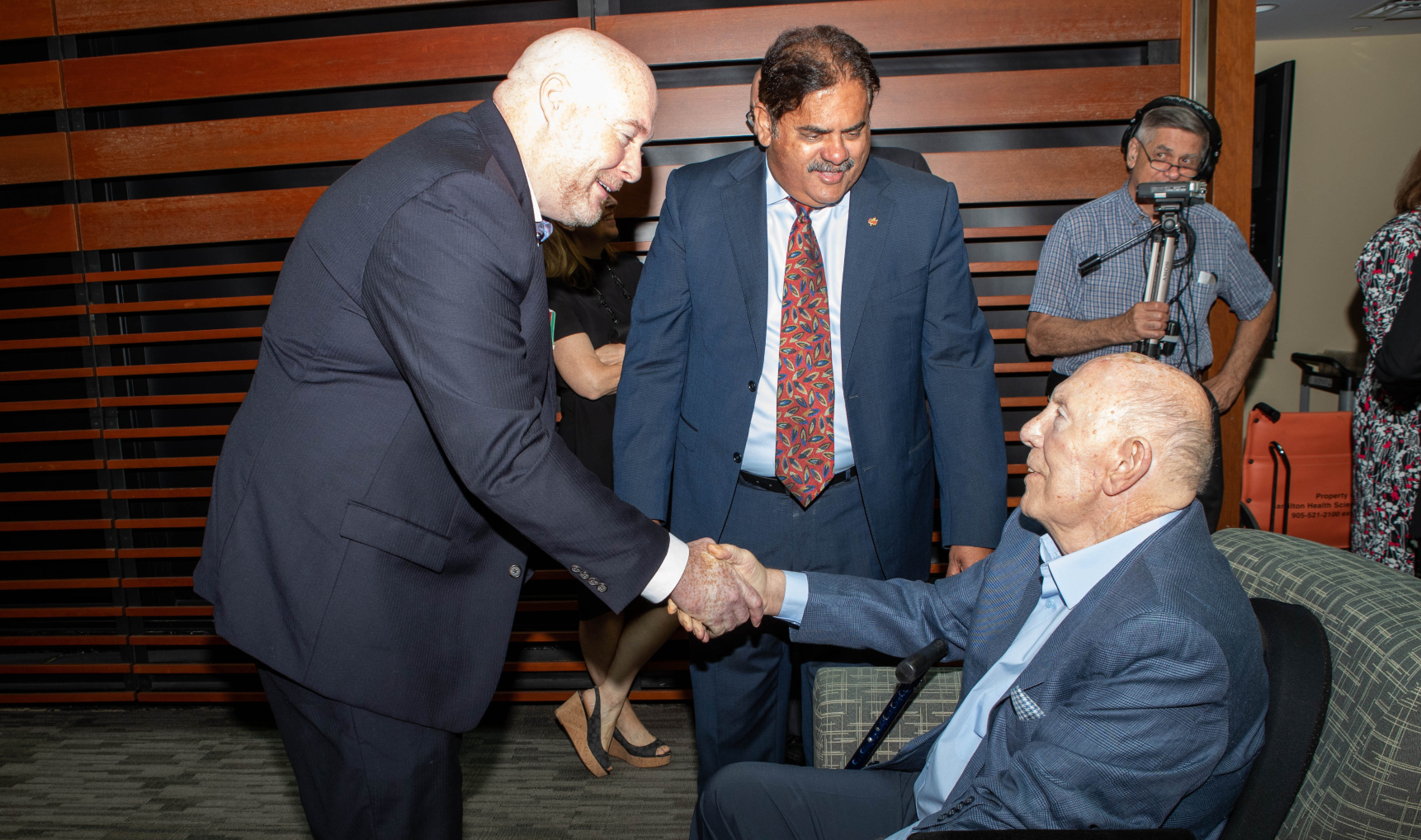 Canadian Armed Forces members, veterans and their families face unique challenges due to the nature of military service. The department's survey on life after service in 2016 found chronic pain contributed significantly to various challenges for veterans.
Veterans experience higher levels of physical and mental health challenges compared to the general Canadian population, including higher rates of choric pain, post-traumatic stress disorder and suicide.
More than 40 percent of veterans have chronic pain, compared to 20 percent of Canadians, and chronic pain is unique and challenging to treat, requiring interdisciplinary attention to complex biological, psychological and social factors.
"The biggest thing I've learned is that pain doesn't control you, you can learn how to control the pain," said retired Corporal John Brown, who served for 20 years and suffers from chronic pain.
"The work being done at this centre will help my fellow veterans across the country access better treatment and help them do the same."
McMaster is well positioned to host the Centre of Excellence on Chronic Pain, as it has the Michael G. DeGroote Institute for Pain Research and Care and the National Pain Centre. It also leads the Chronic Pain Network established by the Canadian Institutes of Health Research which is a unique partnership between patients, clinicians, researchers and policy-makers dedicated to advancing the management of chronic pain in Canada.
The Michael G. DeGroote Pain Clinic of Hamilton Health Sciences treats a significant number of veterans referred from across Canada.
"We know that through research, best practices will be developed to better treat the large number of Canadian veterans suffering from chronic pain," said Ramesh Zacharias, medical director of the new centre of excellence.
"The new centre of excellence will ensure that veterans throughout the country will receive evidence-based treatments to improve the quality of their lives."
Zacharias is also an assistant clinical professor of the Department of Anesthesia and the medical director of the Michael G. DeGroote Pain Clinic at Hamilton Health Sciences.
Michael G. DeGroote, who attended the announcement, said he was pleased that his philanthropy which launched the pain institute, centre and clinic has become a focus for cutting edge developments in pain treatment.
"I think it is very important to support our veterans because they do a lot for us," said DeGroote. "When I gave money for pain research at McMaster, I was hoping others would do the same. Today's event is wonderful."