New name, initiatives build on program advancing health professional education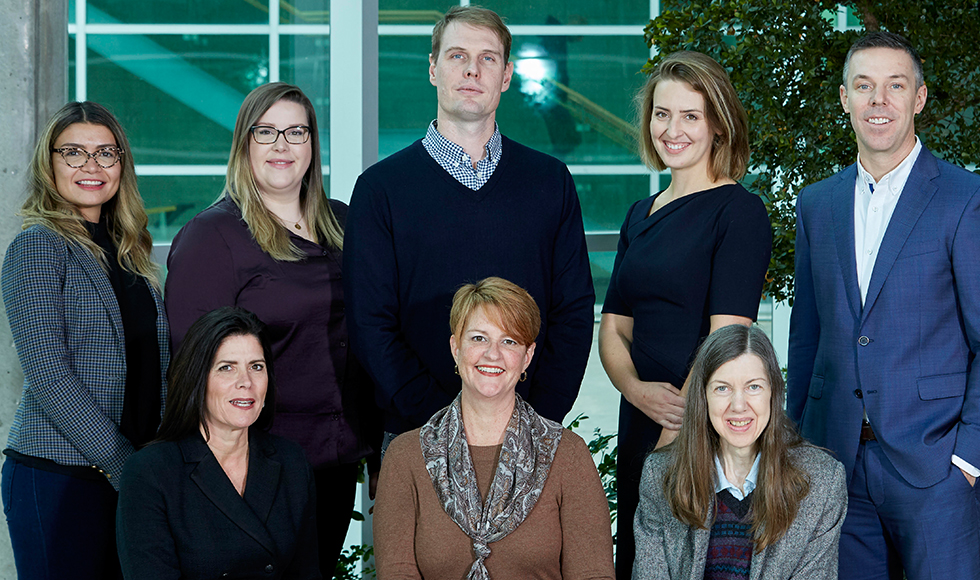 Members of the MERIT team. Front row, left to right: Anita Riddell, Darci Hill, Mary Lou Schmuck. Back row, left to right: Tamara Caceres, Dana Russell, Lawrence Grierson, Meredith Vanstone and Jonathan Sherbino.
---
A program with a storied history of serving the McMaster Faculty of Health Sciences for more than 45 years has a new name and is expanding.
The Program for Research and Development (PERD) has been renamed the McMaster FHS program for Education Research, Innovation and Theory (MERIT).
In addition to the name change, there are new initiatives and events, as well as a drive for more members, scholars and scientists to join its ranks.
MERIT is collaborating with faculty to engage in high-impact, high-value education scholarship. The vision of the program is to grow a community of scientists and clinicians to advance health professions education through research and applied science.
The program is led by Jonathan Sherbino, who was appointed assistant dean of education research for McMaster's Faculty of Health Sciences in May.
"We want to be a community of practice where you can engage in discussion and inquiry around health professional education, where you can receive peer review and critique of ideas you are working on, and where you can find opportunities to collaborate," said Sherbino, an associate professor in the Department of Medicine at the Michael G. DeGroote School of Medicine.
"We are building a community, sharing in the mission of advancing the best practices in how we teach, assess and evaluate."
One new initiative for MERIT is the thinkTank, which is an education research consultation service.
All MERIT scientists attend a consult, bringing diverse perspectives to the table that include cognitive psychology, social sciences, kinesiology, qualitative and quantitative methodologies, and psychometrics, among others.
"In addition to research, we are looking to support innovation," said Sherbino.
MERIT has five scientists focused on education research, as well as the theory and practice of learning and teaching. The team includes Kelly Dore, Lawrence Grierson, Sandra Monteiro, Geoff Norman and Meredith Vanstone.
Vanstone, who came on board in summer 2016, uses qualitative approaches to examine social and ethical issues related to health professional practice, education and health policy. Among the topics of her current studies are mistreatment of medical trainees, unprofessionalism in a clinical workplace, teachings on physician failure, and social power in the clinical learning environment.
"It is important to acknowledge the experiences and challenges trainees and educators are facing, and support them in facing these challenges in a productive and resilient way" said Vanstone, an assistant professor in the Department of Family Medicine at the Michael G. DeGroote School of Medicine.
"When you think about the investment made into health professional education by the learner, educators, taxpayers and the government, and the impact they will have on patients and community members when they are out in practice — those are high stakes. As educators we have an obligation to get it right, to support these learners to deliver the highest quality of care possible."
MERIT invites interested faculty members and staff to attend an upcoming rounds event or open consultation. A full list of events is available online.
Applications are also welcome for MERIT members, scholars or scientists.
"If you are going to be successful as a scholar or scientist, isolation is inefficient and lonely," said Sherbino. "Collaboration is essential for success."
To learn more about MERIT, visit its website or email merit@mcmaster.ca.