New labs to be a 'game changer' for undergraduate learning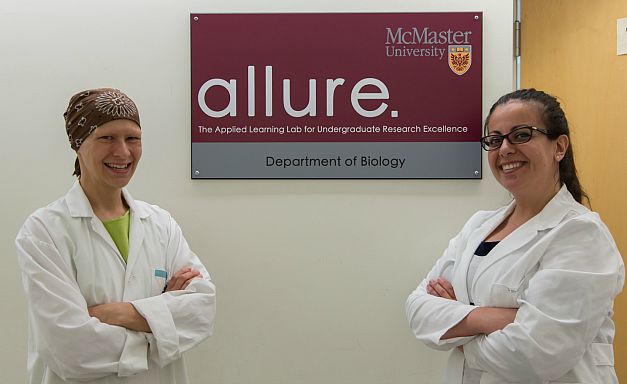 'We want to set our students up for success,' says Rosa da Silva (right) who, along with Kim Dej (left) and Chad Harvey, spearheaded the creation of the ALLURE and Cell Biology Labs, designed to provide undergraduate students with hands-on skills using research-grade equipment.
---
IrtazaTahir pores over a microscope, examining the delicate physiology of the brown marmorated stink bug, an invasive insect species that has been wreaking havoc on agricultural yields across North America.
By studying its immune response, Irtaza is trying to understand how the stink bug is able to gain resistance to various pesticides; he's hoping that this might hold the key to combatting this destructive pest.
Irtaza's research is contributing to the McMaster Stink Bug Project, but he isn't a graduate student or a research assistant; he's a third year student in the Faculty of Science working in the ALLURE lab, one of two new, innovative, research labs designed specifically for use by undergraduate students.
The Applied Learning Lab for Undergraduate Research Excellence (ALLURE) and the Undergraduate Cell Biology Lab officially opened this spring.* These labs, created by the Department of Biology, will provide undergraduates with lab spaces where students from all disciplines in the Faculty of Science will gain valuable hands-on skills using research-grade equipment with guidance from faculty members.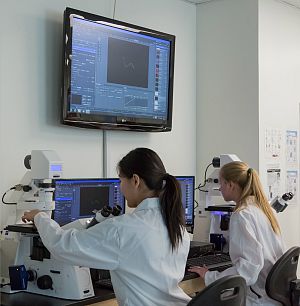 Each space is designed to provide a unique training opportunity for students. In the ALLURE lab, students participate in authentic, group-based, publishable research projects led by faculty members. The Cell Biology Lab allows students to investigate questions in cell biology within their group projects or within specific laboratory courses.
The creation of the labs was spearheaded by Chad Harvey, Kim Dej and Rosa da Silva, all assistant professors in McMaster's Department of Biology. All three are serving as faculty mentors, helping students get the most from this kind of experiential learning.
"Traditionally, one or two undergraduate students might join a researcher's lab to complete a fourth year thesis," says da Silva. "We wanted to create facilities where students are in the same space working on different projects but also have the ability to cross disciplines and collaborate."
"Instead of having one student on a project, teams of students can address different aspects of a research question and share their knowledge and skills with each other as they learn together," adds Dej. "Now students have facilities of their own where they can experience this kind of integrative, hands-on learning,"
Students are already in the labs, working on projects and honing a range of research skills including microscopy, genetic crosses, behavioural analyses, DNA sequencing, phylogenetic analyses, manipulating and rearing cells, localizing proteins, visualizing the dynamics of cells and examining the physiology of organisms.
"This is a serious step toward something that will be a game-changer," says da Silva. "It's training students in larger numbers who, when they leave the university, will be better prepared to go into careers in academia or industry and be comfortable with the equipment that they will use in their future careers, the knowledge translation, the critical thinking, the integrative thought process."
According to da Silva and Dej, hundreds of students in lab courses and involved with various independent or team-based research projects will use these state-of-the-art facilities each year, helping to take the delivery of undergraduate science education at McMaster to the next level.
"We want to set our students up for success towards applying their skillset to answer big questions in science," says da Silva. "We want to ramp up the number of Canadian students excelling in scientific research and if they're excelling in the Canadian market, they'll excel internationally as well. That's the idea- to get students to think in an innovative and integrative way in their training so that when they enter their careers, they will become leaders."
*The ALLURE lab was created through a mix of funding from Forward with Integrity, the Academic Science Fund and the McMaster Institute for Innovation and Excellence in Teaching and Learning (MIIETL). The Undergraduate Cell Biology Lab was funded through an internal university fund grant from the Provost following a competitive process.