New exhibit celebrates 150 years of Bertrand Russell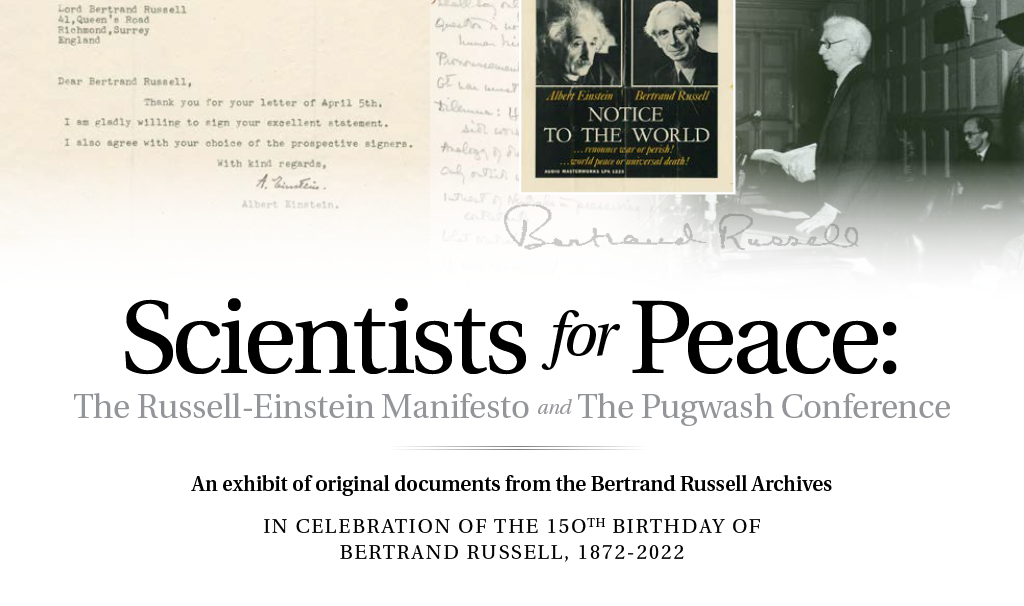 Scientists for Peace: the Russell-Einstein Manifesto and the Pugwash Conference is open to the public from now until December.
---
Handwritten letters from Albert Einstein, the earliest version of the Russell-Einstein Manifesto, and rare photos of Bertrand Russell are among the items on display in a new exhibit presented in celebration of Russell's 150th birthday.
Open to the public at the Bertrand Russell Archives, Scientists for Peace: the Russell-Einstein Manifesto and the Pugwash Conference pays tribute to one of history's most prominent public intellectuals.
The exhibit — which features over two dozen original documents — traces Russell's anti-nuclear stance in the post-war era from his pivotal BBC broadcast Man's Peril, to his collaboration with Einstein in issuing their joint manifesto, and his efforts to bring together scientists from both sides of the Iron Curtain to establish the Pugwash Conference for peace.
"As we witness another war and renewed threats of nuclear weapons, it is encouraging to remember the successes of past peace activists," says Rick Stapleton, head of the William Ready Division of Archives and Research Collections and curator of the exhibit.
A pacifist, philosopher and Nobel laureate, Russell is widely considered one of the greatest intellectuals of the 20th century. The 150th anniversary of his birth is on May 18.
The Bertrand Russell Archives at McMaster is the university's largest and most heavily used research collection.
All are welcome to visit the exhibit at the Bertrand Russell Archives. Admission is free.
Exhibit hours are Monday to Thursday,  1 p.m. to 4 p.m. each week until Dec. 8, 2022.
An online version of the exhibit is available for those who are unable to visit in person.
For questions regarding the exhibit or visiting the Bertrand Russell Archives, email russarch@mcmaster.ca.