New DeGroote courses help students prepare for the unknown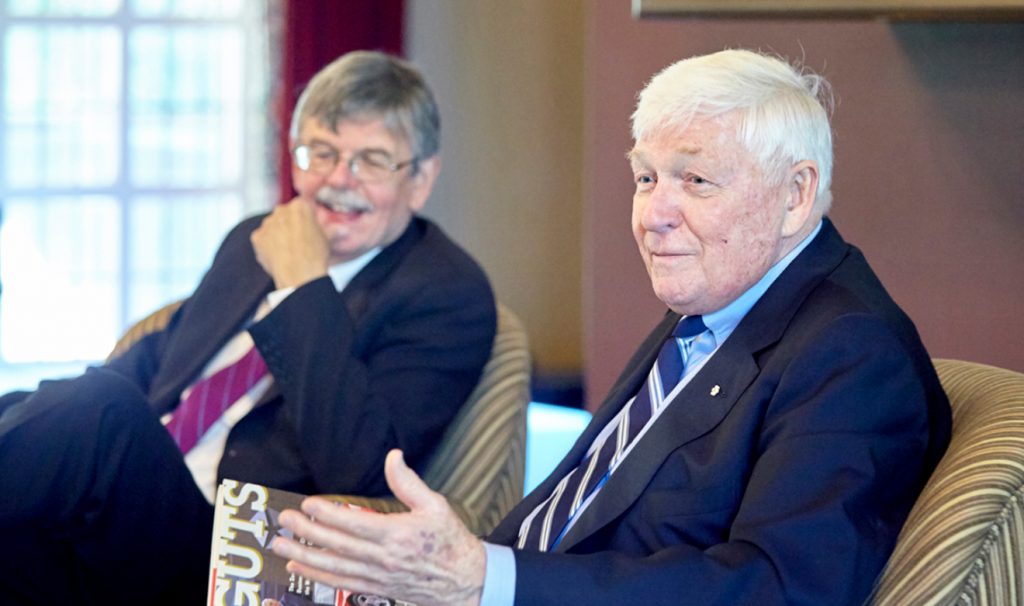 Former chancellor Lynton "Red" Wilson (right), in conversation with business Writer in Residence Gordon Pitts. Wilson is supporting two new courses at DeGroote known as Imagining and Navigating the Future.
---
In our rapidly changing world, business as usual is not an option.
That's why the DeGroote School of Business will be offering two new courses later this year that blend strategic foresight tools with leadership skills development.
Imagining and Navigating the Future 3ZZ3 will be open to third- and fourth-year students from any faculty, and qualifies as an elective in McMaster's new minor in innovation. It will run throughout the Fall 2019 semester.
Imagining and Navigating the Future B718 is intended for graduate students from any faculty. It will be offered during an intensive five-day module from Aug. 26-30.
Building on strategic foresight methods used by the likes of 3M, Google, Microsoft and the Institute for the Future, the courses will help students understand the forces shaping our world.
They will also enable students to envision future-oriented scenarios based on trends, signals and imaginative projections, and to develop the leadership skills needed to navigate rapid change.
The courses will cover a wide range of topics, such as the changing world of work, technology disruption, the future of finance, the future of healthy living and climate change resilience.
The new offerings are supported by former chancellor Lynton "Red" Wilson, BA '62 & LLD '95.
A distinguished retired public servant and business executive, Wilson was named an Officer of the Order of Canada in 1997 and was the lead donor behind the construction of the L.R. Wilson Hall.
"Looking ahead, the implications of rapid, disruptive change are fast becoming a significant challenge for contemporary management," Wilson says. "It's about coping with where the puck is heading, to quote Wayne Gretzky's father."
"I am very pleased to support the pilot of the Imagining and Navigating the Future courses at the DeGroote School of Business."
Tom Gleave, industry professor and adviser to DeGroote Dean Len Waverman, is leading the initiative.
"We know society is facing many challenges in the years ahead, including effectively responding to technology and business model disruptions, our changing demographics and climate change," Gleave says.
"The strategic foresight and leadership models students will learn will enhance their creative problem-solving capabilities, and strengthen the kinds of analytical, collaboration and communication skills employers value," he adds.
"We aim to prepare students to become inspired agents of change throughout their careers – people seeking to make the world a better place."
For further details on Imagining and Navigating the Future, please click here.