New Chancellor announced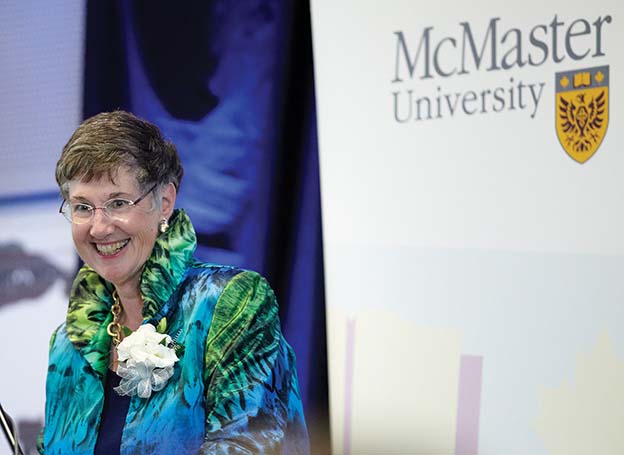 Suzanne Labarge has been named McMaster's next Chancellor. The alumna and businesswoman has strong ties to the University, continuing a tradition begun by her father Raymond, who was a member of McMaster's Board of Governors.
---
McMaster graduate and leading Canadian businesswoman Suzanne Labarge has been named the University's next Chancellor.  Senate approved the appointment at its meeting Wednesday afternoon.
"I am delighted and honoured to be offered this role," said Labarge.  "I've been involved with McMaster in so many ways.  Now, to have the opportunity to be Chancellor and to confer degrees on young people who have put so much time and effort into their education and who represent the best McMaster has to offer will be a true privilege."
Labarge received a BA in economics from McMaster in 1967 and in 1971 earned an MBA from Harvard University. She worked for the Royal Bank for 14 years before spending a decade with the federal government in several senior positions, including deputy superintendent of financial institutions. She returned to executive positions in RBC, retiring as its vice-chairman and chief risk officer in 2004.  She currently sits on three international public company boards.
"McMaster has a strong tradition of outstanding Chancellors," said university president Patrick Deane. "Suzanne has a keen interest in students and an infectious enthusiasm for the impact higher learning and research can bring to society.  The committee was unanimous in its support for inviting such a dynamic woman into this important role."
Labarge's strong ties with McMaster continue a tradition begun by her father Raymond Labarge who was a member of McMaster's Board of Governors.  She endowed a McMaster Chair in Research and Knowledge for Optimal Aging in tribute to her parents and later strengthened her commitment to the Labarge Optimal Aging Initiative with a significant gift for a program sponsoring interdisciplinary research and a website portal on healthy aging to provide accessible information for the public, health care professionals, researchers and policy makers.
Labarge will assume her three-year role as Chancellor on September 1, 2013 succeeding Red Wilson who has held the position for the past six years.
The Chancellor is the honorary head of the University, presides over all convocations and participates in a wide range of activities and events on behalf of the University. The committee to nominate a new Chancellor was formed in the fall of 2012.  Committee membership can be found here.