New appointments will boost research innovation and impact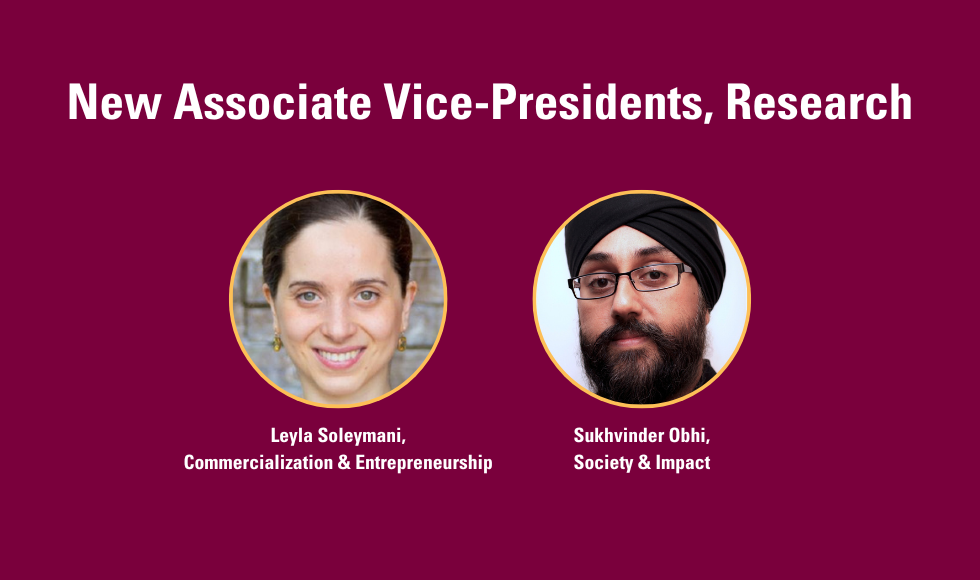 Engineering professor Leyla Soleymani and psychology, neuroscience and behaviour professor Sukh Obhi have been appointed Associate Vice-Presidents, Research.
---
Two inaugural appointments in positions designed to maximize the impact and influence of McMaster's research enterprise were approved today by the University's Board of Governors.
Leyla Soleymani, associate professor of engineering physics, and Sukhvinder Obhi, professor of psychology, neuroscience and behaviour, have been appointed Associate Vice-President, Research (Commercialization & Entrepreneurship) and Associate Vice-President, Research (Society & Impact), respectively.
Karen Mossman, vice-president, research, says the new positions speak to the university's commitment to ensuring the impact of our research is maximized to advance societal health and well-being.
"McMaster is among the country's most research-intensive universities, and it is incumbent upon us to ensure both public and private investments in our research are serving the greater needs of society," says Mossman, adding that Soleymani and Obhi are perfectly positioned to support our research community.
"Leyla and Sukh have demonstrated track records in technology and knowledge transfer. Their collective experience will be instrumental in our ability to mobilize our research to further drive economic and social development."
Soleymani, who holds the Canada Research Chair in Miniaturized Medical Devices and has created a startup company, says she's excited that the university has dedicated a position specifically to entrepreneurship and commercialization.
"Entrepreneurship is growing across the university and I'm looking forward to supporting our research community in initiatives that increase the impact and value of our research, by advancing economic development locally, nationally and internationally."
Obhi, director of the Social Brain, Body & Action Lab and the Neurosociety Lab, has spent nearly two decades working with public and private stakeholders to advance collaborations.
"I'm excited to help facilitate research initiatives that can lead to societal advances across diverse domains and populations, which is really at the heart of our mission as a publicly funded university," he says.
"I look forward to working with my colleagues across disciplines to support their partnership development and mobilization efforts."
Soleymani received her M.Sc. from the University of Southern California, and her Ph.D. from the University of Toronto. To address the world's problems in health care, her research combines innovations in physics, electrical engineering, materials science, and biochemistry. She is currently developing rapid diagnostic and antimicrobial platforms for improving the management of diseases and quality of healthcare.
Obhi completed his Ph.D. at University College London, was a visiting graduate fellow at Harvard Medical School and was a postdoctoral fellow at Western University.
His research focuses on the neural and cognitive bases of social behaviour, with an emphasis on power, status, agency and volition. He also conducts research on various issues related to social diversity, many of which have application to the professional domains of leadership and diversity and inclusion.
Soleymani will begin her term on May 1, 2023, and Obhi will begin his term on July 1, 2023. Their terms run through to June 30, 2028.