New network matches students and new grads with alumni advisors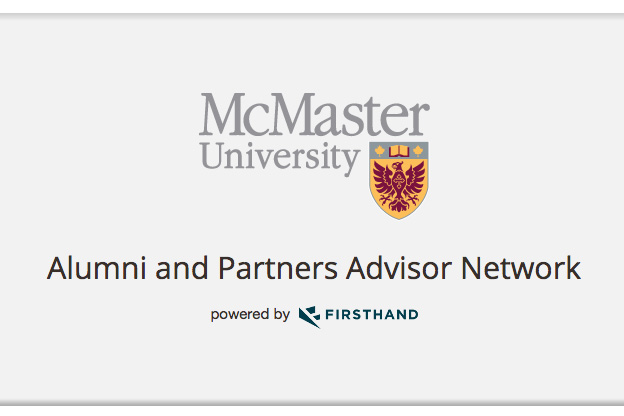 ---
What do I do after graduation? Who will I become? Which career path do I choose? How do I get started? Where should I live? What do I say in a job interview? What if I fail?
If you're a student reading this, you may be wrestling with these questions as you look ahead to graduation. If you're a few years (or more) out of school, you probably still remember the intense uncertainty of what comes next.
But those of us who have the benefit of hindsight know one critical fact: it's all going to be okay.
The new McMaster Alumni & Partners Advisor Network is built to connect anxious students or new graduates with experienced, established advisors to help communicate that key fact – that everything will be fine – and offer specific feedback and advice to the thousands of students who graduate from McMaster each year.
One early adopter of the Network left this piece of feedback: "In addition to sharing his considerable expertise, my advisor made a genuine effort to understand my current goals and suggest different ways I could leverage my experiences and interest to reach them. Much appreciated!"
Another said, "My advisor was amazing, approachable and really calmed my anxieties about the work environment!"
What could be better, really? Students can connect with a real human being who cares, who has shared experiences at McMaster, and who can draw from personal experiences to help alleviate post-grad fears. Alumni and other advisors get to meet our incredible students and new grads and give back.
McMaster is a world-class university, and we have a world-class network of accomplished alumni, many of whom are engaged and who want to be helpful to other grads. Our alumni network is a vibrant, untapped resource and this tool makes it easy to tap in and take advantage.
Here's how:
FOR STUDENTS & NEW GRADS (OR MID-CAREER SWITCHERS, ETC):
Go to https://mcmaster.evisors.com/ and click Find Your Advisor
Register with your mcmaster.ca address (or a non-McMaster address will work for alumni)
Explore the database of grads; we have more than 500 advisors already signed up! You can search by geography, job title, sector, experience, educational background and keywords
Connect with an advisor for a general career conversation or a more specific mock interview or resume critique
FOR ALUMNI & FRIENDS OF THE UNIVERSITY:
Go to https://mcmaster.evisors.com/ and click Become An Advisor
You can import your LinkedIn professional information to make sign-up easier
Follow the steps to ensure your profile is complete – complete profiles show up more often in advisee searches
The system is very user-friendly and facilitates all communication between advisors and advisees, so no personal information need be exchanged.
Questions? Don't hesitate to contact Erin O'Neil or email support@evisors.com for any issues with the sign-up process on the website itself.
The McMaster Alumni & Partners Network is a partnership between the Student Success Centre, School of Graduate Studies, McMaster Spectrum, and McMaster Alumni Association.