National guidelines for students with food allergies launched on campus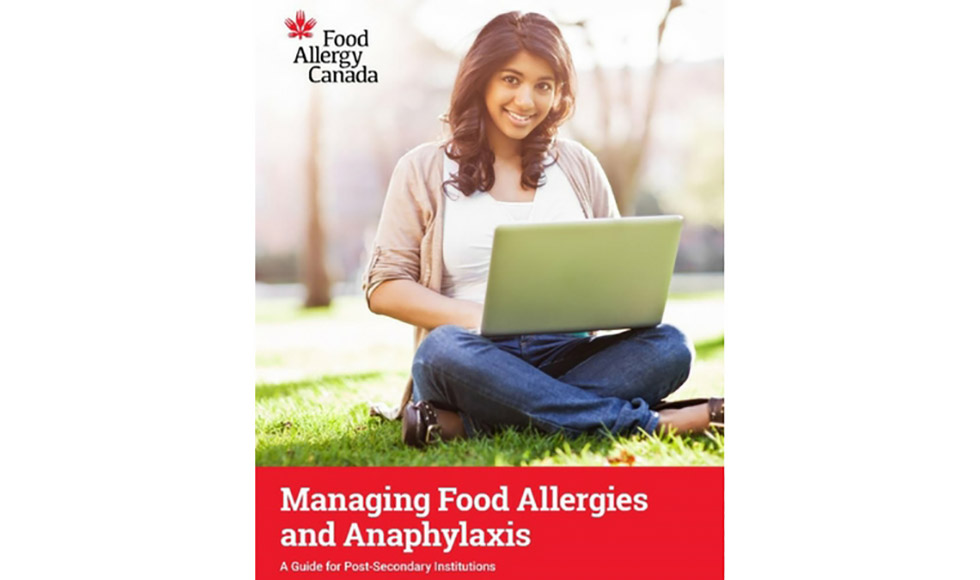 ---
New national guidelines, announced at McMaster on May 2nd, will help university students with food allergies who are at risk for anaphylaxis.
About 150,000 students at Canada's universities and colleges are allergic to certain foods and ingredients. The guidelines proposed by Food Allergy Canada will help institutions and students take steps to lower risks and improve health and wellbeing. 
Managing Food Allergies and Anaphylaxis: A Guide for Post-Secondary Institutions, follows two years of extensive consultation with 75 stakeholders from universities and colleges, students and their families, food service providers, allergy organizations, allergists and other healthcare professionals. Leaders from McMaster's Hospitality Services took part in the process.
"Youth with food allergies are a high-risk audience for serious allergic reactions," says Jennifer Gerdts, Executive Director of Food Allergy Canada and mother of twin teen boys with multiple food allergies. "Moving from high school to post-secondary is a significant transition, especially if it is your first experience at independent living. The post-secondary guide is intended to inform and encourage post-secondary institutions in developing a seamless food allergy policy that supports students from admission to graduation. The guide will be a first step in a comprehensive strategy to enable teens and young adults to better manage their allergies with the support of their communities."
"I am proud of the work that McMaster, along with other institutions, has put into the guide," said Chris Roberts, Director of Hospitality Services at McMaster University, a participating institution in the development of the guide, and President-elect of the Canadian College and University Food Service Association. "The guide offers tangible recommendations that will provide greater support and help for our students who have food allergies and create a national framework of best practices."
At McMaster, Hospitality Services is working to ensure students with allergies are well supported. A series of new initiatives is planned for September:
SMPL – a new station dedicated to serving meals made without Canada's top 10 allergens. The station is simple, yet delicious, and will be accessible to everyone for worry-free meals safe from potential cross contamination. While all staff receive food allergy training annually, the staff working at this station will receive additional training on food allergy management, how to recognize an allergic reaction and how to assist a student administering an EPI-Pen.
Liana Bontempo, Registered Dietitian & Wellness Manager – a new addition to the Hospitality Services Team, Liana has recently been hired to work with students living with allergies and special dietary needs to empower them to navigate campus food services safely. Bontempo also participates in a cross-Canada network of university dieticians to share knowledge and best practices.
Change to Residence Application – students will have the opportunity to self-identify their allergies on their residence application form. These students will then be able to set-up an intake session with the Hospitality Services dietitian to understand food options to support their allergies on campus.
Allergy Risk Management Plan – Hospitality Services has formalized food allergy policies and processes for staff to follow to manage food allergies on campus. They are also working on a tailored plan for each food service location based on the unique needs of each unit.
New student group – creating a new student peer support network for students living with allergies at McMaster.
Food allergies are a growing public health issue and can be a challenge for teens transitioning to adulthood and learning to manage their allergies on their own. While individuals must manage their allergies and take preventative measures to stay safe, the support of the wider community is needed to help provide reasonable measures to reduce the risk of a serious reaction. As currently there is no cure for food allergy, avoidance is key to preventing a serious reaction.
The publication of the guide is the kick-off to a campaign to encourage every post-secondary institution in the country to develop or update their allergen management policies based on the new guide. Already, 14 universities and four colleges are engaged, having participated in the process of developing or reviewing the guide. Among the key recommendations in the guide are: allergen protocols at foodservice outlets, campus awareness and education, and housing policies.
To learn more about Managing Food Allergies and Anaphylaxis, A Guide for Post-Secondary Institutions, click here.