National Day for Truth and Reconciliation 2023: Events and resources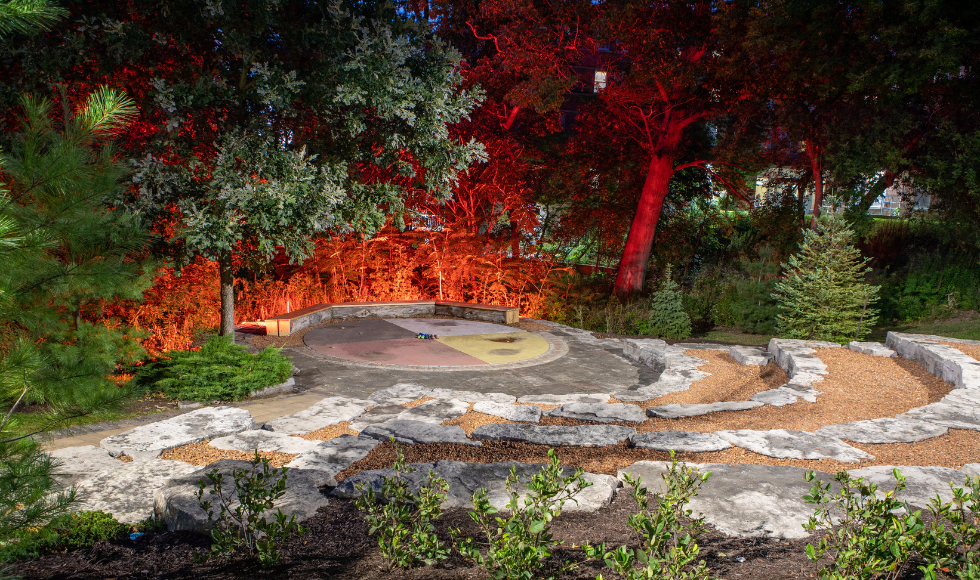 A guide to events, programming and resources — on campus and in the community — that offer opportunities to learn more about the effects of Canada's residential school system.
---
September 30 is the National Day for Truth and Reconciliation, an important opportunity for the McMaster community to come together to educate themselves and share knowledge about the history and continuing impact of residential schools in Canada.
Also known as Orange Shirt Day, the National Day for Truth and Reconciliation was inspired by Phyllis Webstad, who at the age of six, had her clothes taken from her after arriving at St. Joseph's Mission Residential School, including an orange shirt given to her by her grandmother.
Many people now wear orange shirts to commemorate residential school survivors and to support Truth and Reconciliation.
"For Indigenous communities, this is a time of mourning, reflection and remembrance, but also a time of hope for Truth and Reconciliation," says Chrissy Doolittle, director of Indigenous Student Services at McMaster.
"It's about honouring those who have been impacted by the residential school system, while recognizing the resilience of Indigenous peoples who are now reclaiming and revitalizing our traditional cultures, languages and heritage."
From Sept. 23 through Sept. 30, events and educational programming — both on campus and in the community — will provide students, faculty and staff with opportunities to learn more about the impacts of Canada's residential school system.
"McMaster is committed to building a culture of Truth and Reconciliation on our campus, and that starts with education," says McMaster President David Farrar.
"I encourage our entire campus community to take time to learn more about Indigenous history and cultures, and to listen to the stories of those who have been impacted by the shameful legacy of residential schools — now and throughout the year."
Here are some campus and community events and educational resources in support of the National Day of Truth and Reconciliation
---
INDIGENOUS STUDIES BOOK CLUB
Registration opens Sept. 18 | Book club launches Sept. 25
Organized by the Indigenous Studies department, the McMaster Indigenous Studies community book club is open to students, staff, and faculty to create an open dialogue, discussion, and opportunity for knowledge and growth.
The first 150 registered participants will receive a free copy of Truth Telling: Seven Conversations about Indigenous Life in Canada, a collection of personal essays that boldly examine the contemporary Indigenous experience in Canada by advocate, activist and award-winning novelist Michelle Good.
Participants will receive an email confirmation when books are available for pickup from the Indigenous Studies department and will have an opportunity to join in person and virtual discussions with other participants, Indigenous Studies faculty and Good herself throughout the fall term. Discussion dates to be announced.
Truth Telling can also be purchased directly from GoodMinds, a First Nations family-owned business that offers the largest collection of Indigenous Resources in Canada.
Registration Required; click here
COMING FULL CIRCLE: Roads to reconciliation
Sept. 25 | 12:30 p.m. | On Campus
A powerful, in-person event honouring Dr. Tom Dignan and Pat Mandy for their contributions toward reconciliation through their lives and actions. Dignan is the first Indigenous graduate of McMaster University's medical school and a member of the Canadian Medical Hall of Fame. Mandy is the recipient of an honorary doctorate from the School of Nursing. The event is hosted by the Indigenous Health Learning Lodge.
Click here to register for this free event
BONES OF CROWS FILM SCREENING
Sept. 27 | 5:30 p.m. | On Campus
McMaster students, staff and faculty are invited to join the INDIGST 3EE3 – Indigenous Film course at the Concert Hall in L. R. Wilson Hall. Quiet space will be available for those who need it.
CELESTIAL BEAR: THE SIX NATIONS' NIGHT SKY
Sept. 27-30 | Various Times | On Campus
Explore our night sky through this Indigenous-focused show at McMaster's planetarium. Developed through a collaboration between the Indigenous Studies Department and the department of Physics and Astronomy.
Click here for showtimes and tickets
Mural unveiling: SCHOOL OF REHABILITATION SCIENCES + DEPARTMENT OF SURGERY/INSTITUTE FOR APPLIED HEALTH SCIENCES
Sept. 29 | 9 a.m. – 10 a.m. | 4th Floor IAHS
Unveiling of the mural by Six Nations artist Kyle Joedicke. The mural's theme is the passing of knowledge to the next generation. The event will be opened with a jingle dance and followed by speeches and commitments from leadership.
Please register here, as space is limited to approximately 50 people.
THE MUSH HOLE – TRUTH EMBODIED
Sept. 29 | 6 p.m. | L.R. Wilson Hall
McMaster Chancellor Santee Smith / Tekaronhiáhkhwa, a multidisciplinary artist, producer, curator, and 2023 Order of Canada appointee, presents a personal talk and performance, sharing her family's personal connection to the Mohawk Institute Residential School experience and impacts, and how creative expression is one path towards unearthing buried truths.
All are welcome to register for this free event, to deepen understanding of the Residential School experience in this powerful multi-media presentation. Lecture performances by Kaha:wi Dance Theatre's The Mush Hole dance artists: Montana Summers and Katie Couchie.
A pre-reception will feature some local Indigenous specialties and a Q & A session will follow the presentation.
FIRE AND LUNCH
Sept. 29 | Noon | On campus
Indigenous students, staff and faculty are invited to have lunch at L.R. Wilson Hall, Ceremonial Room (1811) and to drop by a fire in the courtyard.
CHASM: McMASTER MUSEUM OF ART EXHIBITION
Until Dec. 8 | On campus
Indigenous sovereignty is one of the prevailing influences that inform this exhibit, which takes the unique vantage point of critiquing the power dynamics of colonialism from within the museum. Opening reception on Sept. 28.
Click here for more information
ORANGE SHIRTS FOR SALE AT CAMPUS STORE
McMaster's Campus Store will sell Orange Shirt Day T-shirts for $19.99. The shirts were designed by Ethan Michalenko, a 3rd year Métis student in Bachelor of Health Sciences. Proceeds will be donated to the local residential school survivor's fund on Six Nations, and to student supports on campus.
Indigenous Students in STEM: Truth & Reconciliation T-Shirts
AISES, McMaster's club for Indigenous students in STEM, has Orange Shirts on sale to the McMaster community. All proceeds will be donated to related organizations, including Moccasin Identifier and AISES. T-shirts are $20 and can be purchased at The Drain, located on the first floor of Hatch.
ORANGE LIGHTS ON CAMPUS
The Indigenous Circle and the exteriors of Hamilton Hall and University Hall will light up orange on the nights of Sept. 25-30 to honour the children who did not come home from residential schools, survivors and their families. They can be located using this interactive campus map.
SURVIVORS' FLAG
University Hall will fly the Survivor's Flag starting Sept. 25. The Survivors' Flag is an expression of remembrance, meant to honour residential school survivors and all the lives and communities impacted by the residential school system in Canada. Each element depicted on the flag was carefully selected by survivors from across Canada, who were consulted in the flag's creation.
---
Off-campus events organized by McMaster staff, faculty and students
WOODLAND CULTURAL CENTRE
Sept. 27-28
Virtual tour of the former Mohawk Institute
Sept. 27 | 6 p.m.
Virtual lunch and learn: Truth and reconciliation presentation
Sept. 28 | 12 p.m.
Silent No More film screening
Sept. 28 | 6:30 p.m. in the Woodland Cultural Centre Orientation Room
Click here for information and tickets. A $10 suggested donation to the education department at the Woodland Cultural Centre can be made to attend these events.
Truth and Reconciliation Stamp Launch
Sept. 27 | 2 p.m.
Join Canada Post and the Woodland Cultural Centre as Canada Post unveils the second in its annual stamp series commemorating the National Day for Truth and Reconciliation. The 2023 stamp issue recognizes the history of residential schools and honours Survivors and their experiences, to support the process of reconciliation and, ultimately, healing.
RSVP by Tuesday, Sept. 19. Email or call 519-759-2650 ext. 232.
RAISE THE FEATHER, AN EVENING OF INDIGENOUS STORYTELLING AT WESTDALE THEATRE
Sept. 28 | 7-9 p.m.
Hosted and curated by Cher Obediah, speaker, storyteller and author of Shame to Shine.
Click here for information and tickets
Bones of Crows at Landmark theatre, Jackson Square 
Sept. 29 | 9 a.m. to 1 p.m.
The movie starts at 10 a.m. Community organizations will have booths in the lobby and a traditional opening will be held before the screening. The film will also be screened in Niagara Region and Waterloo.
Hamilton: Jackson Square Landmark 6 Cinema, 2 King St. W., Hamilton
Niagara Region: Landmark Cinemas St. Catharines, 221 Glendale Ave., St. Catharines
Waterloo: Landmark Cinemas Waterloo, 415 The Boardwalk, Waterloo
Click here to register. Tickets are by donation. Individuals are asked to bring diapers and menstrual products, which will be donated to local community agencies.
Hamilton Regional indian centre 2nd ANNUAL truth and reconciliation event
Sept. 29-30 | Event begins at 11 a.m.
The Hamilton Regional Indian Centre is hosting various events at the bandshell in Hamilton's Gage Park. Vendors. Speakers, Elder, knowledge keepers, drumming, dancing, food and more. All are welcome.
BRANTFORD NATIVE HOUSING, NATIONAL DAY OF TRUTH & RECONCILIATION EVENT
Sept. 30 | 1-6 p.m.
All are welcome to a free, commemorative afternoon of drumming, dancing, singing and food. Orange Shirts are encouraged.
---
RESOURCES