Winnipeg student wins National Brain Bee competition at McMaster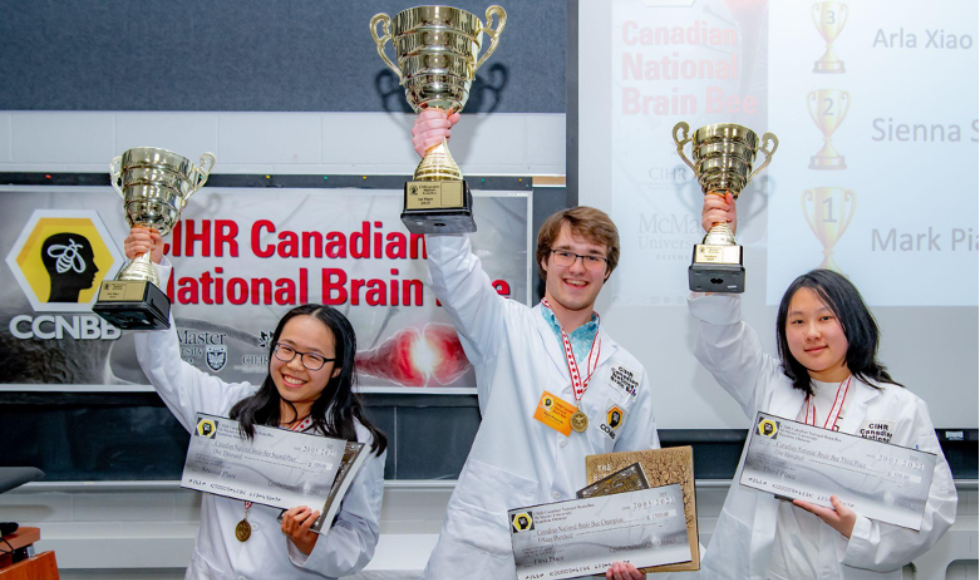 Winnipeg high school student Mark Piasecki, centre, won this year's CIHR Canadian National Brain Bee competition, a test of neuroscience knowledge. He's flanked here by runners up Sienna Su from Hamilton, left, and Arla Xiao, from Vancouver.
---
The first person Mark Piasecki called when he won a national neuroscience competition at McMaster was his dad back in Manitoba.
For Piasecki, a high school student from Winnipeg, the CIHR Canadian National Brain Bee is a way to connect with and honour his father, who has Parkinson's disease, a progressive brain disorder that affects the nervous system.
Piasecki, who was nervous going in, competed against 17 other regional Brain Bee champions from across the country in four grueling tests of their knowledge of the brain and the nervous system, including a neuroanatomy test and a patient diagnosis task.
When it was announced that he'd beaten runners up Sienna Su of Hamilton and Arla Xiao of Vancouver, Piasecki's tearful mom, Jennifer, FaceTimed his dad.
"I look forward to representing Canada on the world stage," says Piasecki, who goes on to the International Brain Bee in August to compete against national champs from 40 countries.
He has big shoes to fill — last year's Canadian champion, Helene Li from Ottawa, won the international event.
The Canadian National Brain Bee, an annual event hosted by McMaster's department of Psychology, Neuroscience and Behaviour (PNB), brings together high school students from across the country to demonstrate their passion for and knowledge about the brain and the nervous system.
The national competition, which PNB has hosted with support from the CIHR Institute of Neurosciences, Mental Health and Addiction since 2008, encourages students to study and pursue careers in neuroscience, and to tackle big questions related to brain disorders and mental health.
This year's event was organized by an enthusiastic team of student, staff and faculty volunteers, led by co-chairs professor emeritus Judith Shedden and associate professor Nikol Piskuric.
"We are especially grateful for our big-hearted student volunteers from the McMaster Neuroscience Society, including the spirited Sierra D'Amico," Piskuric says.
"They made the competitors and their families feel welcome, cared for and important, and that's something our visitors will remember for years to come."