National AccessAbility Week begins today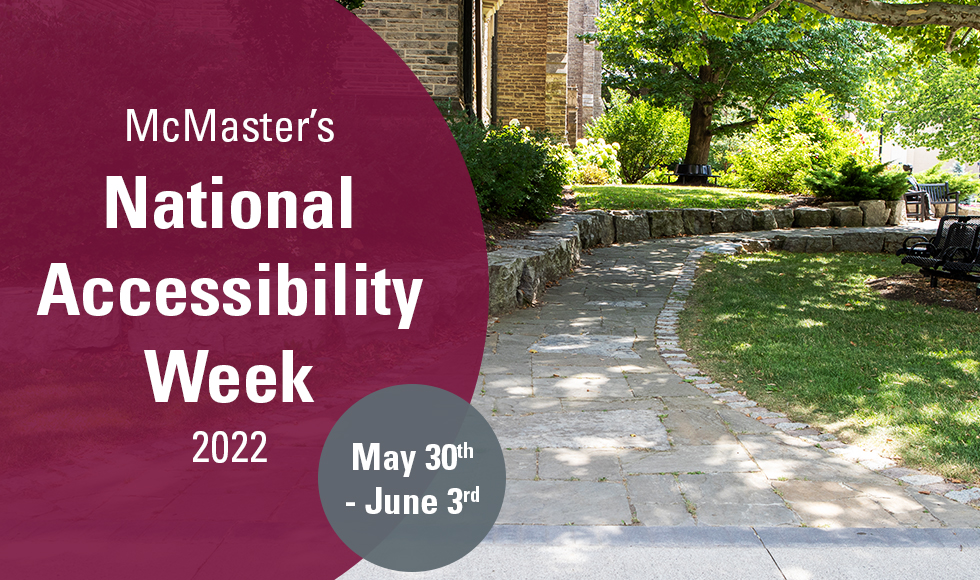 NAAW is a celebration of the valuable contributions of Canadians with disabilities, as well as a time to recognize efforts to remove barriers to accessibility and inclusion.
---
Today is the start of National AccessAbility Week, a week-long celebration of the valuable contributions of Canadians with disabilities, as well as a time for recognition of the efforts of individuals, communities and workplaces actively working to remove barriers to accessibility and inclusion.
The Accessibility and Disability Inclusion Update
In this spirit of celebration, the Equity and Inclusion Office, with support from the McMaster Accessibility Council, is releasing the Accessibility and Disability Inclusion Update 2020-2021 in a new Pressbook format and will continue to do so moving forward to support open access educational resources and enhanced digital accessibility efforts at the university.
With more than 60 submissions from across faculties, administrative units and student communities, the full version of the 2020-2021 Update shines a light on the incredible efforts of McMaster community members in driving accessibility and disability-centred scholarship, service, administrative, community, and advocacy-related work forward within the University.
Sections within this year's Update include:
Pressbooks version of the Update here
Dis/orientation Zine
The vital contributions of McMaster students with disabilities are being highlighted in a new zine. Dis/orientation: Navigating Accessibility in Teaching and Learning features a compilation of artwork, poetry, stories and reflections from the perspectives of more than 20 current and former Mac students.
The zine aims to document and share the experiences of students with disabilities to transform and advance accessibility in teaching and learning at McMaster.
The zine welcomes new written and creative submissions from current and former McMaster students with lived experiences of disability, disablement, inaccessibility, and/or ableism. Staff, faculty, and non-disabled students are also invited to share responses to the zine for publication in a new "Responses from Allies" section.
The deadline for submissions is July 31, 2022. See the Call for Submissions for further information. (This link has been udpated)
Training and Events
In addition to the release of the full Update and the Zine, The Access Mac Program (Equity and Inclusion Office) and McMaster's Disability Inclusion, Madness, Accessibility, and NeuroDiversity (DIMAND) working group under the President's Advisory Committee on Building an Inclusive Community (PACBIC) are collaborating with disability community, campus, and off-campus partners to organize and deliver a packed schedule of events, training, and speaker series from Monday, May 30 to Friday, June 3, 2022.
Sessions are available for McMaster community members to deepen their understanding and practice of accessibility, disability-inclusion, and disability-justice oriented principles, frameworks, and techniques. Please visit the Accessibility Hub's Events and Training Page for last-minute registration, campus partner information, in addition to events happening later in June 2022.