Museum launches curatorial mentorship program for BIPOC leadership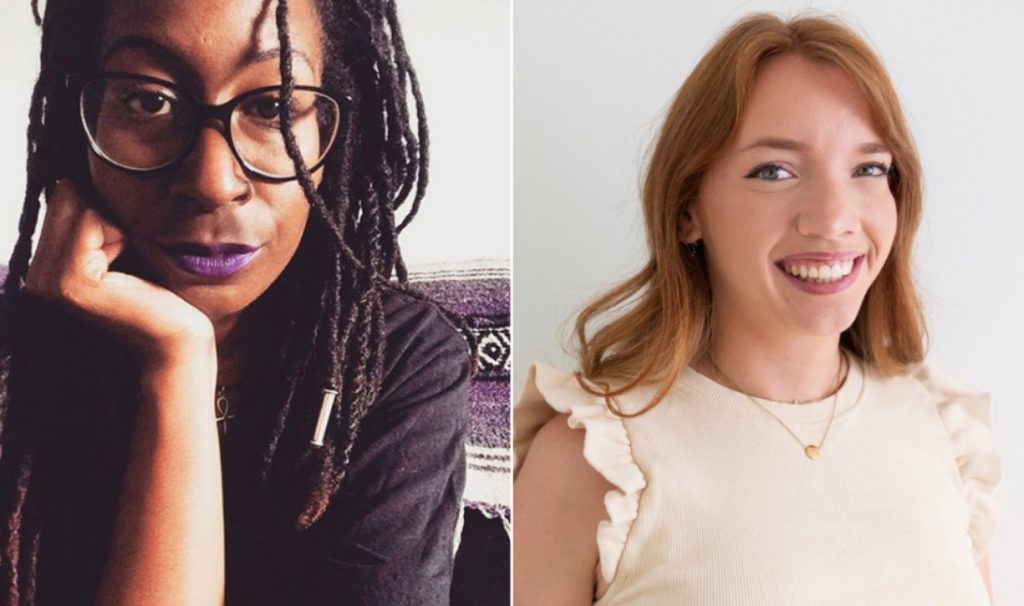 McMaster Museum of Art 2020 curatorial mentees Stylo Starr and Erin Szikora.
---
The McMaster Museum of Art has launched a curatorial mentorship program, pairing Black, Indigenous, and Persons of Colour (BIPOC) individuals with a senior curator, the first of its kind in Canada.
The program aims to create opportunities for BIPOC creatives interested in pursuing a career in the arts — specifically, with an interest working in cultural heritage institutions — by building capacity through an annual paid mentorship program led by Director and Chief Curator Carol Podedworny; Senior Curator Pamela Edmonds; and the Curator of Indigenous Art, Rhéanne Chartrand.
Over a year in the making, the program was developed in response to ongoing curatorial work and objectives laid out in the Museum's latest strategic plan.
Each year an emerging BIPOC arts professional will be paired up with the Senior Curator and the Curator of Indigenous Art, respectively, to be mentored in diverse curatorial practices, exhibition development, critical discourse, collections research, education and outreach, and other related/relevant practices.
The nature of each mentorship will depend on the relationship formed between mentor and mentee, including the museum's forward exhibition schedule, community partnerships and the interests and skills of each mentee, in accordance to what is achievable within the period of engagement.
The program is one of the ways senior museum staff feel they can disrupt the "traditional museological narrative(s)" as conveyed in the recently revised vision statement, is by fostering a new generation of critically-engaged arts practitioners committed to decolonizing practices, institutional critique, thought-provoking programs, and excellence in scholarship.
Introducing the 2020 Mentees:
STYLO STARR
The museum was awarded a Sector Innovation and Development Grant from the Canada Council for the Arts to develop a curatorial mentorship initiative with Stylo Starr, a Hamilton-based artist and educator whose activist practice combines graphic design and community outreach. Starr was the most recent guest curator for the University's BFA graduation exhibition (aka SUMMA) titled "unguarded" which moved this year from being a public installation to online due to the COVID-19 pandemic.
She will continue her work with the museum, working with Edmonds on a remote internship in partnership with NIA Centre for the Arts, a Toronto-based organization focused on multidisciplinary arts from the African Diaspora.
Through this program, she will research and curate an online exhibition and print publication focused on collage and its relationship to Black aesthetics and remix culture.
"I am sincerely honoured to have this unique opportunity to advance my professional skills and networks," says Starr.
"McMaster has been very supportive in my career development, and I am looking forward to working under the mentorship of Pamela and the museum in building a broader framework for my work, to evolve within and alongside. As a collage artist, I'm also excited to explore the medium with other artists not only beyond making, but within the context of critical dialogues."
Starr received a BFA from Brock University and studied Design at Mohawk College. A founding member and outreach organizer for COBRA (the Coalition of Black and Racialized Artists) based in Hamilton, Starr is an active member of the city's artistic community, having worked with organizations including Centre[3] for Artistic + Social Practice and Hamilton Arts Council. Her work has been featured on public installations, in international publications and on apparel, and in exhibitions at the Art Gallery of Hamilton and most recently at the Art Gallery of Burlington. For more information visit www.stylostarr.com.
---
ERIN SZIKORA
Erin Szikora will work with Chartrand. Her position is supported by monies from the Office of the Provost, McMaster University.
"I'm thrilled for the opportunity to work at the McMaster Museum of Art under the curatorial mentorship of Rhéanne Chartrand," says Szikora. "I met Rhéanne last November while researching for my MA thesis, Visual Sovereignty and the Making of NIIPA: Tracing an Archival History of the Native Indian/Inuit Photographers' Association (1985-2005/2006). Her curation, research, and writing on NIIPA—and Indigenous futurities at-large—has been instrumental in my own research and writing, and so it's an honour to work alongside her and the MMA staff to bring to life a major retrospective exhibition of photographs by NIIPA members and to create the first-ever publication on NIIPA's history.
"Beyond NIIPA, I am looking forward to engaging in critical discourse with Rhéanne, Pamela, Stylo, and the rest of the MMA team dreaming up, and setting into motion, decolonial futures that position more BIPOC artists, artworks, and staff in museum spaces."
Szikora (Cayuga/Scottish/Hungarian) is an emerging curator, writer, and beadwork artist based out of Toronto. She holds a Bachelor of Art in Art History and Visual Studies from the University of Toronto and a Master of Art in Contemporary Art, Design, and New Media Art Histories from OCAD University. Szikora's research looks to disrupt colonial capitalist narratives by interrogating the hierarchy of the museum and foregrounding contemporary Indigenous craft as art. Part of this research involves a reassessment of the value of craft, which she is involved in first-hand through her own beadwork practice. You can find more of her writing and beadwork on Instagram @brightlakebeads.