MP tours McMaster Nuclear Reactor, Canadian Longitudinal Study on Aging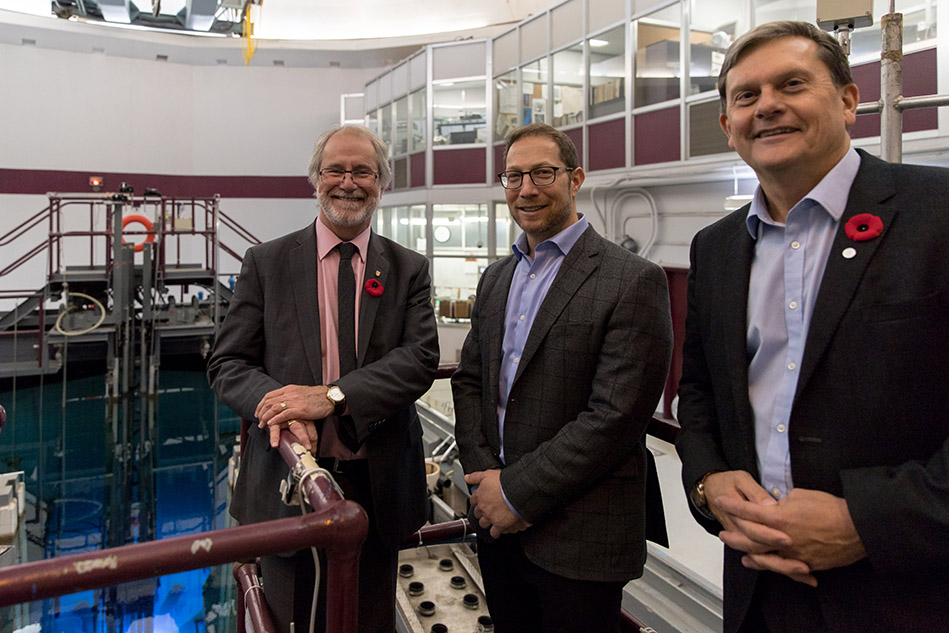 ---
John Oliver, Member of Parliament for Oakville, visited McMaster this past Friday, November 10. While on campus, MP Oliver toured the McMaster Nuclear Reactor alongside President Patrick Deane, Director of Nuclear Facilities Chris Heysel, Commercial Operations of Nuclear Facilities Manager Karin Stephenson, and Assistant Dean, Research Infrastructure in the Faculty of Health Sciences, Jonathan Bramson.
The McMaster Nuclear Reactor (MNR) is the most powerful research reactor at a Canadian university, with an open-pool design and several beam-tubes used for applications including neutron radiography and neutron diffraction experiments.
The reactor is a world leader in the production of iodine-125, a radioactive isotope used in the treatment of prostate cancer. The MNR produces enough iodine-125 each day to treat 400 patients. While at the reactor, MP Oliver was able to view the reactor pool with the uranium core, and learn about the important research and commercial activities conducted at the facility.
MP Oliver also toured the Canadian Longitudinal Study on Aging (CLSA), located at McMaster Innovation Park. The CLSA is a national long-term study of more than 50,000 participants, with the aim of understanding the underlying processes of healthy aging.