Movember funds peer-support app for public health workers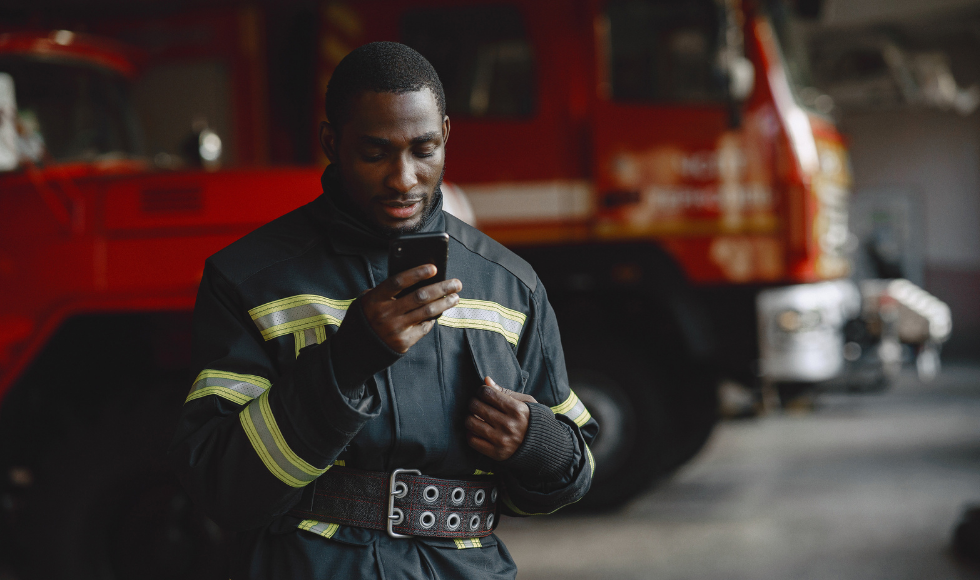 OnCall provides access to peer support either in real time or through pre-recorded video clips and evidence-informed articles. The platform is designed to be flexible, accommodating diverse models of providing peer support across diverse populations of public safety personnel, including firefighters, paramedics, police officers and public safety communicators. (Shutterstock image)
---
An app developed at McMaster that helps connect public health personnel with peer support has received more than $480,000 in funding over two years from Movember, through the charity's Veterans and First Responders Mental Health Grant Program.
OnCall was developed at McMaster in collaboration with Defence Research and Development Canada (DRDC), the Canadian Institute for Public Safety Research and Treatment at the University of Regina, and Security Compass, a cybersecurity company.
OnCall provides access to peer support either in real time or through pre-recorded video clips and evidence-informed articles. The platform is designed to be flexible, accommodating diverse models of providing peer support across diverse populations of public safety personnel, including firefighters, paramedics, police officers and public safety communicators.
It provides users with 24/7 access to peer support, as well as self-screening tools, a wellness toolbox, and tips on how to cope. Pilot testing is now complete and OnCall should be available to first responders and other public safety personnel organizations in early 2022.
The Movember funding will be used to explore how OnCall can be implemented in organizations, to expand access to peer support, and to better understand the effectiveness of using OnCall.
OnCall is one of four initiatives in Canada and 14 worldwide that will share a Movember investment of more than $7.5 million, marking the organization's largest ever investment into the first responder community.
"Each and every year, first responders across the country show up in support of Movember. It is important for us to identify, support and build evidence for programs that are truly making a difference to the lives of these men and their families," says Todd Minerson, Movember Canada Country Director.
"Through the Veterans and First Responder Mental Health Grant Initiative, we're able to give back to a community that has really come to bat for Movember, supporting programs that are proven effective at positively impacting mental health outcomes within their field."
There is growing evidence that first responders and military veterans are at increased risk of poor mental health and suicide.
Although many programs that aim to support these groups already exist, a 2019 report commissioned by Movember and conducted by men's health researcher Don McCreary, found a lack of publicly available evidence showing the effectiveness of such programs.
Movember launched the Veterans and First Responders Mental Health Grant Program a year ago with the aim of identifying promising mental health or suicide prevention programs and collaborating with those projects seeking to demonstrate their effectiveness through rigorous program evaluation.