McMaster professors recognized as Members of the Order of Canada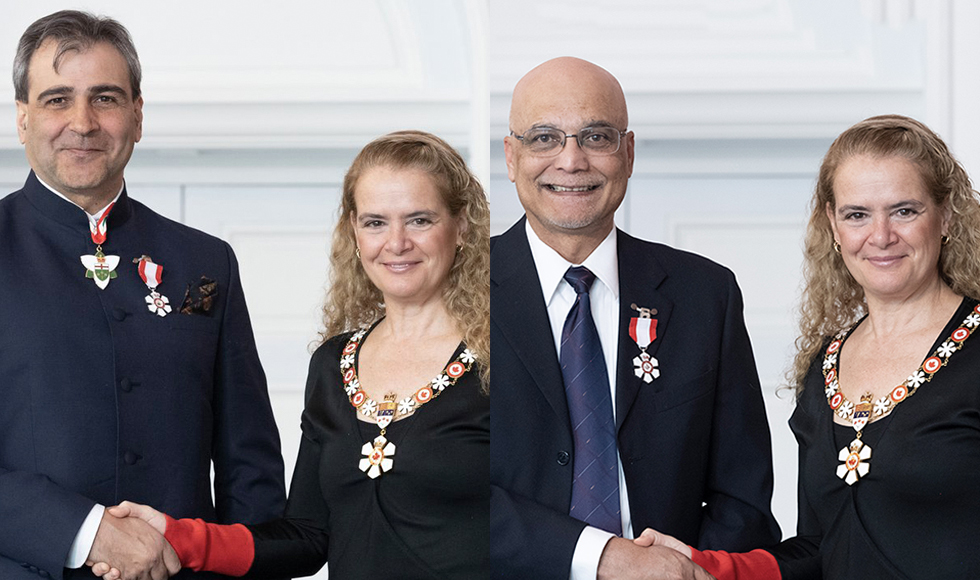 Left, Mohit Bhandari with Gov. Gen. Julie Payette, and right, Jamal Deen with Gov. Gen. Julie Payette at Rideau Hall on March 14, 2019. (Photo courtesy Sgt. Johanie Maheu, Rideau Hall ©OSGG, 2019).
---
Mohit Bhandari and Jamal Deen were presented with the insignia of a Member of the Order of Canada on March 14.
Bhandari, a Hamilton native, is a professor and the academic chair of the division of orthopedic surgery at McMaster. He serves as the associate chair of research of the Department of Surgery at the University and holds a Canada Research Chair in Evidence-Based Orthopedics.
He is recognized as a global leader in the promotion of evidence-based surgery and orthopedic research. He is also acknowledged as one of the top 10 most cited orthopedic fracture surgeons in the world.
Read the story about Bhandari's appointment announcement here.
Read the Brighter World profile piece on Bhandari here.
Deen is a distinguished university professor in the department of electrical and computer engineering and a senior Canada research chair in information technology.
He is recognized for his profound impact on the development of optical detection, imaging and sensing systems, and on the development of wireless technologies. He is also the president of the Academy of Science of the Royal Society of Canada.
Members of the Order of Canada are noted for their outstanding contributions at the local or regional level or in a special field of activity. Companions are recognized for outstanding achievement of the highest order in the service to Canada and to humanity.