Milestones reached in Indigenous Health Initiative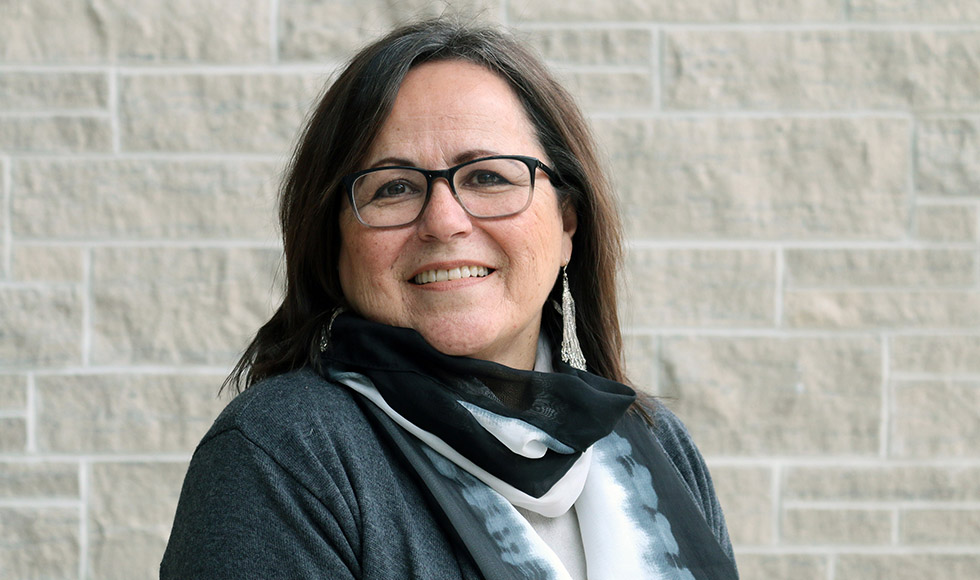 Bernice Downey, a medical anthropologist of Ojibwe and Celtic heritage, is the Indigenous health lead for the Faculty of Health Sciences. 
---
Important milestones are being reached in the development of the Indigenous Health Initiative of McMaster University's Faculty of Health Sciences.
The comprehensive project aims to address systemic barriers in health sciences education for Indigenous learners, as well as educate faculty and administrators regarding Indigenous health.
It also focuses on collaboration with both internal and external partners to better integrate Indigenous knowledge and issues into educational and research programs within the Faculty.
The initiative is informed by the Truth and Reconciliation Commission of Canada, which identified Indigenous health inequity in Canada and its link to the overall impact of colonization and government assimilative policy.
"This initiative is incredibly important as it represents a commitment by the Faculty and institution to educational reform," said Bernice Downey, the Indigenous health lead for the Faculty of Health Sciences and a medical anthropologist of Ojibwe and Celtic heritage.
"We are attempting to address the disparities of Indigenous peoples in Canada with regards to their health, as well as implement structural change to both enhance the learner experience and the way we do things. We need to do our part."
Work on the Faculty's Indigenous Health Initiative began in April 2017. While there is not a concrete completion date at this time, the development and implementation of the Indigenous Health Initiative is anticipated to take approximately two to three years. 
An important milestone recently reached is the formation of a steering committee. The group provides leadership in the areas of administration, student and faculty support, curriculum development and research. Its overarching goal is to promote excellence in Indigenous health education and to ensure inclusion of Indigenous world views.
Among the committee members are Indigenous elders, Indigenous community representatives, McMaster acute care partners and associate deans from across the Faculty.
"A lot of the past year has been about relationship building, both on and off campus," says Downey, who is also an assistant professor of the School of Nursing and the Department of Psychiatry and Behavioural Neurosciences. 
"Another focus of the first year has been about thinking of the Indigenous health structure, in terms of who needs to be at the table, what kinds of networks need to be established to be inclusive and how to maintain the spirit of reconciliation."
Other notable achievements to date include an Indigenous inter-professional advisory group, the creation of six working groups focused on topics from education and curriculum to Indigenous knowledge, the appointment of an Indigenous health lead to the Faculty of Health Sciences Executive Committee and the development of a work plan for the next year.
There has also been groundwork established with existing Indigenous students in the Faculty.
"The student voice is very important in this process and we want them to be at the table," Downey says.
A human rights workshop is planned for April. Downey notes feedback for the initiative has been supportive. 
"Overall, the response has been very positive," she says. "There are already champions in this work and related health research and we are happy to see this focus. There are also those who know very little about Indigenous health, and they can foresee the initiative will educate them further."
Another current goal Downey is focused on is increasing the number of full-time Indigenous staff and faculty members in health sciences at McMaster.
She looks to advance this goal by hiring both a program manager and administrator for the Indigenous Health Initiative.
In the meantime, Downey encourages faculty members to get involved. 
"Many faculty have good intentions and are trying to take up the call of the Truth and Reconciliation Commission, but there's also a sense of nervousness or fear of offending Indigenous people, and that because they are not Indigenous they don't feel they have the right to take a leadership role," she says.
"One of the messages that I carry is that we can work together in a harmonized system. I want them to know that with the right tools and training, they can be leaders in this work."