Memorial walk on campus will remember victims of gender-based violence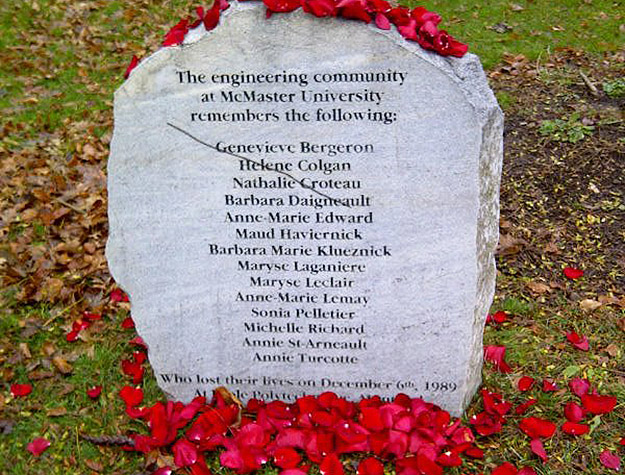 A memorial stone in front of the John Hodgins Engineering Building at McMaster lists the names of 14 victims from the 1989 shooting at Montreal's École Polytechnique. Thursday's walk on campus will begin on the front steps of Hamilton Hall at 11 a.m. and conclude at 11:45 a.m. The event is sponsored by OPIRG McMaster. 
---
It's been 25 years since the infamous Montreal Massacre took place at École Polytechnique, resulting in the deaths of 14 women and leaving a nation in mourning.
On Thursday, OPIRG McMaster is inviting all men* on campus to join a memorial walk on campus. The event will encourage the McMaster community to remember and act against all forms of gender-based violence, past and present.
"It was sort of a watershed moment in Canadian history," McMaster's longtime ecumenical chaplain Carol Wood told the Daily News. "It's become a day of remembrance, but it's also a call to action. There are thousands of women across Canada who have lost their lives to violence."
On Dec. 6, 1989, Marc Lépine walked into Montreal's École Polytechnique armed with a semi-automatic rifle and a hunting knife. He proceeded to shoot 28 people, killing 14 women in the process.
Lépine specifically targeted women during the attack, claiming that he was "fighting feminism" through his actions.
A joint funeral for nine of the victims was held on Dec. 11, attended by Prime Minister Brian Mulroney, Governor General Jeanne Sauvé, Quebec premier Robert Bourassa and other political dignitaries. The event remains one of the most tragic and incomprehensible crimes in Canadian history.
Two years after the attack in Montreal, the Government of Canada declared Dec. 6 to be National Day of Remembrance & Action on Violence Against Women, commonly referred to as "White Ribbon Day."
Since the mid-1990s, McMaster has paid tribute to the victims of violence in a variety of ways.
In September, 1993, the Nina de Villiers Garden was opened in front of Convocation Hall. Twenty-year-old de Villiers was a student at McMaster when she was abducted and killed by a violent offender while jogging in Burlington two years prior.
The solemn garden is place to reflect on Nina's memory, but also stands as a symbol of peace, compassion and understanding. A plaque in centre of the garden reads: "as the garden renews itself, let it remind us of what we can do to make the world a better place."
Nina's mother, activist Priscilla de Villiers, received an honorary doctorate from the University in 1995 thanks in large part to her founding of the anti-violence charity CAVEAT.
Priscilla spoke to the the Daily News in 2007 regarding the impact of her organization. "The goal was modest, to save one life … The difficult thing about prevention is that you don't know how many lives you've saved."
The memorial walk at McMaster will begin on the front steps of Hamilton Hall at 11 a.m., and conclude at 11:45 a.m.
The event will be followed by a panel presentation at 1 p.m., "Calls for a national inquiry on missing and murdered Indigenous women: complexities and questions," and a commemorative service recognizing the 25th anniversary of the Montreal Massacre at 2 p.m. Both events will take place in Council Chambers (Gilmour Hall Room 111).
Please contact Kojo Damptey at ofkdamptey@hotmail.com for more information.
* Transgender men and all male identified people are welcome to march during Thursday's event.