MELD program empowers students to begin their undergraduate journey with confidence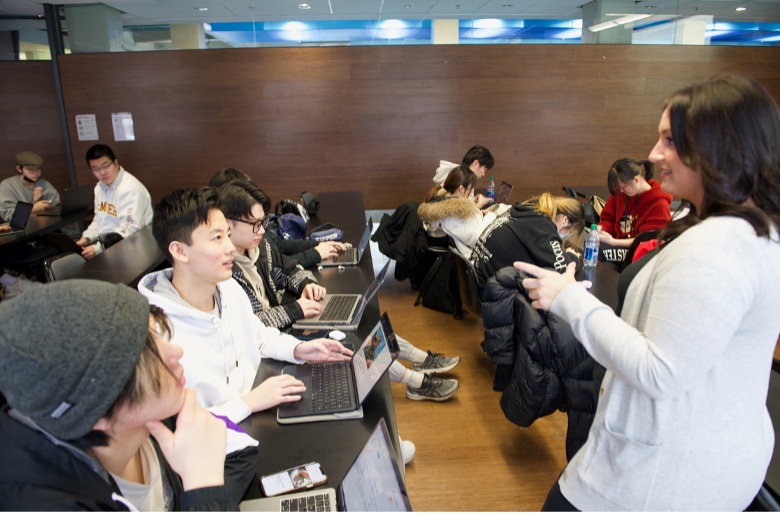 The MELD program is a place for students to develop their English skills — it's also a place where they build community.
---
For many international students who choose to study at McMaster, attending the University not only means moving to a new country and transitioning to a university environment, it also means navigating a language barrier.  
To help students navigate this hurdle and set them up for success, the McMaster English Language Development (MELD) Diploma offers the opportunity for international students whose primary language is not English, to develop the language skills and confidence they need to succeed in an academic environment.  
After successfully completing the 8-month MELD program, students are guaranteed admission into the undergraduate program that they were accepted into when they applied to McMaster.   
Sarah Huang and Nazeer Muhammad are graduates of this year's MELD class and after their experience in the program, they are excited to begin their undergraduate studies this coming fall. 
An environment to thrive in 
While the primary goal of the MELD program is to provide the opportunity for students to enhance their reading, writing and speaking skills in English, it's clear that the program impacts students' lives in other ways too.  
Nazeer Muhammad came to McMaster as a refugee through the Student at Risk Bursary (SARB) — a program that provides funding for students who have been forcibly displaced from their home countries. In Muhammad's case, Afghanistan.  
"My home country is Afghanistan, but I lived in Pakistan as a refugee," he says. "I immigrated to Canada for my bachelor program and to continue the rest of my life here. The Student at Risk Bursary made it possible for me to attend McMaster." 
Muhammad is also a recipient of the MELD Community Access Award, which enabled him to take part in the program. This fall, he will begin his undergraduate studies in accounting and finance. 
"MELD has prepared me for my next stages at McMaster by enhancing my English skills and providing me with valuable research and writing skills for my future studies," he says.  
Sarah Huang agrees that the program provided her with English skills that will specifically help her to thrive in a university environment. 
"For me, I didn't have the experience of writing an email to a university professor," says Huang. "It's a small thing, but it's important." 
And while Huang, who is the recipient of a MELD scholarship and graduated at the top of this year's class, is grateful to have gained these kinds of skills over the past year, it was the program environment that had the largest impact on her.  
"In the past, I was afraid of speaking English in front of other people because I thought maybe people would laugh at me if I made a mistake," says Huang. "But the MELD instructors are all so kind and encourage you to speak and support you." 
This fall, Huang will study business at McMaster and feels confident in starting her undergraduate journey not only because of her English proficiency, but also because of the friendships she developed as an international student at McMaster. 
"I always keep in touch with other students from MELD even though we are finished the program," she says. 
Through skills gained, opportunities had, and friendships made through the MELD program, both Muhammad and Huang have a bright future ahead of them at McMaster.