Meet today's health sciences valedictorian: Hui Yu Zhang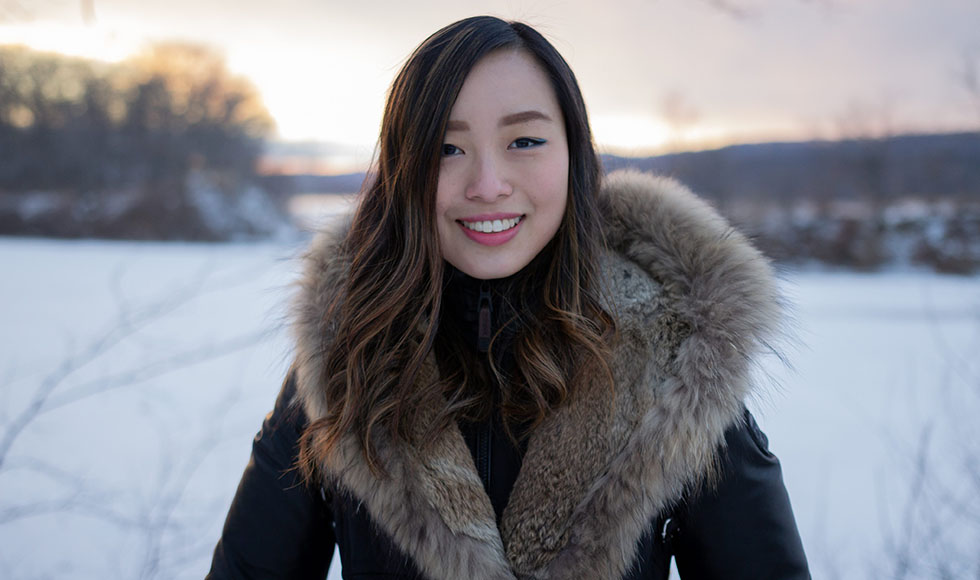 ---
What emoji best represents you? What is your definition of success? Meet Betty Zhang, the morning valedictorian at the November 22 convocation for the Faculty of Health Sciences.
1. Name
Hui Yu Zhang, but everyone knows me as 'Betty'.
2. Where is your hometown?
I grew up in Severn, which is a township just outside of Orillia, Ontario. Coming from a small town to McMaster was truly a strange and intimidating experience with MDCL being taller than almost every building in our town and with the hustle and bustle of over 30,000 undergraduate and postgraduate students. Although Mac is growing to be bigger every year, the culture here of acceptance, diversity, and integrity made it easy to find a sense of community.
3. What is your degree and subject?
I studied Bachelor of Health Sciences in the general stream.
4. Why did you choose McMaster for your higher education career?
The problem-based learning model. I've always been very curious and found myself captivated by different topics, which is why I enjoyed how Mac allows you to take initiative of your own learning. Throughout University, I enjoyed inquiry-based courses the most because it allowed me to explore a real-life problem in collaboration with my peers and identify which learning objectives we had a personal interest in investigation. The learning was very active and engaging – a refreshing change from the more didactic learning I experienced in high school.
5. What will you be doing after graduation or see yourself doing?
I am currently completing my medical degree at McMaster. I've recently been really interested in global health and learning about different medical practices oversees. I hope that I will be able to complete an international placement sometime soon in my training. Eventually, I hope to start my own practice so that I may serve more rural populations in the community I grew up in.
6. Do you have any advice for current and future students?
Look for mentors. As a student it can seem awkward to ask upper year students about their experience, goals, or academic paths, but mentors can play an important role in guiding your personal and professional development. Having a mentor you can trust and admire can help you contextualize your education and career and help you discover avenues and opportunities that you may not have known.

7. How has McMaster shaped the person you are today?
McMaster has an exceptional reputation in respecting diversity in terms of culture, educational backgrounds, and other identities. This has taught me the importance of representation and incorporating views from diverse backgrounds into different groups. McMaster has cultured in me an open-mindedness and a strong ethical compass when approaching problems I may encounter.
8. What events did you enjoy the most at McMaster or in Hamilton?
My favourite place in Hamilton is the Farmer's Market, located downtown! I really enjoy being able to talk with the local farmers and vendors and taste the blend of foods from different cultures. As a kid, I spent a lot of time at farmer's markets and living near farms, which makes the experience of going to the Hamilton's Farmer's Market quite nostalgic.
9. What motivates you to work hard?
I found like I am most motivated by long-term goals. I have an idea about the type of tasks I enjoy to do , the type of people I like to work with and the type of environment I thrive in. I am eager to try different activities that can either teach me more about my "niche". Recognizing that what I want in the long-term can change with my growth and development motivates me to continue to work to better understand myself and find what makes me happy.

10. If you could have any superpower, what would it be? And why?
The ability to read minds. I think navigating life and social interactions would be so much easier if we had an inkling of what someone needs. I would also love to be able to see life through a different lens and see how personal history, perspective, and biases can define a person's views.
11. Who is your favourite professor?
Stash Nastos — he was my inquiry facilitator and my professor for Superbugs. His laid-back approach gave me a lot of room to explore course topics with my group! I have had some of the most collaborative, friendly, and engaging group dynamics and it really made me fall in love with collaborative project courses.
12. What is your best way to de-stress?
Playing volleyball! I've been playing since Grade 6 and the rhythm of the game has captivated me ever since. Back in high school, I used to play with the varsity team and with the Ontario Volleyball Association. In University I still try to continue playing at my weekly intramural games.
13. What emoji best represents you?
XD. I have a very low POL (Point of laughter). Almost anything can make me giggle. It has sent me into a number of laughing-induced stomach cramps, but I like how it supports my rather optimistic view in life.
14. Would you like to give a shout out or an appreciation post to anyone?
It's challenging to pick just one. I want to share my appreciation for Dr. Serrano who supervised by project course and my summer research projects. He is an incredible mentor and has been my source of support and guidance when I was a research assistant and now as a medical student.  I've always been inspired by his sense of initiative and perseverance. Moreover, he always challenges me to look at problems from a novel perspective and to take on a greater leadership role in projects.
15. While at Mac, did you receive donor-funded financial assistance (e.g., scholarship, award, bursary)? Any thoughts on the importance of giving back to your alma mater to support future generations?
When I was in first year, I was the recipient of the Dubeck Memorial Grant Award (2015). I was later the recipient of the Saturn of Hamilton East Community Contribution Award (2018) and the recipient of the John P. Evans Travel Scholarship (2018).
I am extremely grateful for the financial support that I have received, which helped me greatly while I was a McWork student part-time in the fall/winter and full-time in the spring/summer to fund my education. McMaster's style of learning educates you to pursue diverse career opportunities that allow alumni to bring mentorship, career opportunities, and financial support to future generations. Alumni can offer connections and insight into the job market and help inform career pathways for future McMaster students.
Learn more about Fall 2018 convocations here: https://registrar.mcmaster.ca/grad/convo-dates/