Meet today's Engineering valedictorian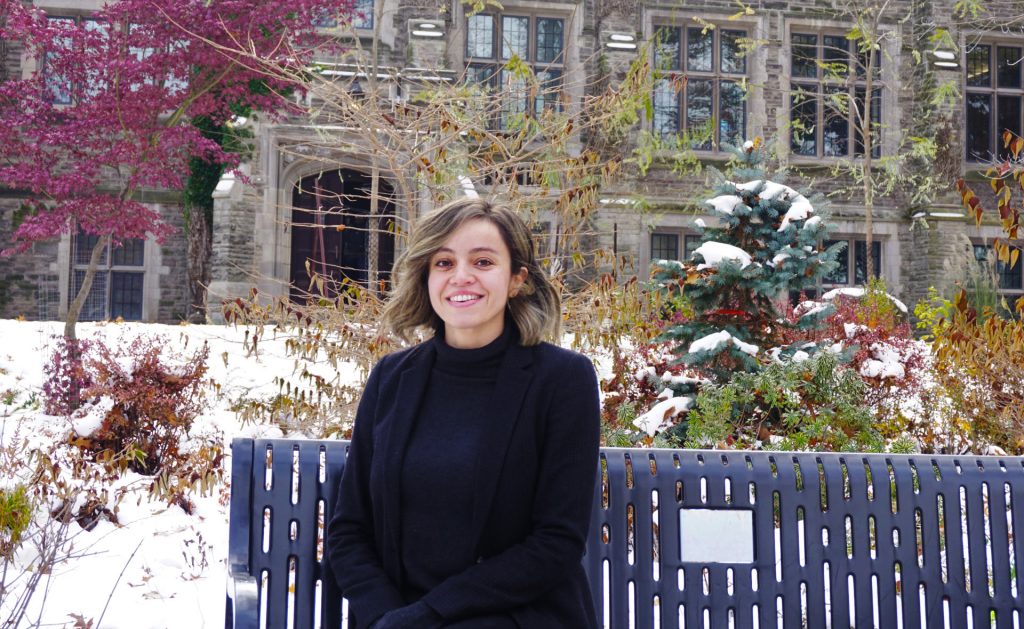 ---
If you could have any superpower what would it be? What is your definition of success? Meet Maryam Badv, the valedictorian at the November 22 convocation for the Faculty of Engineering.
1. Name:
Maryam Badv
2. Hometown:
Urmia (Iran)
3. What is the degree and subject you pursued?
I did both my masters and PhD in Biomedical Engineering at McMaster
4. What made you choose McMaster for your higher education career?
I applied to a few schools and McMaster was the one that just felt right! McMaster's interdisciplinary, live, collaborative and research-oriented culture was what I valued the most and took into account when making my final decision.
5. What will you be doing/see yourself doing after graduation?
I will be starting my postdoctoral fellowship at UCLA in a few months. I really enjoy the academic environment and being around students and my long-term goal (if things don't change!) is to hopefully become a professor.
6. What would you say to your first-year self?
I would tell my first-year self to try to enjoy the journey and not so much worry about the destination. Things might be frustrating/scary at times, but that is all part of the process. You should step into this journey with an open mind and welcome the challenges with open arms!
7. Do you have any advice for current and future students? 
Pretty much the same advice that I would give to my first-year self. Try your best, enjoy the journey, be happy and don't worry about the outcome. Learn from your mistakes and don't be too hard on yourself or people around you. Kindness goes a long way!
8. How has McMaster shaped the person you are today?
McMaster has challenged me in so many ways and has pushed me to grow outside of my comfort zone. It has helped me become more aware of my personal and professional interests. I never thought that I would come this far in my academic career, but I guess McMaster showed me that the sky is the limit and as long as you believe in yourself and trust the process, nothing is impossible to achieve.
9. What events did you enjoy the most at McMaster/Hamilton?
I really enjoyed the energy and the vibe of welcome weeks. During those days, I would sometimes walk around campus and try to soak up all the positive energy. The summer camps were also my favourite! It was really refreshing to see all those energetic kids on campus and thinking that one day, they might decide to go to McMaster as well.
10. What is your definition of success?
My definition of success is doing something that you love and enjoy. No matter what your profession is, as long as you're fond of what you're doing, I think you will become successful.
11. How has McMaster helped you create a Brighter World?
I think by giving me a brighter and broader perspective and educating me about pressing global issues and teaching me to look at these issues through a critical lens.
12. What motivates you to work hard?
Knowing that the research and work that I do can make even the smallest impact is what motivates me the most. Not really sure about the "hard" part though! In my opinion it's not about the number of hours you spend but more about efficiency, the impact you are determined to make and the footprint you leave behind.
13. If you could have any superpower, what would it be?
Touching people's hearts and making them love more and hate less!
14. Who is your favourite professor?
I've had many amazing mentors and professors during my graduate career and picking one favourite is somehow impossible! All my mentors have played an important role in different phases during my graduate studies and I would like to thank them for their unconditional guidance and support.
15. What book are you currently reading?
I've started reading Franny and Zooey by J.D Salinger.
16. While at Mac, did you receive donor-funded financial assistance (e.g., a scholarship, award, bursary)? Any thoughts on the importance of giving back to your alma mater to support future generations?
I received the Clifton W. Sherman Scholarship (OGS) in my first year PhD. I definitely see the importance of giving back. I've created deep roots with McMaster and when the opportunity arises, I will with no doubt contribute and give back to this place, which I call home.