Meet today's DeGroote School of Business valedictorian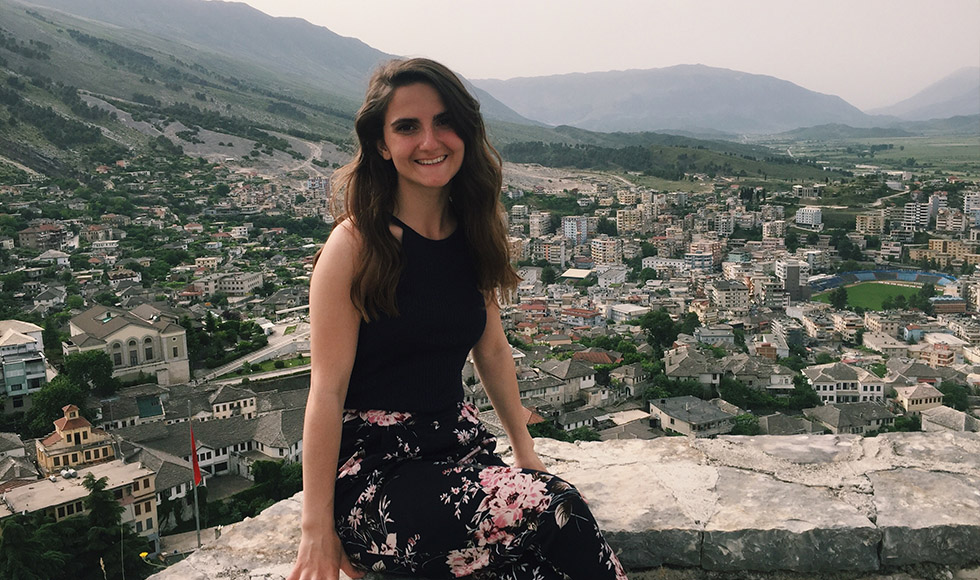 ---
What emoji best represents you? What is your definition of success? Meet Blerina Ago, morning valedictorian at the June 12 convocation for the DeGroote School of Business.
1. Name
My name is Blerina Ago but most people just call me Ina.
2. Where is your hometown?
I was born in Erseke, Albania and moved to Brantford, ON when I was four with my parents and my brother.
3. What is the degree and subject you pursued?
I pursued a Bachelor's of Commerce with a focus in Finance and Economics.
4. What made you choose McMaster for your higher education career?Since my early teens, I had always heard that McMaster was a great University. Being close to home was a huge factor in my decision and coupled with the reputation Mac has it seemed like it was the best choice for me to attend.
5. What will you be doing or see yourself doing after graduation?
After graduation I have a couple of months to spend time with my family, friends, and do a little bit of traveling. At the end of August I start in a full-time role with Restaurant Brands International as a Leadership Development Associate. I interned with them last summer and was given an offer at the end of my internship, it was a really great experience and I'm super excited to be joining them. I think everyone always has some other long-term goals and plans, Impact Investing is something I'm interested in learning more about, so we'll see where life takes us!
6. What would you say to your first-year self?
If I could give myself some advice in first year it would be to get involved and make the most of University. It wasn't really until 2nd year that I started getting involved and really finding what my hobbies and interests were. During first year I felt pretty discouraged at times because of the huge difference in comparison to high school. Looking back at it, I would honestly just tell myself to relax and enjoy it, everything falls into place just as it should.
7. Do you have any advice for current and future students?
One of the best pieces of advice that's ever been given to me was from my older brother, the summer before my 3rdyear where my life changed drastically in many ways. He told me that we have to live life the way it's given to us, not how we plan for it. This outlook really changed my life because it let me accept that sometimes life doesn't go the way you want it to, and there is nothing you can do about it– but don't let it stop you from being who you are or working towards your goals. I think that it's important for everyone to find something they love or are passionate about, and to hold onto it and fight for it, it makes life easier on days that aren't meant to be so easy. I'd also say that no dream is too big or too small – just find what makes you happy and go with it. Life is too short to give up your happiness because someone doesn't think it's good enough, or the right thing.
I'd encourage students to get involved in any way they can. There are many resources and clubs out there to help students succeed and take part in things they enjoy. The DeGroote Experience Fund (DEF) is a huge resource for students in Commerce to use in order to help get support with expenses related to conferences, case competitions, and other events.
8. How has McMaster shaped the person you are today?
During my time at Mac, I met some of my closest friends – people I know I'll have for the rest of my life. The different communities and groups of people at McMaster is the perfect representation of the inclusivity that we have in Canada, and should aspire to maintain throughout our lives. Mac allowed me to meet people from all different backgrounds and ethnicities and I'm very grateful to be a part of a school that is so diverse.
9. What events did you enjoy the most at McMaster/Hamilton?
A couple of my favourite events and memories at McMaster include Homecoming, Bay Street Mixer (hosted by McMaster Investment Council (Mac-IC) and the DFA) and the McMaster Model United Nations (MACMUN) in particular. The Mac-IC and MACMUN is where I met some of my closest friends and participated in events/conferences that were life changing. I was fortunate enough to travel to India and Brazil this past year and a half with MACMUN and WIMUN with the help of the DEF.
10. What is your definition of success?
I wouldn't say there is a proper definition/ideology of one. I think everyone has a different version of success and fulfillment, however, when I think of success, or someone who is successful, I think of someone whose work has made a positive impact in their life, the lives of others or the world.
11. How has McMaster helped you create a brighter world?
McMaster has helped me create a brighter world by allowing me to reach my full potential in terms of academia, experiential learning and inclusivity with others. The faculty, staff and students at this school all work together to help create a positive environment, and it shows in the student body and how active we all are in pursuing higher education and being a part of campaigns and initiatives that help change the world.
12. What motivates you to work hard?
As cheesy as it sounds, definitely my parents. Being an immigrant and realizing that my parents gave up their life and sacrificed so much (like every single family does) to bring me to Canada for an education pushes me to try to be the best version of myself, and make the most of every day. It might be odd to think this way, but sometimes I feel like this chosen Albanian child who was lucky enough to come to Canada, and when I became aware of the fortunate life that I have, it began to motivate me to try to look for ways to give back and help others do the same.
13. If you could have any superpower, what would it be?
Definitely reading people's minds. I think life would be a lot easier if people were straight-up (so long as they weren't hurting someone intentionally) with the way they're thinking or feeling and just told you what's on their mind. Sometimes I believe that people are too nervous, or maybe scared about what others will think, or believe they shouldn't always speak up and it really holds them back.
14. Who is your favourite professor?
One of my favourite professors is definitely Linda Stockton! I had the pleasure of getting to know Linda this year after having her as my professor for International Business and then TA'ing the class in the winter, and getting to take a trip with her for a case competition. Linda is honestly one of the most down to earth people to speak with and is open to any thoughts/ideas/conversations. She really challenges her students with questions and debates, and is always open to talk about her views as well as listen to yours. I think the way she teaches and her willingness and commitment to help students (she takes part in many case competitions with students and runs JDCC) is super admirable and it's nice to see a professor care so much about her students and their success. Obviously there are other amazing professors I've had over the years who have made huge impacts in my life and our learning environment and have given many great lessons to their students.
15. What is your best way to de-stress?
Probably text my best friend's 3000 text messages to vent and then go eat chicken wings and scroll through Twitter (yes people still use Twitter!).
16. What emoji best represents you?
🤠 – Probably the cowboy emoji, that emoji just seems so happy and makes me laugh every time I send it. I'm not saying that I make people laugh every time, but I make myself laugh, that counts right?
17. While at Mac, did you receive donor-funded financial assistance (e.g.,  scholarship, award, bursary)? Any thoughts on the importance of giving back to your alma mater to support future generations?
While I was at Mac, I received multiple donor-funded financial assistance. I received annual bursaries such as the General Bursary that is available for all students, and I received funding from the DeGroote Experience Fund as well as the President's Travel Bursary for my trips to India, Brazil, New York and British Columbia. The funding and donations that have been made for students are extremely crucial for the overall experience and learning opportunities. I've always believed that learning goes beyond the classroom and the availability of these awards and scholarships allow students to participate in conferences and case competitions around the world where we can represent McMaster, as well as taking away lifelong memories and lessons.
I think going forward as we join the Alumni family, it is important to give back. I've always believed in the whole idea of "you give what you get", and it would be cool to be one of the people behind the opportunities available for future students. Seeing my involvement in extra-curricular and how I was able to participate in various events and opportunities through funding, it only makes sense to be able to one day return that favour, and be a part of a future students life in a positive way.
Learn more about Spring 2018 convocations here: https://registrar.mcmaster.ca/grad/convo-dates/