Meet this year's artists and curator in residence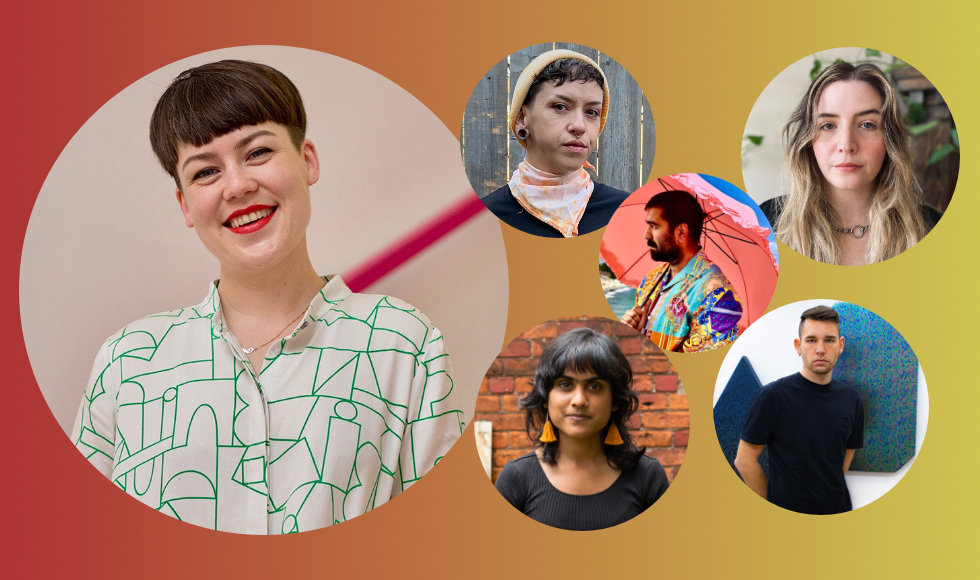 (Far left: Curator in Residence Genevieve Flavelle. Clockwise from top left, Artists in Residence Sheri Osden Nault, Dana Buzzee, Tyler Matheson, and Sonali Menezes. Centre: Artist in Residence Arjun Lal.)
---
McMaster's School of the Arts (SOTA) is introducing art students to the world of working artists and curators through two residency programs that provide a close-up into a diverse range of creative and curatorial practices.
For the second year in a row, the Artists in Residence Program will be hosting a curated group of mini residencies during the Fall and Winter terms.
Supported by a donation from the Pieczonka Family Foundation, the program brings established artists to campus, where they engage with students and the wider community with issues related to social justice and equity through their artistic work. The initiative began in 2021 with Cole Alvis, a Michif Two-Spirit theatre artist, and has included a series of smaller residencies since 2022.
This year, the artists in residence are four queer and trans artists from across the country who work with a wide variety of materials in their practices, including leather, vinyl, fabric, found objects and digital elements.
Each artist will give a public talk and host a workshop with students, while also being available for class visits. As well, each artist will have a solo exhibition at Orchid Contemporary, a new non-traditional gallery space in Hamilton.
"While each artist this year is very different in terms of their practices and the materials that they use, each is exploring queerness as it relates to materiality," explains Adrien Crossman, an assistant professor in the School of the Arts who curated this year's artists in residence series.
"We have a ton of queer and trans students in the iArts and studio arts programs, and it's important that they see themselves in these artists who have such diverse ways of working."
This year, the artists in residence are:
Dana Buzzee, a visual artist and educator based in Mohkinstsis/Calgary whose practice is rooted in queer ecology, disability justice discourse, internet studies, and visual/material culture.
Arjun Lal, a multidisciplinary artist based in Kjipuktuk who works in sculpture and performance focusing on contemporary queer themes of identity, colonialism, fetish culture and cultural fetishization.
Tyler Matheson, a queer interdisciplinary research-based artist, educator and cultural worker residing in the territory of the Mississaugas of the Credit.
Sheri Osden Nault, an artist, community worker and assistant professor in studio arts at the University of Western Ontario, whose work spans mediums including sculpture, performance, installation and more.
As well, Sonali Menezes, a Hamilton-based multidisciplinary artist and writer currently focusing on zines, video and printmaking, is the SOTA's zine artist in residence.
---
To read the full biographies of this year's artists in residence, go to the School of the Arts website.
---
This year also marks the first year of the Curator in Residence program, which works in collaboration with the McMaster Museum of Art and the Art Gallery of Hamilton. Funded by a gift from the Muriel McBrien Kauffman Foundation, the Curator in Residence program hosts an emerging or mid-career curator to work on the McMaster campus and mentor students enrolled in the undergraduate concurrent Certificate in Critical Curatorial Studies, which is beginning its second year.
The curator in residence will work with students in the certificate to develop a curatorial project, and will also work with other SOTA students to curate a selection of student work for campus exhibitions.
This year's Curator in Residence is Genevieve Flavelle, a curator, writer, educator and PhD candidate in art history at Queen's University, focusing on LGBTQ2S+ contemporary art. Her projects examine queer politics and culture, historical erasure, queer world-making and reparative archival practices in contemporary art.
---
Read more about the Curator in Residence program on the SOTA website.
---