Meet this afternoon's Social Sciences valedictorian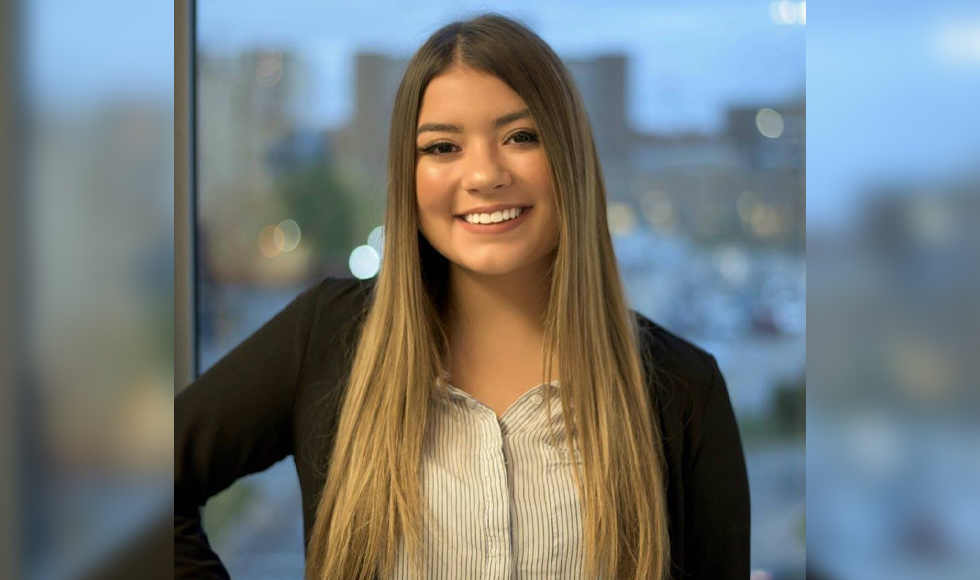 ---
If you could have any superpower what would it be? What is your definition of success? Meet Korin Visca, the valedictorian at the June 12 afternoon convocation for the Faculty of Social Sciences.
1. Name:
Korin Visca
2. Hometown:
Niagara Falls, Ontario.
3. What is the degree and subject you pursued?
Honours Bachelors of Arts – Political Science (Public Law & Judicial Studies)
4. What made you choose McMaster for your higher education career?
I chose McMaster due to the sense of community it provided. Upon arriving, both students and the faculty were so welcoming and enthusiastic. The energy was so contagious that I became immediately excited to join the McMaster community.
5. What will you be doing/see yourself doing after graduation?
I am currently working with the Canadian Cancer Society and see myself working within the nonprofit sector or planning events that contribute to helping and giving back to others. After my year off I will be applying to law schools and hopefully pursuing a Juris Doctor and being able to practice both in Canada and outside of Canada, with hopes of traveling to different locations to do Pro Bono Legal work for people who cannot afford legal services.
6. What would you say to your first-year self?
I would tell my first-year self that it is okay to not stick to your original plan — university introduces you to many new concepts, ideas, and passions you might have never thought of! It's a place to learn new things and you may find yourself going down a different path than you originally planned, but its okay roll with it and you will learn new exciting things that you might become passionate about!
7. Do you have any advice for current and future students?
My biggest piece of advice for current and future students is to get involved! McMaster has space for everyone with over 350 clubs there is certainly something for you! Through extra curricular's I found out so many new things about myself, made forever friends, and developed so many strengths and skills that I am now able to apply and use to help others which is a passion of mine! I have learned some of my most valuable lessons from student leaders in the McMaster community and have met many great individuals who share the same interests through these experiences.
8. How has McMaster shaped the person you are today?
The McMaster community has contributed to the person I am today in many ways. By being so fortunate to be able to study in one of the top class universities I was able to learn from so many great individuals such as professors, faculty, and peers. McMaster has shown me that there is so much wisdom in asking questions and it has allowed me to challenge myself and follow my passions. I am very lucky to be able to have met so many inspiring leaders and passionate professors and be surrounded by such a positive community which allowed me to step out of my comfort zone, try and learn new things, and overall to grow as a person in so many aspects.
9. What events did you enjoy the most at McMaster/Hamilton?
My favorite events at McMaster would have to be both Welcome Week and Relay for Life. Welcome week is so special and meaningful as reps are able to give back to the community the same welcoming enthusiastic feeling that they were provided. I think that incoming students are often nervous and worried and the sight of students making friends and easing the nerve-racking feeling of transitioning into McMaster is something that truly reflects the community McMaster provides.
McMaster Relay for Life is an event I have been lucky enough to be involved with for the past 3 years. The event reflects the community McMaster provides by bringing people together to support one another, honour our loved ones, and take initiative to raise funds and change many lives! Leading the fight against cancer as McMaster's Co-President at McMaster has truly been the highlight of my experience at Mac.
10. What is your definition of success?
There are many definitions of success and I believe success can be measured on different scales. Success, in my opinion, is always evolving and a journey rather than a destination. However, within this journey it includes overcoming failures and learning from them. Not giving up and persevering reflects my definition of success. In addition through the journey of success, I believe it's important to always be true to yourself and do the things you enjoy doing!

11. How has McMaster helped you create a Brighter World?
McMaster has given me so many opportunities to create a Brighter World.
The leadership positions and skills I was able to portray within my McMaster experience allowed me to create a positive change in the community. I would like to thank McMaster for allowing me to shine light on my genuine, benevolent, and caring personality and develop the leadership skills to be able to have such a large impact on the community. I would like to thank McMaster for helping me make many connections with students, support so many individuals, and allowing me to create a Brighter World!
12. What motivates you to work hard?
My motivation to work hard usually results in the outcome and how it is going to impact those around me. A quote that has stuck with me and represents my hardworking leadership style is, "All-in attitude, all-out effort." I think that my motivation is usually other people and how my action is going to change the lives of others or contribute to the community. I am deeply motivated by my passion for helping others and this usually sparks my drive to work hard.
13. If you could have any superpower, what would it be?
If I could have any superpower, I would want to be the ability to teleport. Teleportation would allow me to handle my busy schedule! Throughout my time at McMaster, I was often being pulled in many directions and sometimes I wished I could simply teleport and go home to see my family! In addition, teleporting would allow me to help many people around the world. So many people in our world are suffering and I wish I had the ability to be able to help everyone.
14. Who is your favourite professor?
My favourite professor is Dr. Flynn; his passion and enthusiasm is so contagious and encouraging. His courses were very accessible and he was very understanding when life is not in your favour! His vast knowledge and sound understanding are reflected through the subjects he teaches. He was always well prepared for classes and uses a variety of methods to teach to ensure all student are receiving a good understanding of the course material. He makes a great effort to get to know each student and address their needs adequately! Professors like Dr. Flynn make learning fun and create a positive environment to ask questions and learn valuable lessons!
15. What book are you currently reading?
I am currently reading My Sisters Keeper, this book is very special to me as it discusses cancer and the effect it has on families which is something I have been working toward to assist and make easier for families.
16. While at Mac, did you receive donor-funded financial assistance (e.g., a scholarship, award, bursary)? Any thoughts on the importance of giving back to your alma mater to support future generations?
Although many students are not aware, many scholarships, awards, and bursaries are available! I was fortunate to receive scholarships, awards, and bursaries as a student! Giving back to support future generations remains beneficial as they are investing directly back into the university and the students. This ensures that resources are available for students who need them and in fact many would not be able to pursue post-secondary education without these resources. Donor contributions leave a long-lasting impact by enhancing student experience.