Meet this afternoon's Faculty of Social Sciences valedictorian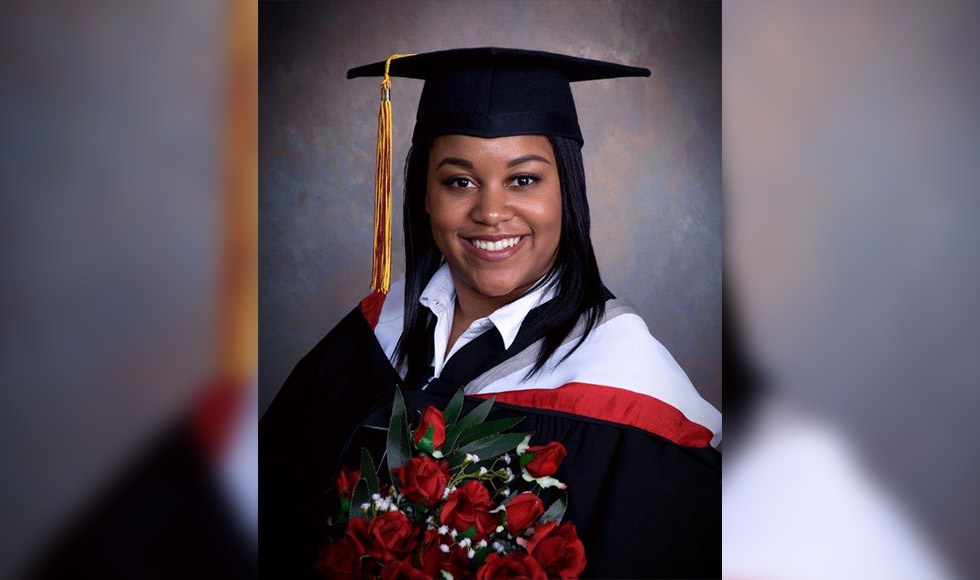 ---
What emoji best represents you? What is your definition of success? Meet Makenzy Walcott, the afternoon valedictorian at the June 13 convocation for the Faculty of Social Sciences.
1. Name
Makenzy Allandra Gabrielle Walcott
2. Where is your hometown?
Kingston, Ontario!
3. What is the degree & subject are you pursued?
I have an honours degree in labour studies, paired with a McMaster/ Mohawk Affiliated Certificate: Leadership and management in the Not- For- Profit Sector Certificate.

4. What made you choose McMaster for your higher education career?
There were a few universities I was considering offers from, but I was advised to tour the campuses before making any decisions. The last university I visited was McMaster University, and the moment I stepped onto campus I knew this was the place I wanted to be. I was not overwhelmed, scared or nervous to continue my education at this school because it felt like a home away from home.
5. What will you be doing after graduation or see yourself doing?
After 6 years of postsecondary education, this summer, I want a chance to: sleep in, read articles and books purely for pleasure and to travel. After that I will be applying to Law school. Within the next five years I see myself graduating and practicing family law or immigration law. I have
a great passion for advocating for women, children, marginalized, racialized and segregated groups of people, and with my degree I hope to be an individual who can initiate positive change within my community.
6. What would you say to your first-year self?
Advice I would give to my first year self would be: it is okay to take your time and to not condense the experiences of your university career into four years. There are so many opportunities that may not appear when you want them to or when you think they should. Therefore, exercise patience and just enjoy the time that you have at university. Lastly, get involved! Any interests that you may have, I guarantee, there is a group or club on campus filled with people who share and love the same things. Getting involved will help hone your interpersonal skills, your public speaking and so many more qualities that will shape you into a strong, confident, mature individual.
7. Do you have any advice for current & future students?
Advice that I would give to current and future students would be: Never give up on your dreams, because dreams and visions are the foundation of your imagination, which is limitless.

8. How has McMaster shaped the person you are today?
University is a journey that is all about personal discovery. It is a time of learning, experiencing change and being able to embrace all of the obstacles (positive and negative) that are thrown onto your path. McMaster University has allowed me to grow not only academically but also as
an individual. The most valuable lessons I learned from McMaster that have shaped me into the person I am today would be:
Firstly, you have to appreciate what you have and the opportunities presented to you. Being able to pursue a postsecondary education is such a privilege that many take for granted. It is imperative that you spend your time wisely and optimize on all of the resources available to you. Set a strong foundation and name for yourself and seize every chance you get to explore something new.
Secondly, advocate for what you are passionate about. Sometimes all it takes is one voice to spark an idea that blossoms into action, or just one voice to initiate change. If you are scared, then you can be sure that everyone else is as well, but have courage and speak out. It is more
likely that your view will be shared and supported than not.
9. What events did you enjoy the most at McMaster/Hamilton?
The event that I enjoyed the most was being apart of the McMaster Presidential Elections. In my fifth year at the university, I was fortunate enough to be the Campaign Chair for one of my close friends and fellow Marauder Chukky Ibe. Our campaign team showed moral integrity, a passion for our candidates platform and unwavering support, which resulted in our success.
10. What is your definition of success?
My definition of success is not one that incorporates money or physical things. It is being able to come home at the end of the day knowing that I made a positive impact in someone else's day or life. Being able to be extremely proud of what I do and to not regret my actions or words. Success to me is being able to effect positive change in my environment, by portraying strong moral character, in addition to being a role model to the future generation.

11. How has McMaster helped you create a brighter world?
McMaster has equipped me with the skills and knowledge to refine my thinking, to always ask questions, to not take everything at face value and exposure to so many interdisciplinaries. This creates a brighter world because it adds yet another individual who will not shy away from asking those tough questions or pushing for answers when it comes to protecting the world and the people in it.

12. What motivates you to work hard?
The example my parents have set for me and my siblings is what motivates me to work hard. Seeing their determination, their emotional and financial investment in family, their work ethic, and balancing everything else that life throws at them is astonishing. They are the definition of what hard work looks like and my motivation to always strive for the best. They exude
perseverance, patience and dedication in all that they do.
To me, my parents have set the expectation and the standard of excellence that I always aim to achieve. I have so much respect for my mom and dad and therefore, always try to honour them in my achievements, due to how much they have sacrificed for me.
13. If you could have any superpower, what would it be? And why?
If I could have a superpower it would be to read people's minds. I would choose this power because I find that it is very hard to convey your true feelings or to understand what someone else is thinking, going through or trying to explain. With this ability, you are in a position to get the whole picture and to get all of the facts.
14. Who is your favourite professor? Why?
Because there are so many phenomenal professors at McMaster, I am not able to pick a favourite. What I am able to do is choose the most memorable professor to me during the last year of my undergraduate degree.
Professor Wayne Lewchuk is a professor in Global Labour Issues. He has such a vast understanding and knowledge in his field, paired with a visible passion for what he does, that is reflected throughout all of his work. Within Professor Lewchuk's seminars, he uses such a wide variety of teaching methods to engage the class, that makes for a safe environment to all students in order to generate diverse discussion. Additionally, Lewchuk is a professor that makes the effort to get to know his students so we don't feel like we're just another nine digit student I.D. number. He is always willing to offer extra help, cracking jokes or staying after class to ensure you leave with more understanding and knowledge than you had before.

15. What is your best way to de-stress?
Stress is an inevitable part of our world these days. We work longer hours, we're constantly connected to email, social media or an electronic device and experience financial uncertainty. Therefore, when I feel overwhelmed or stressed I do one of the following: make a list(s), make a game plan or schedule(s), or speak through my thoughts. This allows me to get the chaos out of my head and to have calmness in order to do what I need to do.

16. What emoji best represents you?
🤣  – The power laughing emoticon best describes me because I am always joking around, smiling and in good spirits. I love to laugh because it allows me to brighten my mood and to shake off any negative feelings or thoughts.
Learn more about Spring 2018 convocations here: https://registrar.mcmaster.ca/grad/convo-dates/