Meet this afternoon's DeGroote School of Business valedictorian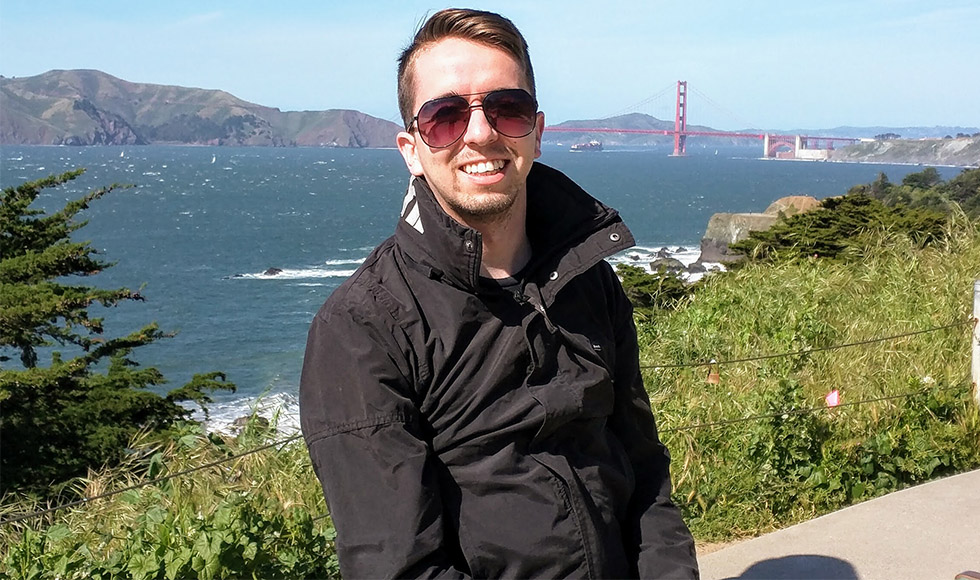 ---
What emoji best represents you? What is your definition of success? Meet Kelly Scott White, afternoon valedictorian at the June 12 convocation for the DeGroote School Business.
1. Name
Kelly Scott White
2. Where is your hometown?
Toronto, Ontario
3. What is the degree and subject you pursued?
MBA, specializing in the Management of Innovation and New Technology (MINT).
4. What made you choose McMaster for your higher education career?
The MBA co-op program was a great opportunity for me to gain a depth of business knowledge while gaining practical experience in the industry.
5. What will you be doing after graduation or see yourself doing?
Working! Studying for my MBA was all about getting my career kicked off. Shortly after graduating I bought a house and will be getting married to my amazing fiancee. So working will help me cover all those costs!
6. What would you say to your first-year self?
Nothing, you're perfect. Jokes aside, I'd say don't get blinded by temporary stresses – there will be a lot of assignments and exams and things to worry about in life, but you'll get through them and come out stronger on the other side. Always think about the big picture!
7. Do you have any advice for current & future students?
Some of the best advice I got was at a town hall when I worked at PepsiCo. The president of the business sat down with us and said our department had to focus on "controlling the controllables". What he really meant was to really focus your mental effort on what you can have an effect on – if it's out of your control, don't worry about it, especially if that means losing control of something that is within your ability to keep on track.
8. How has McMaster shaped the person you are today?
The McMaster community has given me some of my closest friends and rewarding relationships of my life. Those relationships shape who I am today and wouldn't have been possible without my time at DeGroote.
9. What events did you enjoy the most at McMaster/Hamilton?
Our term-end student appreciation dinners were always a blast. A great way to send everyone off to their co-ops and cap off a hectic exam season.
10. What is your definition of success?
It may be cliche, but to me success is happiness. It's so subjective, but if at the end of every day you can say you're happy with who you are, what you've done, and most importantly, where you're going, then I would say you're successful.
11. How has McMaster helped you create a brighter world?
McMaster has really given me the tools to be a leader and put myself in positions to enact real change. I strive to take that ability and use it to make the world a better place.
12. What motivates you to work hard?
I love making things. I like to think I'm creative, but in general making new things, coming up with new ideas, and really growing something is incredibly motivating for me and gets me excited to get things done.
13. If you could have any superpower, what would it be? And why?
Teleportation. I'd run the most effective courier service in the world! Plus I could avoid airports, buses, and rush hour traffic.
14. Who is your favourite professor? Why?
Dr. Milena Head has been a great teacher, mentor, and friend. Definitely a wonderful professor and a real asset to the DeGroote community.
15. What is your best way to de-stress?
I love spending time in the outdoors to "decompress". Camping in Algonquin park is the best, but even a day hike outside the city or a walk in the park or along the water is a great way to take a breath and reset.
16. What emoji best represents you?
😎 – Probably the shades emoji
17. While at Mac, did you receive donor-funded financial assistance (e.g., a scholarship, award, bursary)? Any thoughts on the importance of giving back to your alma mater to support future generations?I received an entrance scholarship for my score on the GMAT and used the DEF (DeGroote Experience Fund) for case competitions but did not otherwise receive any donor based funding.
Education is incredibly important and I think as a nation we need to continue our investment in it at all our institutions. As a part of that, sharing your success with future generations at your alma mater can be an effective way to do your part in investing in education.
Learn more about Spring 2018 convocations here: https://registrar.mcmaster.ca/grad/convo-dates/