Meet the Wilson Leaders: Andrew Richards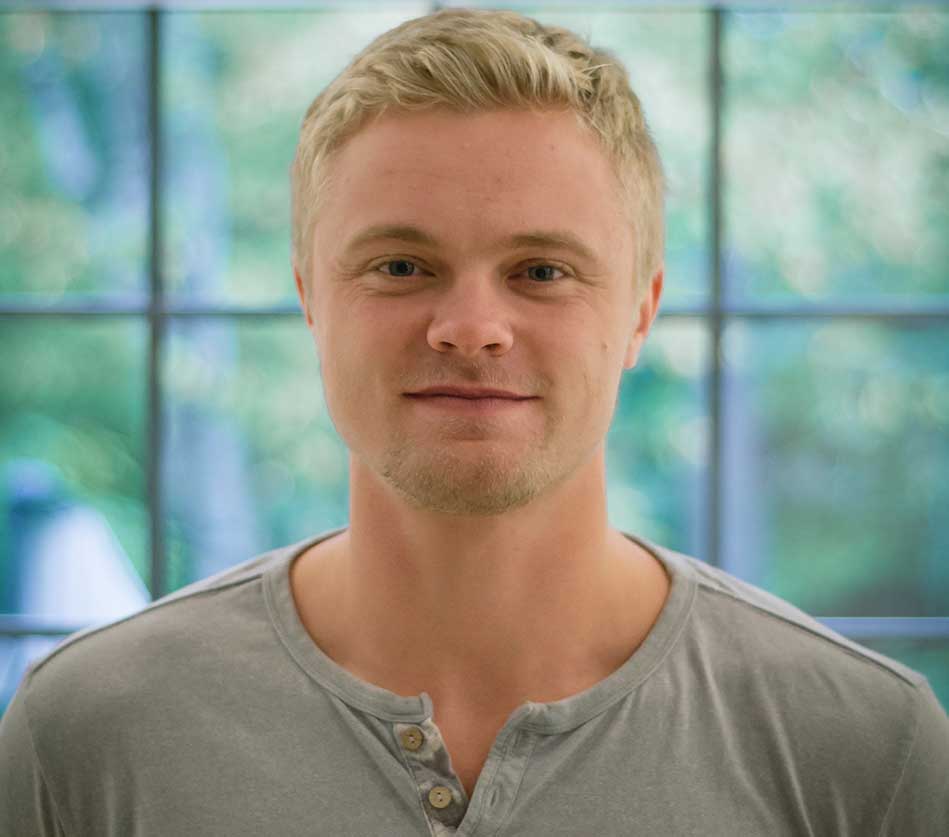 ---
In April, three accomplished students became the first recipients of the Wilson Leadership Scholar Award, a prestigious new award established to cultivate the country's next generation of leaders. 
The awards, which include $50,000 to cover education costs over two years along with admission to an elite leadership development program, recognize students who demonstrate exceptional promise and potential.
The program is among the highest value undergraduate scholarships in the country.
Communications student and volleyball player Andrew Richards is one of those students He's also a mentor with the McMaster Athletes Care program and has served as a volunteer with Best Buddies Canada, where he built relationships with special needs students. In 2014 and 2015, Richards served as captain of the Canadian Junior Men's Volleyball team. 
We asked Andrew about himself, the Wilson Leadership Scholar Award and who he looks up to as a leader:
Hometown
London, Ontario
Year/Program
Third Year, Communication Studies minoring in Globalization
Describe yourself in a tweet 
A family first guy, with a sporting background. I am interested in big ideas and passionate about creating results in a team environment.
Why did you come to Mac?
As an athlete on the Men's Volleyball Team, I came to Mac for its outstanding mix of both athletics and academics. The moment I stepped on to campus and met the athletic and academic staff, I knew that the support system and resources offered here were exactly what I was looking for.
Athletically, I was very intrigued by the hardworking, competitive environment that was offered by Coach Dave Preston and the rest of the team. I truly believe in order to grow you must surround yourself with people better than you, people who will push you to be better, and this was definitely the case with McMaster Volleyball.
Academically, the school spoke for itself, meeting alumni and students in my program, I knew I could thrive in the classroom and gain useful knowledge and experience in my four years here in Hamilton.
Why you applied to become a Wilson Leader?
I applied because, like it says on the Wilson Leadership Award website, "This one is different". I have always been a strong, hardworking student, but my grades would not put me in a position to receive academic awards.
This award though wasn't looking for the smartest or brightest student, it was looking for human potential, and this excited me. I knew that if I had the chance, this opportunity could change my life.
I am driven to be successful and I am driven to create change, and this award presented a platform for me to accelerate this process and allow me to learn valuable life and leadership lessons. I was also intrigued by the opportunity to gain connections and learn from the best Hamilton, McMaster and our country has to offer.
What does being a "leader" mean to you? 
A leader to me is an individual who through confidence, clarity and integrity can inspire groups and individuals to act in progressive and collaborative ways. I believe a leader is the last voice in a room full of equals who displays their tireless effort to succeed and seek ways to excel together. A leader provides the support and strength to empower others to feel safe and confident when tackling adversity.
Who do you look up to as a leader, and why? 
Everyday in this program I am fortunate enough to learn from different esteemed leaders in society. Recently many individuals have had a great impact on my life, although it is my father and brother who I have always admired as leaders.
My Dad's natural ability to keep growing has always amazed me. At 53 years old he pushes himself everyday to become better and grow. We even have a quote we share together on this from a book by Phil Knight, that is "If you aren't growing, you are dying". My whole life, through thick and thin, my Dad has been growing and it has inspired me to try and do the same.
My other greatest role model as a leader is my older brother Kyle. He has help shaped me into the person I am today and has taught me to always leave a positive impact. My older brother carries himself with such poise and confidence. He isn't afraid to be different, he isn't afraid of challenges and he has definitely inspired many others just like me to lead. When I think of a leader in my head, I think of him.
What do you hope to accomplish as a Wilson Leader? 
As a Wilson Leader, I hope to build the foundations, relationships and skills that will help me create positive change not only in the Hamilton/McMaster community but also in our country. Wherever it is I end up in life, it is the skills and lessons I learn over these next two years that will have a great impact on the person I am.
I hope to constantly learn through triumph and failure. I hope to build life long relationships with my fellow award winners and the award committee, as well as all the incredible individuals I will meet along the way.
I hope to take every opportunity to make myself better because one day looking back, it will be these times and this award that I will be so appreciative of.
Why should someone apply to become one of next year's Wilson Leaders? 
Every second-year student at McMaster should consider applying for this award because whether you believe it or not, you are a leader. This award allows the chance for us as students to embrace and develop our unique individual leadership skills and to tap into the mentorship of some of the country's most prestigious leaders. Not only should you apply to this award in hopes of getting selected, but it was through the application process that I truly learned many lessons about myself, who I am and what I want to be.
As one of the three inaugural winners of this award, I challenge you to take the opportunity to apply. I promise you won't regret it and I know that each and every student at McMaster has their own incredible and unique leadership stories to share.