Meet the Nursing valedictorian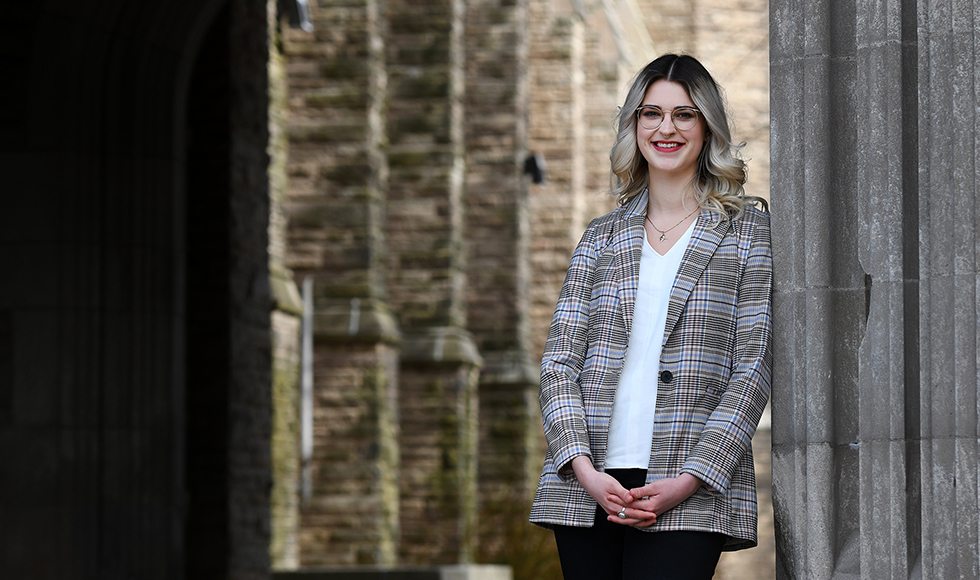 Photo by: Barry Gray (The Spec)
---
If you could have any superpower what would it be? What is your definition of success? Meet Kolina Tavares, the valedictorian for the School of Nursing.
1. Name
Kolina Tavares
2. Hometown
Kitchener, Ontario
3. What is the degree and subject you pursued?
I completed a bachelor's in Nursing as part of McMaster's RPN to RN bridging program.
4. What made you choose McMaster?
I attended McMaster once before and fell in love with campus and the city of Hamilton so that was part the attraction. But I chose the nursing program  because of their global health opportunities for fourth-year students along with other placement opportunities. I'm so happy I did because I ended up spending my fourth year in Nepal and working with public health, my top two placement choices.
5. What will you be doing/see yourself doing after graduation?
If you had asked me this before the pandemic, I would have said that I plan to travel with my partner and promote sustainability and environmentalism. Now, some plans have changed and I'm hoping to work alongside my nursing colleagues in the fight against COVID-19.
Public health was always a goal for me once I took some time off to travel, so now those plans have become more current. I'm excited to pursue work in a subject I have studied for so long.
6. What would you say to your first-year self?
I would tell her that while making connections among your fellow students is so important, it is also incredibly important that you dive deep into the journey of getting to know yourself. You'll become who you are during these next few years. Don't give up on the opportunity to really become who you want to be – you can only do that if you know who you are first.
7. Do you have any advice for current and future students?
This sounds cliche but don't play small – the definition of 'playing big' is different for everyone. You get to decide that. Don't feel like you need to do things a certain way because others have before you. You get to create your experience and you're the only person that gets to live this program/degree for you. If you spend it doing what everyone else is doing it's going to be over before you know it and you will wonder where the time went. What time is it? Now. Where are we? Here.
Be who you are, here and now, and I promise you the rest will figure itself out. Lastly, I'd really like to encourage you to get to know Hamilton and the unique community. There is something here for everyone whether it's within McMaster's walls or outside of it.
8. How has McMaster shaped the person you are today?
I feel that McMaster has equipped me with the tools I need to trust my gut. In more scientific terms, it's turned me into a critical thinker. I'm more confident in what I want from my career/my life, but what's more is that I actually feel equipped with the tools and knowledge required to get myself there. I believe that I am more likely to take chances now than I ever was three years ago.
9. What events did you enjoy the most at McMaster or in Hamilton?
One of my favourite McMaster events was the McMaster health advocacy symposium. In Hamilton, I'm a huge fan of art crawl and Supercrawl. Of course, first year welcome week was a blast.
10. What is your definition of success?
I think if you would have asked me this question at the beginning of my degree, my answer would have been happiness. Now though, I think my definition of success would be wholehearted living. Diving deep into the good and the bad because there are lessons in both. Feeling both the highs and lows. Can I fully embody what it means to experience the human condition and can I take meaning from that experience? Can I be a facilitator and hold space for people to also experience wholeness? That is success in this world to me.
11. How has McMaster helped you create a brighter world?
I think by giving students the tools to sit with and aid people through their toughest, lowest, hardest times, each nurse that leaves McMaster is shining their light on their patients, institutions and coworkers. As cheesy as it sounds – that light is contagious. Don't underestimate the ripple effect!
12. Who is your favourite professor?
This is a hard one. I was blessed to be taught by a multitude of brilliant minds but the class that shaped my nursing career the most was global health taught by Nina Cavey and Deborah Davidson. Special shoutouts to Dr. Culver, Nancy Sinclair, Bernice Tiggelaar, John Pilla and Rosemary Ackerman Rainville. You have all shaped my nursing journey in the best ways.
13. If you could have any superpower, what would it be?
Definitely teleporting. My favourite thing to do is travel and this would drastically speed up the process and make it more accessible and sustainable!
14. If you could live anywhere in the world for a year, where would it be?
I think I'd choose to go back to Asia and go backpacking for a year. I was in Nepal, Thailand and Bali last year and I'm itching for more. If I had to stay in just one place I would likely choose Australia or New Zealand!
15. What have you been doing to self-care during the COVID-19 lockdown
My biggest rules for self care during COVID-19 has been to:
1) Feel all of the emotions that come up
2) Go easy on myself
3) MOVE.
I think a big part of adjusting to big changes in life is to recognize validity in yourself and your feelings. And of course, not that productivity is a requirement during such difficult times, but on days when I feel up to it I used the extra time to pursue activities I don't normally have as much time for. It's been nice to read some books on my reading list and work on some personal development projects.
16. What's the hardest part about working virtually for you? The easiest?
I think the hardest part for me is being sedentary. I have been trying to start and end the day with movement, sometimes throwing an extra walk in the middle of the day. The easiest part is that there is less prep work. I can roll out of bed and do my workout, make a fresh lunch, and do whatever I want at home when taking breaks (a big plus is all the extra dog cuddles I get now).
17. What would you advise others as we transition to a new normal?
I saw a quote the other day that said, "In the rush to return to normal, use this time to consider which parts of normal are worth rushing back to" (Dave Hollis). I think that sentiment is crucial as we enter this new phase. Can I implore all McMaster students to continue to engage in the states of stillness and reflection we were forced to enter these past few months. Please stay safe, check in on your friends and loved ones (from a safe distance) and act from a place of love rather than fear. Remember that while we are all in this together, some will be in more need than others. Use your privilege for good.
18. While at Mac, did you receive donor-funded financial assistance (e.g., a scholarship, a ward, bursary)? Any thoughts on the importance of giving back to your alma mater to support future generations?
I was extremely fortunate to be awarded the Wilda Pinkney Scholarship and The Asante Sana Global Health Nursing Award. I can say first-hand that receiving these awards made me feel seen and recognized for my hard work and efforts at McMaster. They encouraged me to keep working hard to achieve my dreams and, of course, financial assistance with tuition is a blessing. I think if people are able to support their alma mater in order to continue to encourage and provide for future students, it can really inspire positive forward movement.