Meet the Humanities valedictorian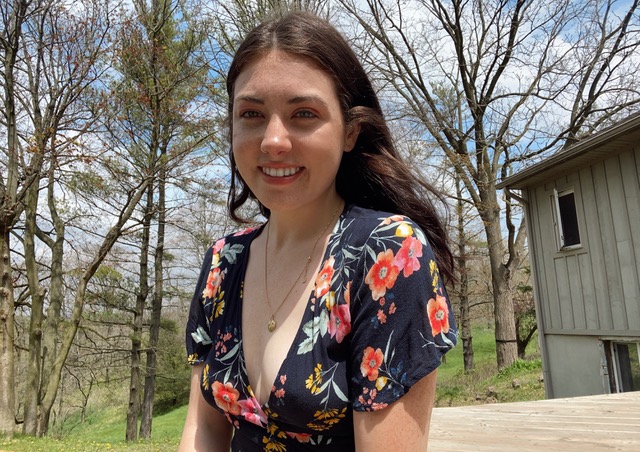 ---
Name: Adrianna Michell
Hometown: Hamilton
What is the degree and subject you pursued?
Honours BA in English & Cultural Studies and Peace Studies
What made you choose McMaster?
I actually didn't originally choose McMaster. I moved to another school first and then dropped out. After a year off I decided to give McMaster a try. Despite my fears and doubts, going to Mac was the best decision I've made and has fundamentally shaped the person I am today—sometimes it just takes a bit longer to get there.
What will you be doing after graduation?
I will be returning to Mac and the English department to pursue an MA in Cultural Studies and Critical Theory in the fall.
What would you say to your first-year self?
You'll figure it out;it just takes time and trial and error.
Do you have any advice for current and future students?
I think one of the most important things I've learned throughout my undergrad is the importance of failure and making mistakes.
Failure is an important part of building resilience an developing as a student and individual.
Failing constructively is a skill that I've had to learn, while also relying on others when I do. I found it helpful to develop a robust and compassionate community of support along with skills to learn from my mistakes.
How has McMaster shaped the person you are today?
McMaster has shaped me in so many ways. Both my parents went here for their undergraduate degrees, and like most people from Hamilton my age, I was born at McMaster too. I wouldn't be who I am without the people and opportunities I have encountered at McMaster.
What events did you enjoy the most at McMaster/Hamilton?
I've been lucky enough to be involved with Welcome week in a few different capacities over the years, which have been impactful experiences. Thanks to my students and fellow community advisors from Whidden Hall and my students and fellow welcome week reps from Brandon Hall.
What is your definition of success?
I don't know that there is a universal definition of success. For me, right now, I feel successful when I have a good day despite the scary global circumstances.
How has McMaster helped you create a brighter world?
My education at McMaster has equipped me with the tools to critically engage with the world around me.
An education in the Humanities not only nurtures the means for justice, but also the creative imagination to see what a just world could be.
Who is your favourite professor?
I've had a lot of professors that have positively shaped my experience at McMaster and my outlook on pedagogy entirely. I would like to thank the faculty in the department of English and Cultural studies, who have challenged me and work to help their students to critically engage with the world. I'd especially like to thank Dr. Cathy Grise for her compassion and dedication to her students.
If you could have any superpower, what would it be?
I think I'd like to fly!
If you could live anywhere in the world for a year, where would it be?
An off-the-grid tiny house somewhere warm.
What have you been doing to self-care during the COVID-19 lockdown?
Lockdown has been tough for me but I am in a position of immense privilege. I have been doing small acts every day to be kind to myself.
However important self-care may be, I also want to turn attention towards the important community care initiatives going on to support those most affected by the pandemic. The Disability Justice Network of Ontario has been crowdsourcing through their care mongering initiative during COVID and beyond. PASAN ​and local organizers in Hamilton have been working to support those incarcerated and advocate for their release during COVID and beyond.
What's the hardest part about working virtually for you? The easiest?
I think the hardest part is not being able to be in community with others. It's been hard to cope with being unable to say goodbye to my friends, classmates, professors. I really miss being able to hug my best friends.
Despite our collective inability to connect in person, we all have had to find new ways to work and connect virtually.
I have really enjoyed the online talks, classes, and even dance parties that scholars, creatives, and community organizers have developed to keep community throughout the crisis.
What would you advise others as we transition to a new normal?
I think imagining our current circumstances a normal is a bit of a fallacy—a global pandemic is fundamentally abnormal. I think we need to actually give more attention to how this is not normal and give ourselves credit for living under stress and isolation. We need to remember that we are living in abnormal circumstances and hopefully use this as a reminder that we can imagine different and better futures where we continue caring for our communities.
While at Mac, did you receive donor-funded financial assistance (e.g., a scholarship, award, bursary)? Any thoughts on the importance of giving back to your alma mater to support future generations?
I received a lot of donor-funded financial assistance throughout my undergrad including the Newcombie Prize in Peace Studies and the Lillian and Herman Steeves Bursary. As a student who self-funded their education, scholarships and bursaries not only reduced the costs associated with my education, but also reduced stress. Scholarships are essential for low income, self-funded students, students supporting others, and otherwise marginalized students.